10 UK Brands You Need to Pay Attention To
From purpose-driven pieces to eye-catching outerwear, 2023 is already looking bright for British imprints.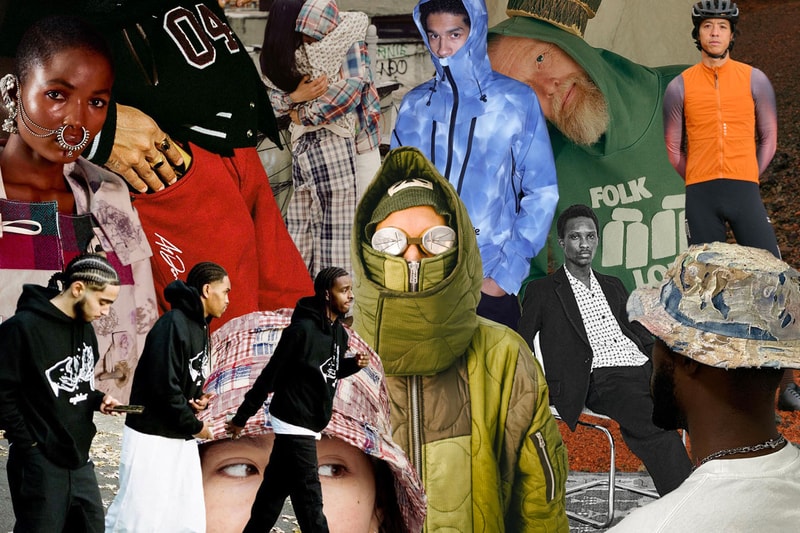 It might almost be November, but British brands across the country are continuing to come into full bloom.
Throughout 2022, more and more UK clothing imprints have made their mark, establishing hyper-engaged communities with innovative, head-turning releases. Whether it's purpose-driven streetwear, totally bespoke denim brands or carefully-constructed cycling apparel, the strength and depth of UK brands demonstrate that the next wave of talent isn't lacking in creative inspiration right now.
Against all the odds in an uneasy climate for new businesses, British brands are offering up the answers for your next wardrobe essential. Whether you're a tapped-in streetwear head or a diehard lover of artisanal clothing practices, this is a list of labels making great clothing for all walks of life. Take a look through our selection of the 10 UK brands to keep on your radar.
Founded by British-Iraqi designer-slash-DJ Yesawi, this London-based label is an ode to culture, craftsmanship and sustainability. An acronym for 'Children of Revolution,' the brand taps into the military aesthetic, with camo prints, trenches and bomber jackets all staple pieces of its collections.
Born in Baghdad, Yesawi takes inspiration from the fabrics and patterns found across the Arab world, aiming to preserve heritage craft as well as redefine preconceived narratives. With campaigns —mostly shot by close friend Dexter Navy — set between the backdrops of Wadi Rum in Jordan, Basouyn, Egypt and London, cultural representation is key to Yesawi.
Whilst army fatigue forms the foundation of the label's ethos, peace is what it promotes. Having donated proceeds from its Keffiyeh Cabana Shirt to support Palestinian refugees as well as working on projects with W.W.P (WORLDWIDE PEACE), C.O.R-Project is a label with a conscious. With all garments sold being made-to-order as well as dropping collections that use repurposed military surplus materials and working with traditional Arab craftsmen to construct the designs, sustainability plays an important factor in the brand's overarching messaging. –– Ali Mohammed-Ali
Having been a part of Stone Island's material development for nearly a decade as well as the Italian brand's innovation research hub, Yorkshire-born Asim Khan sought to merge his passion for artisanal fabrics with his South Asian heritage. Launched during the pandemic, 3rd Migration is rooted in third culture identity, using traditional craftsmanship and innovative dyeing techniques to create pieces that channel the patterns and bold colors of his culture.
During his time traveling the world in search of new material processes, he found fabric-developing techniques in Japan and India that have withstood generations. One of 3rd Migration's stand-out concepts is the use of an intricate flower resist-dye process where various botanicals are laid onto rolls of ECCO leather and set aside for some time. Once ready, and the flowers' colors have soaked, the leather is unwrapped and petals are picked off to leave a unique floral pattern that naturally catches the eye. –– Ali Mohammed-Ali
Fresh off a Patta London takeover for the release of its "Red Carpenters" jeans, A1 Denim — launched by Milan Rodriguez, Che Shariff and Leon Parara — is a testament to Y2K denim silhouettes. From its "Jorts" three-quarter shorts drop to various colorways of its wide-leg, stacked drop-fit jeans, the statement pieces come clean with scripted branding on the leg.
Speaking on why the brand got into denim Rodriguez says, "As a 32 waist, I was sick of having to go two or even three sizes up to get the baggy fit I wanted, and even then it wasn't ideal. I just wanted to make a baggy unisex cut that anyone could wear and for it to fit your waist." But a fast-track route to success in a saturated market isn't an option, and creating a lasting product built from necessity is key to the brand's journey. "We decided to dive right into production. Always take the stairs," he says. Although it hasn't branched into other aspects of denim garments (jackets or shirts) expect to see more from this London-based imprint this coming year. –– Ali Mohammed-Ali
Born in Southeast London, decade-old label HERESY is grounded in storytelling and illustrative practices. Since its launch in 2012, the brand has held eco-friendly practices close to home and often explores folklore narratives that reflect its founders' creative backgrounds. Dominic Owen and Jasper Dunk create casual menswear in an ethically conscious manner, from humorous graphic tees and quilted workwear jackets to embellished sheep coats and patchwork ensembles.
HERESY garments are proudly produced on British soil. The brand commonly delves into distinct realms that have established it as a multi-faceted imprint, including handmade art, live events, music programs, and its own small-scale print publication. HERESY's distinct identity oozes from its premium, cut-and-sew garments that are produced in limited runs and enriched with mystical prints which catch a second glance. –– Andrea Sacal
It feels like Manchester has become one of – if not the – go-to hubs for emerging designers outside of the capital. And while the likes of Clints and Drama Call are flying the Mancunian flag high and proud with high-profile collaborations and regular drops, there's still a vast collective of brands that are striving to put the city on their back. One label doing this more than most is Skitzo Worldwide.
The label tends to work in gothic-like style with dark color palettes and rough-and-ready designs that complement boxy fits and oversized silhouettes alike. Skitzo's designs are seen regularly throughout the rainy city, and its limited-piece drops are consistently sending its fans into northern-raged frenzies that crave the label's rip-styled denim, heavily-branded hoodies, and un-released concept samples that show the exact and exciting direction the brand is heading in. –– Jack Lynch
London-based streetwear brand Hillside first made its stamp in the U.K. back in 2020, but while its profile remains low-key, the imprint continues to drop pieces that do the talking for them. 
While Britain is bursting with skate-inspired clothing lines that are looking to take the nation by storm, Hillside is doing things differently. With a Skepta co-sign under its belt, the brand's abstract waterproof garments and unique T-shirt designs are custom-built for UK streets during Autumn and Winter, combining relaxed-fit silhouettes with inspiration from the great outdoors. 
The imprint is also no stranger to experimentation, either: check out its recent "Cloud Jacket" which – you guessed it – is a lightweight shell jacket that looks to the skies for a cloud-inspired design. And for those who are unsure of just how waterproof its garments are, Hillside's amusing Instagram marketing will ease your minds. –– Jack Lynch

An offshoot imprint from the earth-friendly minds behind STORY mfg., Gentlefullness reclaims fabrics from pre-consumer waste before transforming them into well-considered and tastefully-constructed clothing. Heavy on checkered prints, repeated sunflower patterns and lucid, rave-inspired tees, the brand serves as an experimental sub-label not lacking in ideas or statements, with peace and prosperity at its core.
STORY founders Saeed and Katy worked with London creative/curator Dan Pacitti to create refined, street-ready pieces curated for "sun-worshipers", designed with a brighter future in mind. Speaking to Goodhood about the meaning behind Gentle Fullness, label founder Saeed said: "It's not a word, but it sounds kind of right and anyone reading it would understand the lovely sentiment." — Jacob Davey
Started by rising UK rappers cityboymoe and Gdup, splitdat is a brand focused on ensuring everyone eats. Ran out of North West London, splitdat's apparel comes complete with an instantly-recognizable 'bread-break' logo, which symbolizes the brand's mentality and ethos. Speaking about the imprint, Gdup says, "Splitdat encapsulates everything we're about now in terms of mentality. We're still growing, this is the beginning of our journey. We've got a sick, collaborative mindset, but we've definitely got a competitive mentality too."
Alongside their slew of street-ready pieces, splitdat has already run up a collab with fellow rising brand Soho Yacht Club that aids an effort to help rebuild Somaliland's Hargeisa market after a fire, and an organization feeding orphans in the region. Always wanting to give back to their family and supporters, splitdat are a brand ensuring that everyone eats. –– Jacob Davey
Universal Colours is one of the most exciting, rising cycling brands in Britain. Challenging current conventions in the cycling community with striking designs engineered for endless performance, UC's use of eye-catching color combinations and cutting-edge materials has cemented them as one of the most innovative brands on two wheels right now.
With materials all sourced responsibly, Universal Colours' technical garments are created with a desire to push the industry forward and take a progressive approach that offers a new narrative to cycling. Speaking to the brand, UC told Hypebeast the end goal is "to be a global catalyst in the cycling apparel industry. We will challenge conventions, striving to set an example for others and be at the forefront of progress whilst staying true to our values." — Jacob Davey
Founded by University of Westminster graduate Esme Marsh, This Uniform is an emerging British brand delivering bespoke, ready-to-wear garments that continue to turn heads across the Atlantic. Making waves in the UK and Japan, the unisex label is leveraged by a handcrafted mindset and is recognized for its made-to-order approach to oversized casualwear.
Worn by the likes of Corteiz's Clint and East London rapper Jeshi, This Uniform often delivers its bespoke outlook through hand-frayed bucket hats, hybrid track jackets, and drawstring skirts, which have become essentials emblazoned with the brand's distinctive attitude and laid-back style. Every silhouette is produced in London and assembled to last a lifetime, sporting a rugged, outdoorsy aesthetic seen in billowing garments crafted from upcycled textiles. From vintage shirting fabrics to forgotten printed cotton, the label is constantly searching for discarded materials that can be used in its next patchwork creation. — Andrea Sacal