Golden State Warriors Finalize Contract Extensions with Jordan Poole and Andrew Wiggins
Landing them at a whopping $483 million USD in estimated payroll and luxury tax.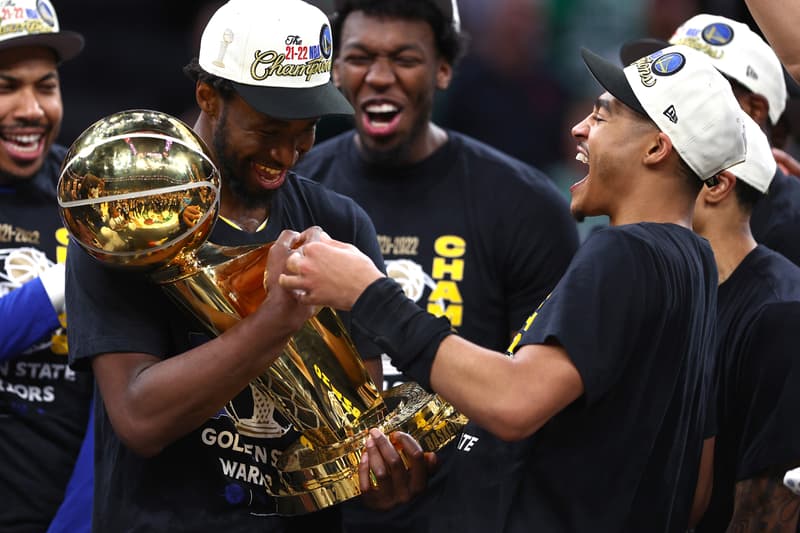 Yesterday marked the end of the 2022 NBA Preseason and with just a few days before the 2022-23 Regular Season launch, teams are gearing up for an exciting year. Most notably, the Golden State Warriors have demonstrated their commitment to key talent by making an unprecedented move to pay over $200 million USD in luxury tax this year. The news follows a physical altercation between the Warriors' Draymond Green and Jordan Poole, where Green "forcefully struck Poole." Footage of the incident surfaced and resulted in Green taking a brief leave of absence ahead of the regular season.
Now, according to ESPN's Adrian Wojnarowski, Poole can celebrate the signing of a four year contract extension netting him $140 million USD. In addition, his teammate Andrew Wiggins signed a similar four year deal, bringing in another $109 million USD. With the teams' star studded lineup costing a pretty penny, not only have they hit the $123 million USD salary cap, but they've far exceeded it.
The reigning NBA Champions look to be locked in on repeating their success. However, the resulting luxury tax of maintaining this roster may not be sustainable. Per ESPN's NBA Front Office Insider Bobby Marks, the Warriors' payroll for this season totals to $215 million USD, resulting in a luxury tax of $268 million USD if Green opts-in to his player option. This sum of $483 million USD is unheard of and has already caused some opposing fans to express discontent in the system while others have noted the likelihood that the organization will have to part ways with a player in the near future.
ESPN story on Golden State's Jordan Poole finalizing a four-year, $140M contract extension: https://t.co/OQB6oKiK5h

— Adrian Wojnarowski (@wojespn) October 15, 2022
Reporting with @kendra__andrews: Golden State Warriors All-Star Andrew Wiggins has agreed to a four-year, $109 million extension, his agents Drew Morrison and Steven Heumann of CAA Sports tell ESPN. Wiggins is now tied to the Warriors for five-years, $143 million.

— Adrian Wojnarowski (@wojespn) October 15, 2022
Golden St. payroll and tax penalty in 2023/24 will likely exceed $500M once the roster is filled.

That factors in Draymond Green opting-in to his $27.6M player option.

With 12 players

?Salary: $215M
?Tax: $268M

??Total: $483M

— Bobby Marks (@BobbyMarks42) October 15, 2022
In other sports news, the Hypebeast team broke down the top ten kits from this year's World Cup.