'Spider-Man: No Way Home' Concept Art Reveals Fight Between Mysterio and Dr. Strange
Possibly originally planned for the film's final fight.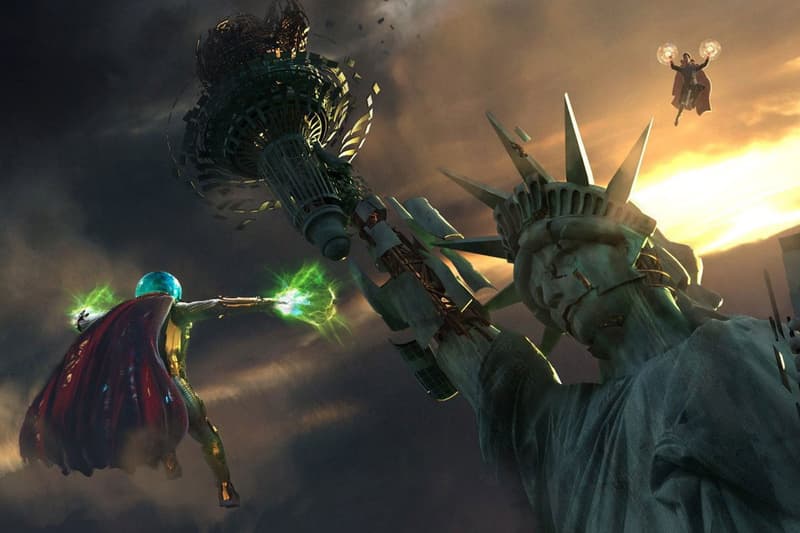 A concept art piece from Andrew Reader has supposedly revealed original plans of a fight between Mysterio and Dr. Strange in Spider-Man: No Way Home.
The concept art sees both Dr. Strange and Mysterio flying in the air, their hands at the ready, with New York City's Statue of Liberty between them. The setting hints that the fight was originally planned for the ending, but many fans are discussing whether this Mysterio is just using his holographic technology and is from a different universe.
Mysterio, also known as Quentin Beck, was the main villain in Spider-Man: Far From Home and was portrayed by Jake Gyllenhaal. The villain's final action of revealing Spider-Man's identity to the world became the main plot of No Way Home, and Peter Parker's attempts to undo the damage caused by his unmasking brought in Doc Ock, Sandman, Electro, Lizard and Sandman into his universe.
#SpiderMan: #NoWayHome had Mysterio involved in the final fight in early versions of concept art.

(via @reederdzn48) pic.twitter.com/I3gmVexXEs

— Phase Zero – MCU (@PhaseZeroCB) January 25, 2022
Elsewhere in entertainment, Spider-Man and Spider-Man 2 director Sam Raimi opened up about No Way Home.