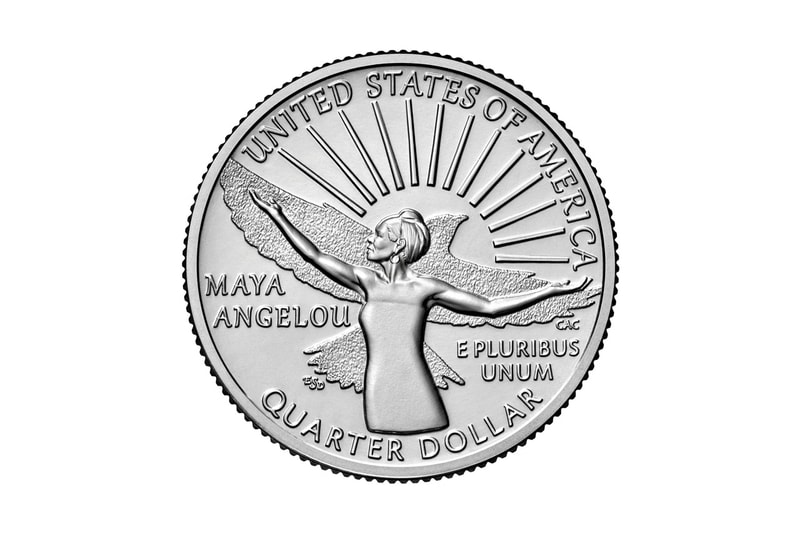 Maya Angelou Becomes the First Black Woman on a Quarter
As part of the U.S. Mint's "American Women Quarters Program."
---
There is a new quarter featuring the seminal poet and activist Maya Angelou. The coins are part of the U.S. Mint's "American Women Quarters Program" which started shipping out to banks yesterday, showcasing a number of influential American women.
Designed by Emily Damstra, Ms. Angelou is depicted on the "tails" side of the coin, while George Washington remains on "heads." Other figures part of the program include astronaut, Sally Ride, Wilma Mankiller, the first female principal chief of the Cherokee Nation, Nina Otero-Warren, a leader in New Mexico's suffrage movement, along with Anna May Wong, the first Chinese American film star in Hollywood.
"Each 2022 quarter is designed to reflect the breadth and depth of accomplishments being celebrated throughout this historic coin program. Maya Angelou, featured on the reverse of this first coin in the series, used words to inspire and uplift," said Mint Deputy Director Ventris C. Gibson in a statement.
A prolific writer, whose 1969 memoir, "I Know Why the Caged Bird Sings" described in vivid detail how it was like growing up Black in the Jim Crow South, Ms. Angelou used the power of literature to overcome racism and trauma. Upon her passing in 2014, former President, Barack Obama described her as "one of the brightest lights of our time…A childhood of suffering and abuse actually drove her to stop speaking – but the voice she found helped generations of Americans find their rainbow amidst the clouds, and inspired the rest of us to be our best selves."
Also in the news, Perrotin unveils a monographic exhibition on Yves Laloy.