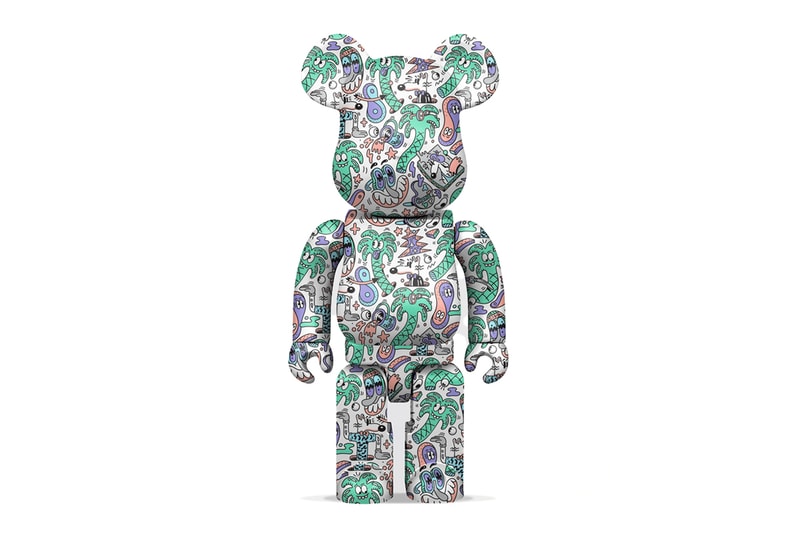 Steven Harrington and Medicom Toy Return With a 1000% BE@RBRICK
Covered in the artist's signature aesthetic and releasing on September 10.
---
Sculpture and figurines have increasingly become an object of focus for California-based artist, Steven Harrington. Apart from releasing his own set of handcrafted works, such as Mello, the artist has partnered with a number of legendary heads in the game, which most recently includes HUF, Madlib and Freddie Gibbs. For his latest release, Harrington has revisited the folks at Medicom Toy on a 1000% BE@RBRICK.
Releasing in conjunction with Cross Studio, the figure takes its inspiration from the vast California coastline. Seen across the white base of the bear are recognizable figures, from palm trees to paint buckets, which subtly pop off in a sun-washed pastel color palette.
Steven Harrington's 1000% BE@RBRICK will go on sale via the artist's webshop on Friday, September 10 at 9:00 am PST. To get ahead of the line, be sure to sign up for Harrington's Early Art Drop list. The figure will also release in person via Cross Studio at Innersect Pop-up Weekend in Shanghai from September 10 to 12.
Elsewhere in art, Natalie Wadlington is exhibiting a new body of work at Detroit's Library Street Collective.