Sole Mates: Leo Mandella and the Converse One Star
The multifaceted creative talks us through his love for clothes, sneakers, and a future in DJing and acting.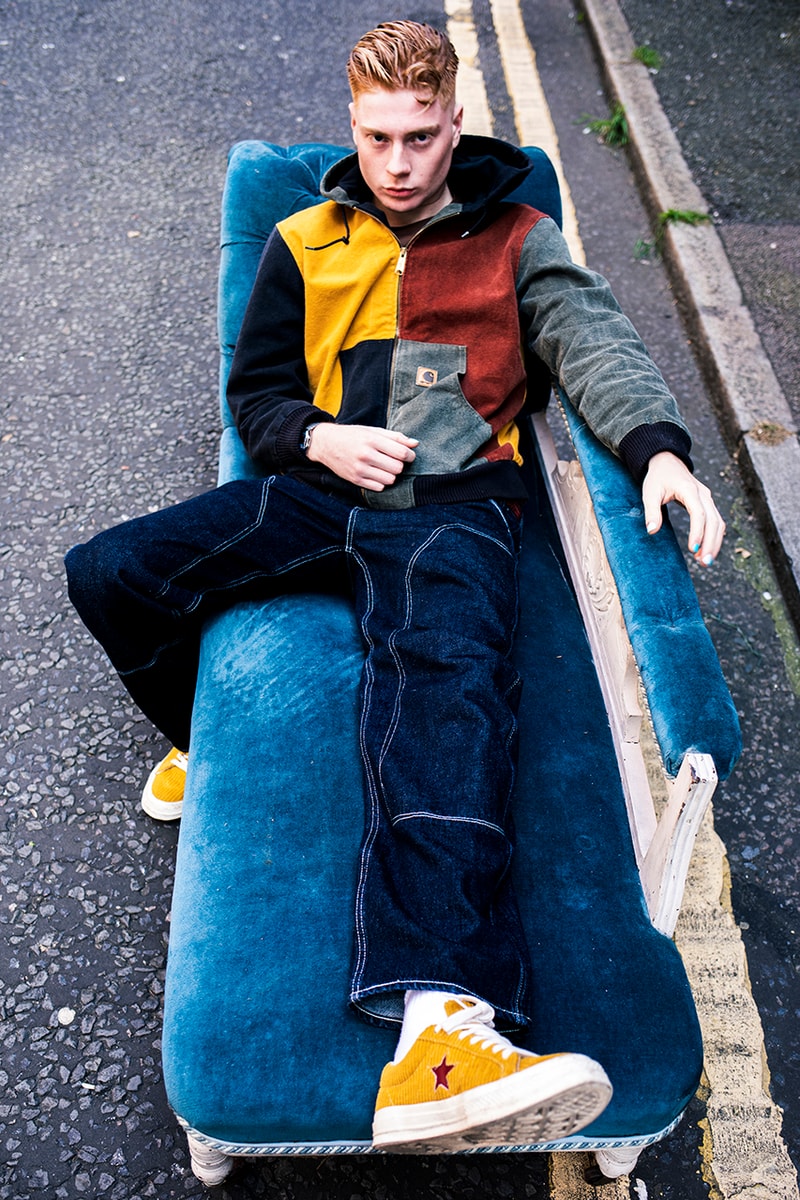 Sole Mates: Leo Mandella and the Converse One Star
The multifaceted creative talks us through his love for clothes, sneakers, and a future in DJing and acting.
Lining up on a Thursday morning to cop the latest Supreme drop is something we've all probably done, but who among us has turned their two-piece Supreme outfits into an Instagram-based mood board? It's not everyone who can evolve this into over 700,000 followers, a global campaign with Converse, and becoming a brand ambassador and model for the likes of Gucci, GCDS, and Fendi.
Previously, he was best known as Gully Guy Leo, but as the creative enters a new chapter of life, it's Leo Mandella to you and I. 
Mandella started his journey as a kid from Warwick, a town about 100 miles away from Soho, London. But, being fashion-obsessed, this didn't stop him from making his way to Supreme, Palace, and other cult hot spots as a teenager where he'd buy, flip, and re-invest in more interesting clothes — ones that defined his signature and colorful decked-out aesthetic. 
Today, Mandella is all about being true to himself. As he's grown up, his taste in clothes has adapted and matured — but one thing that has stuck with him since he worked with Converse is the One Star. 
In this issue of Sole Mates, we spent a day with Leo Mandella in East London and spoke to him about his love for the Converse One Star, nostalgia, and what the future holds. 
HYPEBEAST: Let's start at the beginning. What got you into sneakers?
Leo Mandella: You wear shoes from, literally, birth, they're a staple since the beginning of your life. I started getting into fashion in 2014, and it wasn't shoes that came first it was about the outfits, tracksuits, stuff like that. As I started doing matching two pieces it made sense to have the matching sneakers. 
The first thing I look at when I look at someone is their hair or their shoes. That's just me as a person. Obviously, I wouldn't judge someone for the shoes they're wearing, but because you're always looking at your phone when you're walking you are looking down, so you're subconsciously looking at people's feet without realizing. 
Yeah, you can clock the sneakers. 
So if I'm looking down and see some nice shoes, I'll look up. Seeing some shoes I'd wear or want, like the Travis Scott Jordans that I want at the moment, if I saw someone wearing those on the street I'd look at the rest of their outfit. I think shoes are such a big part of everyone's life.
"Don't feel like you need to wear head-to-toe designer to look good. I used to think that was a thing, Supreme, Palace head-to-toe… People care about style, the cuts of clothes, how they sit on you, the colors, rather than the logo strapped to the front."
For me, being fashion-based, it just kind of happened. No one put me onto sneakers or anything like that, it came hand-in-hand when I started to really get into fashion. 
Breaking away slightly, but if you see someone wearing a good pair of shoes, what are you thinking about?
If someone has a nice pair of shoes on, it's good. If someone's wearing a pair of shoes that you know and they know what you're wearing, it's a conversation starter. Without sounding weird, if I see someone and they look nice or attractive, it's an easy way to have that first conversation. 
So you see shoes as an in?
You can use it to your advantage. If I see someone in a nice pair of shoes, obviously I'll look at them more and maybe compliment them. 
You touched on the two pieces you used to pull a few years ago. When and how did you start to understand your personal style, which is a bit of a signature for you now?
Back in the day, I was quite lazy with my shoe choices — it was very much Air Force 1s, Jordan 1s. As my style evolved into wearing suits and smarter outerwear, I had penny loafers, Kickers, I went in that direction. I feel that as I've grown up with my style, my shoes have had to come with it. Those kinds of designs and shapes of shoes fit so much better. 
What do you want to say when you are wearing a certain kind of shoe to fit your style?
I want to show that… I… want to look good. 
I want to show that I care about what I'm wearing, that I have a sense of style, and people can appreciate that. 
So we're here today to talk more specifically about your love for the Converse One Star. Can we talk a little bit about the One Star campaign you starred in?
It was back in 2017 and I was sitting on the sofa. My manager called me: "Converse wants you to fly to New York to shoot the One Star campaign." I was like, "What the f*ck?"
At the campaign, Brockhampton was there, there were musicians, skaters. The One Star is to fit everyone, it shows there are no boundaries and that anyone can wear it — a skater, a mom, a grandad, a 15-year-old kid on Instagram can wear it. 
Prior to your partnership with Converse, did you have much of a personal connection to the brand?
I can't lie, they used to send me shoes but there wasn't ever talk about a long-term partnership. It stemmed from the campaign. It was all very quick.
I wore Converse before I got into fashion though. It's such a simple shoe — the Chuck is a sick shoe, it goes with everything, there's every color under the sun, such a nice silhouette with a pair of work trousers. It's like a pair of Vans or an Air Force 1, everyone knows. 
Do people associate you with the One Star?
I was at that point, I was the face of that shoe. 
And what was that like, being so young but being known as the Converse kid?
It was f*cking crazy man, seeing my face on a bus that went from Kings Cross to Oxford Circus. What the f*ck is going on, I'm just a kid from Warwick, it all happened so quick. I still bang a pair of Converse, the first one that A$AP Nast did with Converse, I still wear them all the time. I think that the association [isn't there so much] anymore, but people do still bring it up. 
On a daily basis, how do you interact with Converse?
The le FLEUR* from Tyler, the Creator, I'm so happy that happened. The One Stars are sick, the classics were good but it was getting hard to style because they were becoming repetitive and because I love bright clothes and colors, when Tyler brought out the le FLEUR* it was exactly what Converse needed. When I wear them today, I gravitate towards the le FLEUR*. They match what I want to wear day-to-day. 
Does Tyler's work resonate with you?
It's an attitude, man. He doesn't give a single f*ck. When we've hung out, I could see it. That man actually does not care. And I'm the same. 
It feels as if there's this full-circle moment with your relationship with footwear, Converse, Tyler, and who you are today. 
The One Star has a place in my heart because of what it did for me. It kickstarted a lot of things. It's a weird connection to make, but I hope it makes sense. Let's say there are two restaurants but they both make the same food. The first is where you went with your mom all your life and it has a place in your heart, but the one next door serves the same. You're going to go to the one you've always gone to. 
So it's about nostalgia?
I'll wear a Chuck, but I'll always gravitate towards a One Star because of how much it helped me, my career, and I guess, my name. 
You mentioned how your style is changing, too. 
As I've grown up I want it to fit my aesthetic more. I think that the best thing for me — and not to sound big-headed or anything — is when I wear something at a Gucci show and they give me suits or something, that's what I'm comfortable in and that's what people around me say I look best in. 
Personally, that's me now. Obviously, I'll still wear a tracksuit, I f*cking love a tracksuit. Style has no limit anymore. 
What is something you've learned as you've grown with your evolving style?
Don't feel like you need to wear head-to-toe designer to look good. I used to think that was a thing, Supreme, Palace head-to-toe. Due to TikTok or how people have evolved over the lockdown, people care about style [in terms of] the cuts of clothes, how they sit on you, the colors, rather than the logo strapped to the front. 
What's next for Leo Mandella?
I work with adidas quite a lot now, and I'm going to do a lot more when things start again. I've started DJing and I have exciting things coming in the next few months, and hopefully, by the middle of next year, I'll be acting. I want to do everything I can. I've started music lessons to learn to produce music — it's all behind the scenes until I've perfect it. Because I am such a perfectionist.  
Acting seems like a left-field choice?
I've always loved acting and I love watching Netflix series', behind the scenes, how things are shot, actor interviews, and it's just so interesting to me. It's exactly what I want to do.