New York Fashion Week: 4 Designers That Stood Out at This Year's Men's Day
Featuring sepia tones, clashing patterns and genderless silhouettes.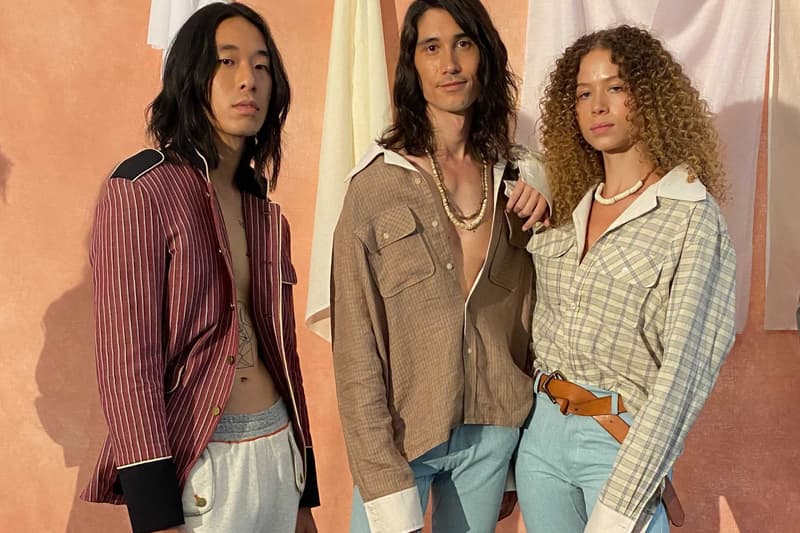 New York Men's Day (NYMD) serves as a showcase of emerging talent in the arena of menswear and genderless design at New York Fashion Week. HYPEBEAST captured a closer view of four of the designers in this year's presentation that stood out.
Carter Altman of his brand Carter Young entered the design space when he was just 15 years old, working for a bespoke suiting company in x place (where is he from/where was this founded? that's important info). From there he went on to work for Kith under Nicholas Annacone, the brand's Chief Operating Officer, Matthew Williams at Alyx and for Helmut Lang. The design and branding experience Altman procured is what lead to the birth of his eponymous brand in 2017. For the Spring/Summer 2022 season, Altman fused elements of the past to create a warm yet versatile offering for the Spring/Summer 2022 season. Inspired by The Rust Belt, The Texas Chainsaw Massacre (2003), Jack Kerouac, Vaudeville and more, sepia tones and an Americana aesthetic overtook the menswear collection.
Founded in 2019 in Cleveland, Ohio, Chelsea Grays' eponymous label seeks to understand the community and the role it plays in influencing positive change. As such, the brand took an uplifting approach to address topics of race and revolution in its new collection "Invited to the Cookout." As the brand has undergone a period of transition from Paris to the United States, Grays went back to Cleveland, Ohio. It was in Cleveland where the images of blackness and creativity represented at cookouts inspired this season's mood. The menswear, as well as unisex looks, continued the brand's cadence of using distinct silhouettes, tapestry, brocade and varied cotton fabrics. Additionally, the brand continued its use of screen printing which was heavily influenced by Simon Ungless.
Fried Rice was inspired by Maya Wang's obsession with collecting fabric. After stumbling upon an old Singer sewing machine for $50 USD, Wang began experimenting with the loads of fabrics she'd accumulated over time. "Back then I would stay up all night in my Brooklyn apartment listening to Leonard Cohen and Tom Waits figuring out how to piece together what was in my head. I tore apart countless pieces of clothing from thrift shops to figure out the construction and then reproduce the elements in my own way." The self-taught designer then established her brand Fried Rice in 2016, and for this season, Wang channeled the color that comes from fusing cultural and creative perspectives. Looking to her neighborhood of the Lower East Side, the collection seeped with inspiration and appreciation, showcasing several garments that played with a number of colors and fabrics to create a body that reflects the multidimensionality of culture itself.
Jungwoo Park, a.k.a. Woo Park of the STOLEN GARMENT launched his brand in Seoul, South Korea, in 2019. Park's story begins in 2017, when he participated in the St Martin-in-the-Fields graduation collection show. Shortly following the exhibition, one of Park's garments was stolen, which inspired the name of the brand today. For this season, Park exploded elements of male aggression to present a transformed version of fantasy. The collection's shirts, jackets and a dress utilized hammered silk. Showcased throughout some of the garments are digitally printed water droplets, which showcase the expression of anger and fear and black, red and white backgrounds. This same symbolism extends to collection jewelry as well such as crystal and silver jewelry.
In other fashion news, Louis Vuitton released Vivienne Travellers pendants.