DRIVERS: Mark Arcenal and His 1997 Porsche 911 Carrera 4S 993
The founder of ILLEST still sees the art in automotive.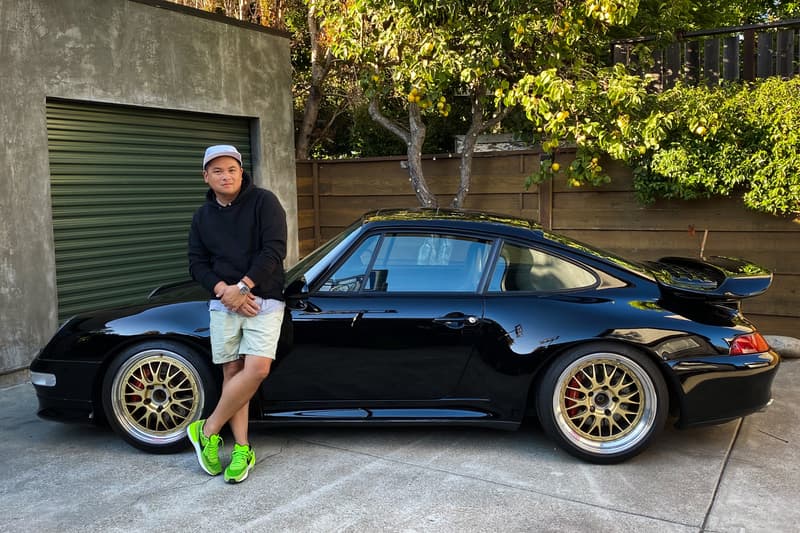 DRIVERS is a series highlighting influential individuals in the HYPEBEAST sphere and their passion towards all things automotive. The approach is simple: what is car culture to you, and why do you have a passion for it? Each contributor is given a chance to shine light on their personal vehicle or vehicles, and asked to remark on how they are driving culture forward, both metaphorically and literally.
---
Car culture and streetwear has a natural synergy, from the styles and creativity, to the levels of expression and flair for the outlandish. While both industries have their true separate powerhouses and innovators, one of the pioneers to mix both worlds is none other than Mark Arcenal, founder of ILLEST Brand.
For years, ILLEST has stood as the go-to label for the streetwear aficionado who had a side passion owning, driving, tuning and hooning cars. Its designs reference car culture consistently, and the brand has been known internationally for essentially starting the trend of clothing brands honoring the automotive world long before KITH and BMW got together, or Anti Social Social Club collaborated with Honda.
Alongside bringing together cars and streetwear, Mark has also contributed to one of the greatest overseas imports the United States has ever welcomed: RWB. Short for RAUH-Welt BEGRIFF, the Japanese tuning brand literally chop-shops old, vintage Porsches and "Frankensteins" them into lane engulfing, widebody street monsters. Mark worked closely with the brand early on to create one of the first RWB Porsches in the United States, and is now one of the most sought after processes for Porsche tuners.
As such, it would only make sense for Mark to contribute to our ongoing DRIVERS series in a Porsche, more specifically a pristine 1997 Carrera 4S of the 993 generation. Mark continues to explain his love for the Porsche, the appreciation of cars being adopted by streetwear, and where the culture's going.
Check out the latest edition of DRIVERS and in case you missed it, our last entry was with SNEAKERBOX digital lead Nick Cheung and his Aston Martin V8 Vantage S.
Make, model, year of your car?
1997 Porsche 911 C4S.
When did you acquire it?
I acquired it just this year but have been trying to buy it for almost three years from a friend. Every year I'd ask him to sell it to me and offered to him more than a few times. He'd always say 'no' but recently he said, to my surprise, 'make a better offer' and so I did. He picked it up from his barn full of cars in Lodi, CA and tossed me the keys.
What made you choose this car specifically?
It was one of the first diecast models I owned and modified. I've always wanted to own a C4S because of its wide body non-turbo shape. It looked and drove so well when he let me take it for a spin a few years ago. In the years since I started inquiring he's only added 3k miles to it. It now has 44k miles.
What is the main purpose for this car for you?
It's a car I enjoy driving to my office and on weekends.
"When I started my brand I would always use my cars in photoshoots even if they were in build mode. Cars became a part of our brand unintentionally. These days, cars are used in every brand's lookbook which is nice to see."
What has been done with this car? Where has it gone?
What's great about this car is that it's lived within a 10-mile radius its entire life. I'm the second owner.
Any details? Modifications? Changes?
Since forever, I've always modified and worked on my cars. This one's no different but these days I don't go too crazy on them. I've changed the suspension to KW Clubsports with adjustable top mounts, added some BBS E88 wheels and Michelin tires. I've also added an OEM Aero lip to match the factory Aero rear wing, thanks to my bodyshop 101 Paintwerks. Very subtle modifications since the car is pristine.
What is a car to you: aspirational achievement, functional tool, stress-reliever, etc?
Cars to me are pieces of art. I admire the lines and design of well thought-out cars, and the Porsche 911 to me is one of the best designs ever made. Its shape hasn't changed since it was first introduced in 1963. When I started my brand I would always use my cars in photoshoots even if they were in build mode. Cars became a part of our brand unintentionally. These days, cars are used in every brand's lookbook which is nice to see.
What was your dream car growing up?
A Porsche 911 was my dream car growing up. The [Ferrari] F40 and the [Porsche] 959 were up there as well but I fell in love with the shape and styling of the 911. It seemed obtainable and in 2007 I was able to buy my first 911 (964).
What have you owned before? What would you like to have?
I've owned around 30 Porsches. Most of them classic 911s. When it comes to cars I know exactly what I want and like. These days, I like to call myself a car enthusiast. I used to collect cars but a few years ago I decided to sell most of the collection and gave myself a maximum number of cars I was ok with owning at one time. Dealing with registration and insurance on 20+ cars at one time became a huge headache and wasn't very practical.
I love classic G-Wagons and have had my share of early Defenders. Vintage VWs used to be my passion and still, to this day, I own a '64 Panel Bus with a shaved ice machine inside, which I plan on retiring in Hawaii with. Going to cruise the bus, sell shaved ice 'til I run out and head home.
Having gone through over a ridiculous amount of cars (120+), the one car I'd love to own is a Black Porsche 550 Spyder. It's definitely one of my grails. I'm also looking forward to the new GT3 which I was able to spec out in a very awesome Nato Olive Green.
Currently in the garage:
2021 Porsche Taycan
2016 Mercedes Winnebago RV
2002 G500 Backdated
1997 Porsche 911 C4S
1985 Toyota AE85
1965 Nova
1964 VW Bus
Bikes:
2020 Suzuki DRZ400
2020 Super 73
2006 Honda Ruckus
1966 Honda CB77
2022 Porsche GT3 (on order)
What is the future of the automotive industry? Car culture?
From music icons to celebrities to your enthusiast to the collector, there will always be the culture surrounding the automotive world as long as the manufacturers keep making well thought-out cars. I think electric cars are great but need to be designed well in order to keep that culture alive.