Manny Pacquiao Officially Retires From Boxing
After a 26-year career.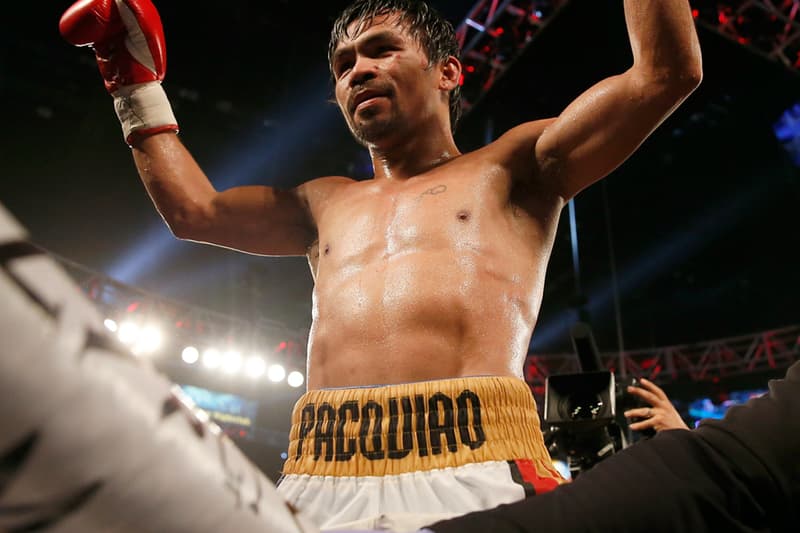 42-year-old boxing legend Manny Pacquiao is officially hanging up his gloves. The eight-division world champion and Philippine senator has announced his retirement from the sport in a recent 14-minute video posted to the athlete's Facebook page.
The video sees Manny Pacquiao saying a heartfelt goodbye to the ring while also thanking his fans for the ample support over the years. Pacquiao is heard sharing,
"As I hang up my boxing gloves, I would like to thank the whole world, especially the Filipino people for supporting Manny Pacquiao. Goodbye boxing. It is difficult for me to accept that my time as a boxer is over. Today I am announcing my retirement."
The retirement video continues with Pacquiao stating, "Because of you I have been given the courage to change more lives. I will never forget what I have done and accomplished in my life that I can't imagine. I just heard the final bell. The boxing is over."
In 26 years, Pacquiao has had a 72-fight career, recording 62 victories, eight losses and two draws. Out of the 62 wins, the boxer won 39 by knockout and 23 by decision and throughout his career, he has won a total of 12 world titles. His retirement announcement comes after his defeat to Yordenis Ugas in August earlier this year, when the Cuban beat Pacquiao by unanimous decision. Pacquiao also made headlines earlier this month for declaring his run for president in the 2022 Philippine elections. Having accepted his political party's nomination, it is likely that his focus post-retirement will be on politics.
Take a look at his announcement below.
To the greatest fans and the greatest sport in the world, thank you! Thank you for all the wonderful memories. This is the hardest decision I've ever made, but I'm at peace with it. Chase your dreams, work hard, and watch what happens. Good bye boxing. https://t.co/Bde4wO82sA

— Manny Pacquiao (@MannyPacquiao) September 29, 2021
In other sports news, Tyron Woodley makes good on his promise and gets an "I Love Jake Paul" tattoo.