Hendrick's Gin and Katz's Delicatessen Launch Gin-Inspired Pickled Cucumbers
Uniting cocktail connoisseurs and pickle aficionados.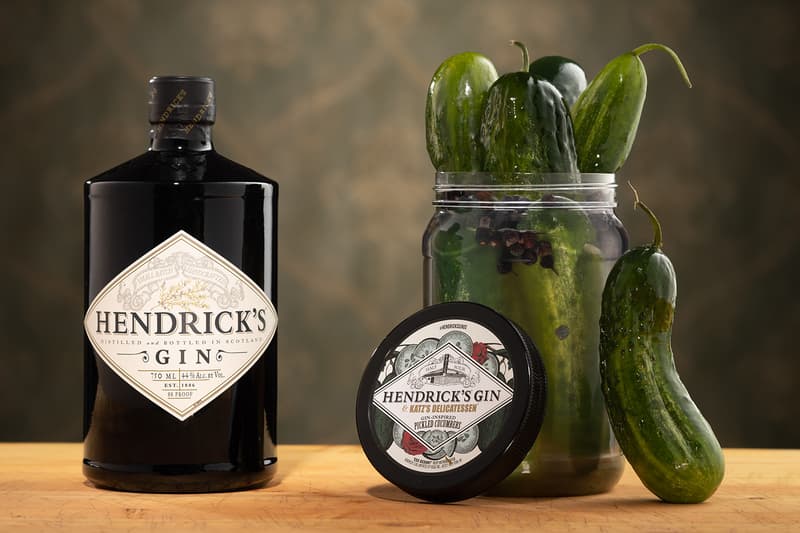 Looking to unite cocktail connoisseurs and pickle aficionados, Hendrick's Gin and Katz's Delicatessen have collided to launch a limited-edition run of gin-inspired pickled cucumbers. Fueled by an April Fool's joke, the first-of-its-kind gin half-sour pickle is a delectable fusion of botanicals and cucumbers.
Over countless hours of concocting and evaluating flavor profiles and mixtures, Jake Dell, Owner of Katz's Delicatessen, and Hendrick's Master Distiller Lesley Gracie developed a pickle to be enjoyed with a pastrami sandwich and refreshing cocktail. Katz's five generations of pickling experience were drawn upon to formulate an intricate and detailed 72-hour two-step brining process. A unique half-sour brine mix of whole juniper berries and cubeb berries is used to incorporate botanical flavors for a unique take on the classic pickle. The cucumbers will continue to pickle in the jar, so it is recommended that they are consumed within five-six days.
"The signature expression of Hendrick's Gin is the curious yet marvelous infusion of our eleven botanicals in addition to rose and cucumber," said Lesley Gracie. "Naturally, pickles, the cousin of our beloved cucumber, effortlessly blend with our gin's rich and intricate spirit. The botanicals take on remarkably compatible sensory characteristics when pickled and we're relishing this opportunity to collaborate on such an exciting endeavor."
"To create this particular pickle concoction, we experimented with a variety of botanicals to marry the unique flavor profiles of Hendrick's and the Katz's half-sour pickle. Ultimately, the key to creating the distinct and balanced taste of the pickles was emphasizing coriander in the brine, a common ingredient in Katz's pickles & Hendrick's Gin," said Jake Dell.
Priced at $15 USD per quart, the Hendrick's Gin x Katz's Delicatessen Gin-Inspired Pickled Cucumbers will be available on Katz's website for a limited time starting September 27 with pre-launch signup now open. Additionally, Katz's Delicatessen will also be serving the pickles as a special menu item starting September 27.
DISCLAIMER: We discourage irresponsible and/or underage drinking. Drink responsibly and legally.
For more food and beverage news, watch this Iron Chef turn instant noodles into a gourmet meal.