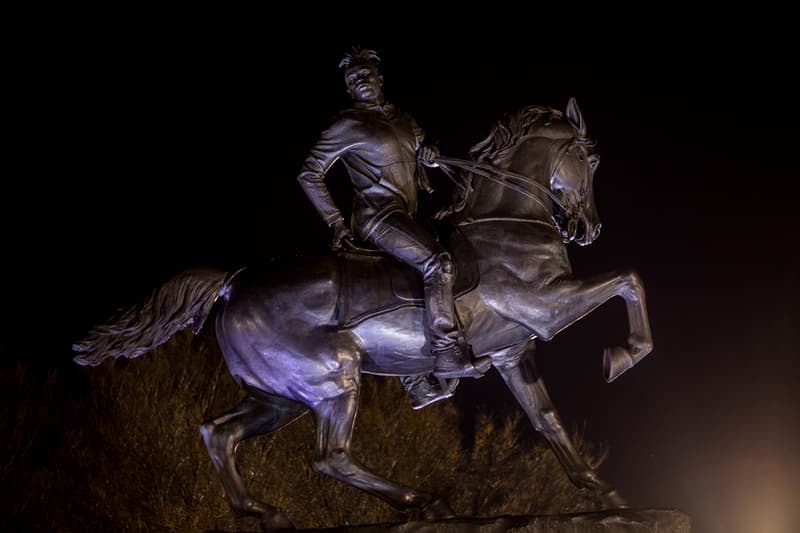 Destination Crenshaw Is a New Cultural Center That Will Enrich the South LA Community
Featuring seven new artistic works, including a massive sculpture by Kehinde Wiley.
---
Next year, the $100m USD project, "Destination Crenshaw," will open its corridors in the South Los Angeles community. Amongst the highlights of this 1.3-mile cultural center stands a powerful new sculpture by artist Kehinde Wiley. The work continues off his "Rumors of War" series, but instead of a Black man standing on horseback, there is a Black woman, who is seen riding off into battle.
Signature to his oeuvre, Wiley's sculptures address the racial inequities that are everpresent within monuments across America and around the world. The artist notes of the struggle of representation when it comes to statues and seeks to raise awareness "for human rights and for visible signs of dignity, which is essentially what sculptural monuments are — what we as a collective society stand behind, what we gather around and consider to be our high watermarks as a society," stated the artist in an interview with The Los Angeles Times.
Wiley's sculpture will stand in the newly built Sanfoka park, one aspect of four acres of public recreation, which includes an amphitheater, over 50 murals, along with 800 newly planted trees. He is one of seven artists who have been commissioned for this new project, all of whom are connected in some way to the community of Crenshaw. Other artists include Alison Saar, Artis Lane, Brenna Youngblood, Maren Hassinger, Charles Dickson and Melvin Edwards.
First started in 2017, Destination Crenshaw quickly garnered public support from a variety of activists and museum directors to city planners and even the late Nipsey Hussle. There has never been "a contemporary Black arts project, in an urban environment in a public setting, of this magnitude," said Jason W. Foster, President of Destination Crenshaw, in an interview with the Times. A center that certainly will revitalize the economically neglected Crenshaw community.
The seven new works will be installed in Destination Crenshaw when it unveils in fall 2022.
Also in the news, the coastal town of Rimini has dedicated a new museum to legendary filmmaker, Federico Fellini.