Conor McGregor and Machine Gun Kelly Get Into Altercation at MTV Video Music Awards
A drink and a punch were thrown.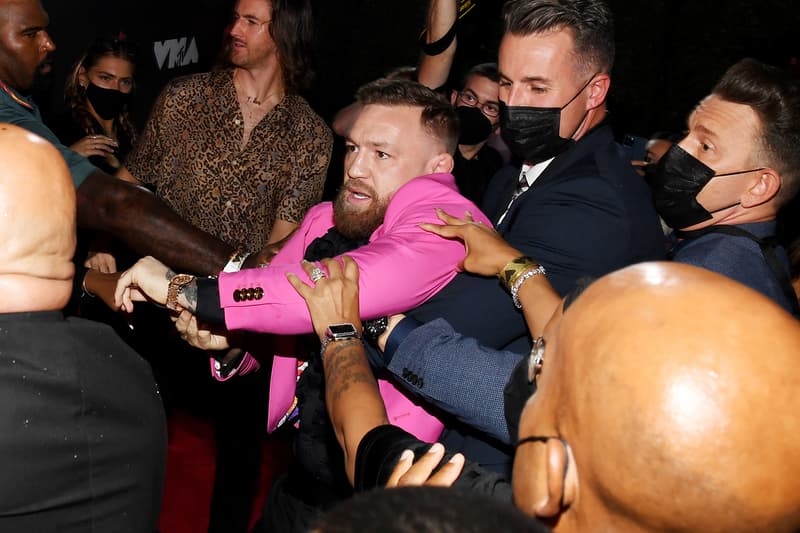 Conor McGregor's leg hasn't yet healed and he's already involved in a new altercation.
Taking place at this year's MTV Video Music Awards, it was reported that McGregor got into a confrontation where both he and Machine Gun Kelly had to be separated, and a drink and punch were thrown. The commotion apparently started after The Notorious approached MGK for an introduction, it was then that McGregor was either given the cold shoulder or pushed by MGK or his security which rubbed the Irishman the wrong way. The altercation may have also resulted in his walking cane getting knocked over and his drink spilling.
Conor McGregor was present at the MTV Video Music Awards to present Justin Bieber with the "BEST Artist of the Year" award. Reporters caught up with the MMA fighter later on where he disclosed that "Absolutely nothing" happened. He went on to say, "I don't know. He showed up, and I don't know. I don't know the guy. Nothing happened with me, I only fight real fighters, people that actually fight, you know what I mean? I certainly don't fight little vanilla boy rappers. I don't even know the guy. I don't know anything about him, except that he's with Megan Fox."
Why is Conor trying to fight Machine Gun Kelly at the VMA awards. ???? pic.twitter.com/MoN9qa9guU

— Jason Williams (@jasoneg33) September 13, 2021
Angle of Conor McGregor throwing drink at MGK, Fighters React to Scuffle https://t.co/6KTpzR369E

— MMA Crazy (@MMACrazy) September 13, 2021
In other entertainment news, Christopher Nolan's next film focuses on the father of the atomic bomb, J. Robert Oppenheimer.