50 Cent Talks Casting Eminem and Snoop Dogg for New Show 'Black Mafia Family'
Eminem's first acting role since '8 Mile.'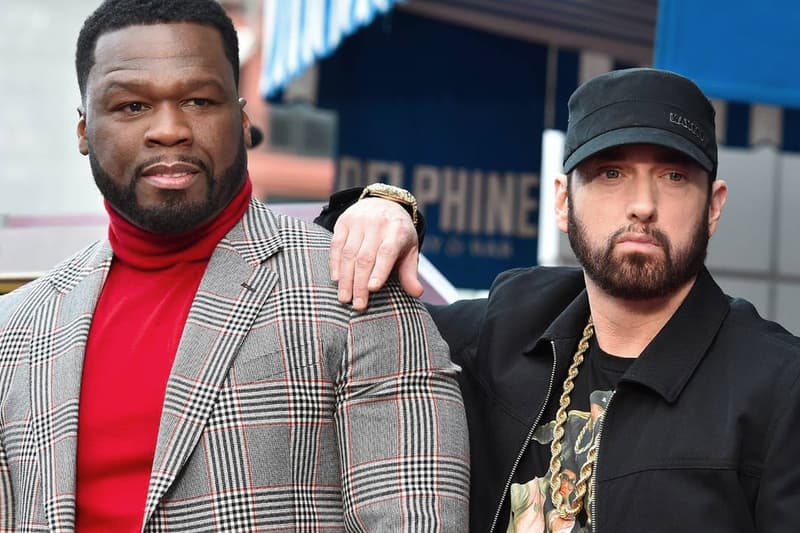 Media mogul 50 Cent has shown his successful transition from music to major television creative with his new Starz project, Black Mafia Family.
BMF is based on a true story of the organized crime group Black Mafia Family and highlights founders Demetrius and Terry Flenory as the main protagonists of the plotline. By the 2000s, the BMF was considered one of the most influential crime families in the U.S. with a hip-hop music label that was often used for money laundering and a drug distribution network that spanned across the country. Ahead of the debut, 50 Cent spoke about the reason why he replaced himself with Snoop Dogg and how he got Eminem involved with the project.
50 Cent commented on Snoop Dogg's role sharing, "I actually threw myself out of this one. I was originally cast to play Pastor Swift, the role that Snoop [Dogg] is now playing. It's because I knew I had to market this whilst also doing promotional stuff for Raising Kanan which I did a voiceover for, and I didn't want that to be in people's minds when I reappeared in BMF."
50 praised Snoop's direction on the role saying, "I thought Snoop did a very good job and I got the chance to direct him. He was very prepared, he worked on it. Snoop went in there with the attitude to bring the character to life."
When it came to turning to Eminem to play White Boy Rick, marking the first acting role the Detroit native has taken on since 8 Mile, 50 Cent said, "It was not that difficult to get Em, because we have a great relationship and if he ever finds a point where he could do something to help or support me or catapult me to the next level, he's the first guy in line to do it."
Black Mafia Family airs on Sundays on Starz at 9 p.m. EST.
In case you missed it, Netflix debuts the season 4 trailer for Stranger Things.