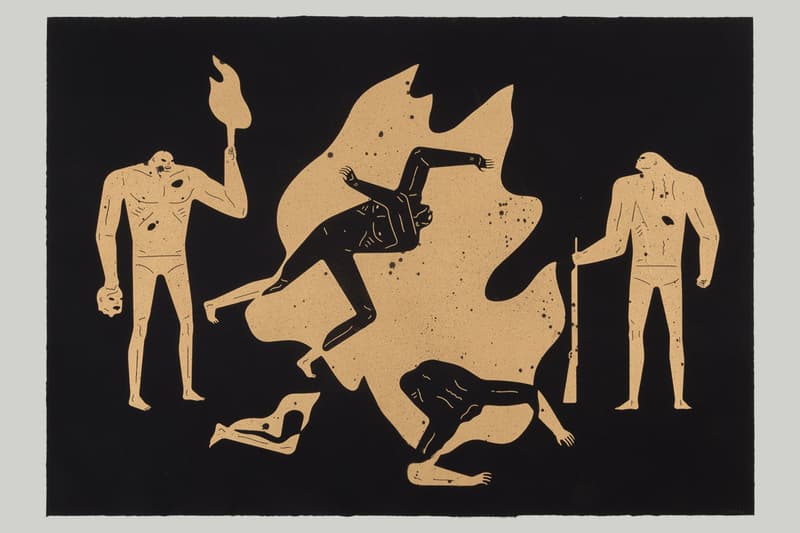 Cleon Peterson's "Exiles" Investigates the Relationship Between Aggressor and Victim
A series of hand-painted prints on view at Detroit's Louis Buhl & Co.
---
Detroit-based gallery, Louis Buhl & Co. will unveil a new exhibition by artist Cleon Peterson later this month. Entitled "Exiles," the latest body of work continues on Peterson's oeuvre of commenting on the dark underbelly of human nature.
For the particular exhibition, the Los Angeles-based artist investigates the symbolic relationship between aggressor and victim and how despite both being driven by similar forces — such as utopian aspirations and being possessed by ghosts of the past — the two exist in a state of alienation from one another. "Exiles" is influenced by the song Tomorrow Belongs To Me from the film, Cabaret, Exiles. The work does not offer solutions to the myriad of problems facing society, but serves as a black mirror of sorts, reflecting our contemporary culture and how it is riddled with constant power struggles, brutality and corruption.
Similar to his past work, this latest body features Peterson's bold and minimal choice of colors, typically set in black, white, gold and red. Each work on paper, showcases his attention to form and precision, while honing in on the hand-painted feel which is apparent through marks, such as the occasional paint splatter.
Cleon Peterson's "Exiles" is on view at Louis Buhl & Co. from August 21 to September 18.
Also on view, the Fenimore Art Museum is showcasing an extensive body of work from the legendary Keith Haring.
Louis Buhl & Co.
1260 Library Street Alley,
Detroit, MI 48226