Wes Anderson's 'The French Dispatch' Receives Nine-Minute Standing Ovation at Cannes
The cast arrived to the red carpet in a massive gold party bus.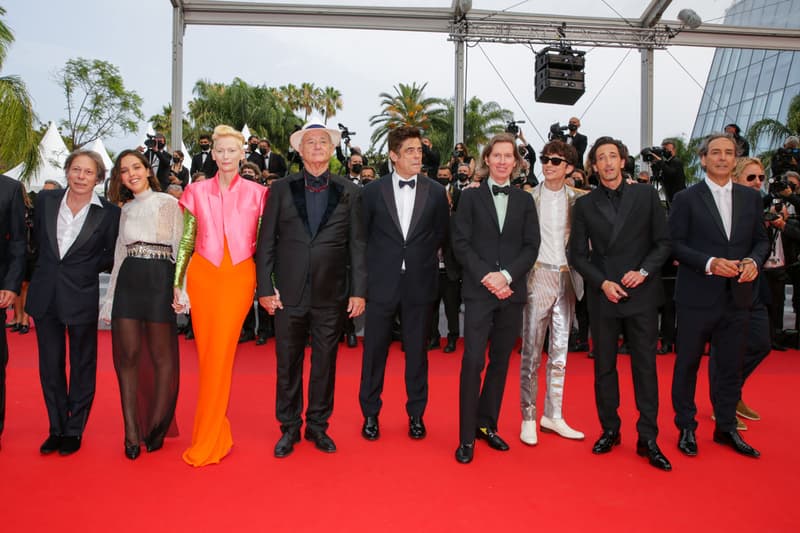 Wes Anderson's American comedy-drama film The French Dispatch premiered at the Cannes Film Festival on Monday evening and received one of the longest rounds of applause at the event's 74th edition.
According to Variety, Anderson earned a standing ovation that continued for nine consecutive minutes alongside his cast in attendance, which included Timothée Chalamet, Bill Murray, Owen Wilson, Tilda Swinton, Adrien Brody, Stephen Park and Benicio Del Toro. One actress, Lea Seydoux, was unable to attend the premiere, as she is quarantining in Paris after testing positive for COVID-19.
In lieu of a standard black car, the cast (and composer Alexandre Desplat) arrived to the red carpet in a massive gold party bus, escorted safely by French police on motorcycles. After assembling for group photos at the bottom of the carpet, Anderson and his top-shelf entourage entered the theater for the film's debut, where they were met with overwhelming applause.
The French Dispatch is coined as a "love letter to journalism," following a group of expatriate writers — under the jurisdiction of a dedicated editor played by Murray — who must complete their final collection of stories for a weekly culture magazine in a special interest section of a Kansas daily newspaper. Ironically, though, Anderson declined to hold a traditional press conference with his cast or facilitate any interviews with reporters in Cannes.
Following the unveiling, Anderson briefly addressed the crowd, saying, "I hope we come back with another one soon. Thank you."
The film was originally scheduled to premiere at Cannes in 2020, but has experienced several delays due to the pandemic. The French Dispatch is now scheduled to debut in theaters in the United States on October 22.
Elsewhere in film, Kevin Feige says the Black Panther sequel "will be extremely emotional."