Serendipity3 Sets World Record for the Most Expensive French Fries
Dusted with 23k edible gold and served on Baccarat crystal.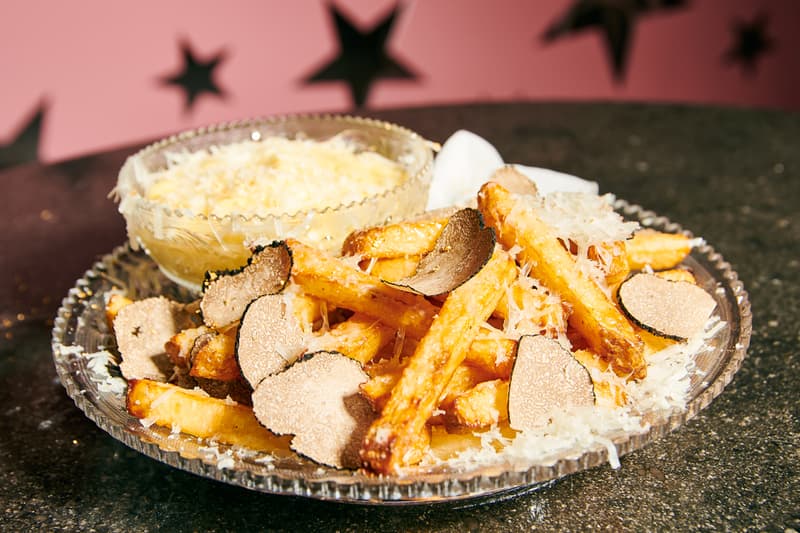 Officially deemed the "Most Expensive French Fries," by Guinness World Records, Serendipity3's new Creme de la Creme Pommes Frites come with a hefty price tag of $200 USD per plate.
Far from merely deep frying some potatoes, the process of making the pricey fries is a lengthy one. Formulated by the iconic New York restaurants's Creative Director Chef Joe Calderone and Corporate Executive Chef Frederick Schoen-Kiewert, Chipperbec potatoes are blanched in Dom Perignon Champagne and J. LeBlanc French Champagne Ardenne Vinegar before being cooked three times in goose fat. The fries then undergo a heavy dosing of truffles: they're seasoned with truffle salt from France, tossed with truffle oil and topped with shaved black summer truffles from Italy, as well as shaved sheep's milk pecorino.
The dish is served alongside a Mornay sauce that consists of cow's udder cream, truffle butter and a Swiss cheese that's been aged for three months. And as an elaborate finishing touch, the fries are sprinkled with 23K edible gold dust.
For french fry lovers wanting to try for themselves, the pricey fries arrive in-style (literally, on a Baccarat crystal plate) at Serendipity3 today, July 13, just in time to celebrate National French Fry Day.
In other food and beverage news, Popeyes is officially launching chicken nuggets.