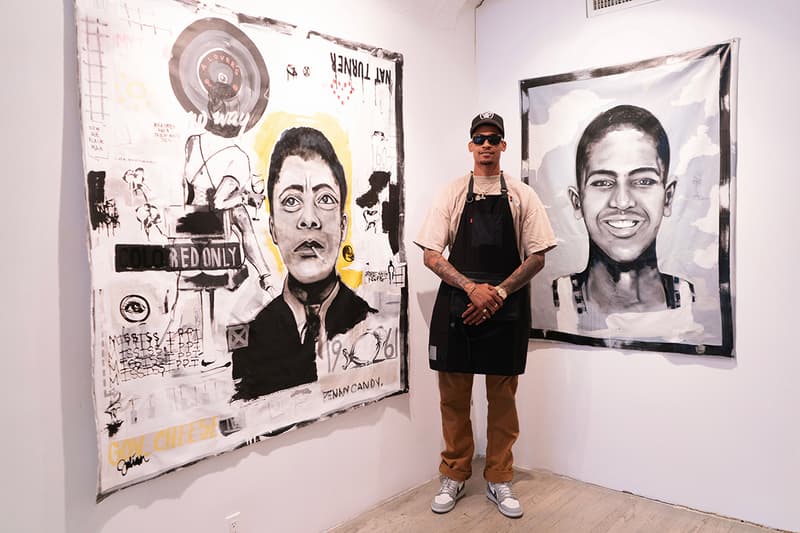 1 of 6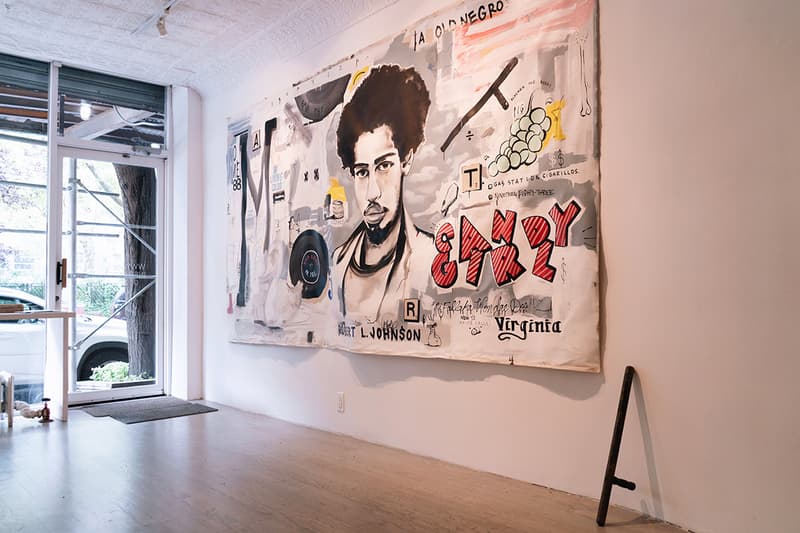 2 of 6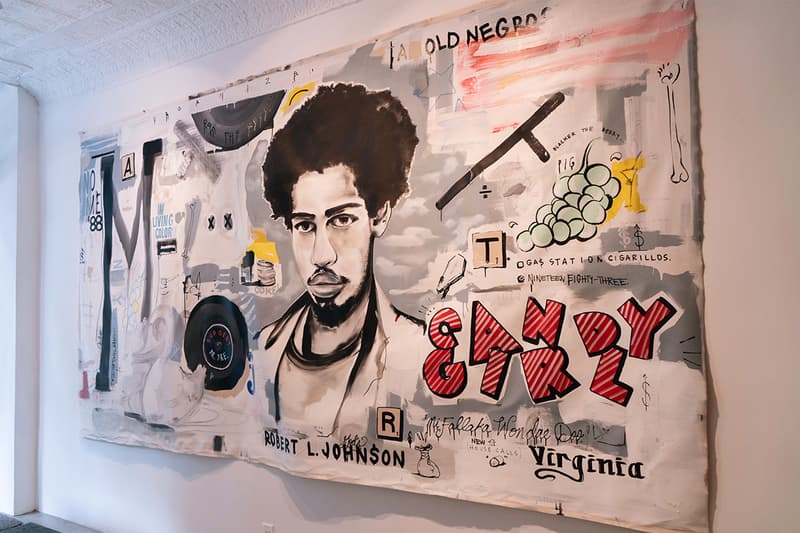 3 of 6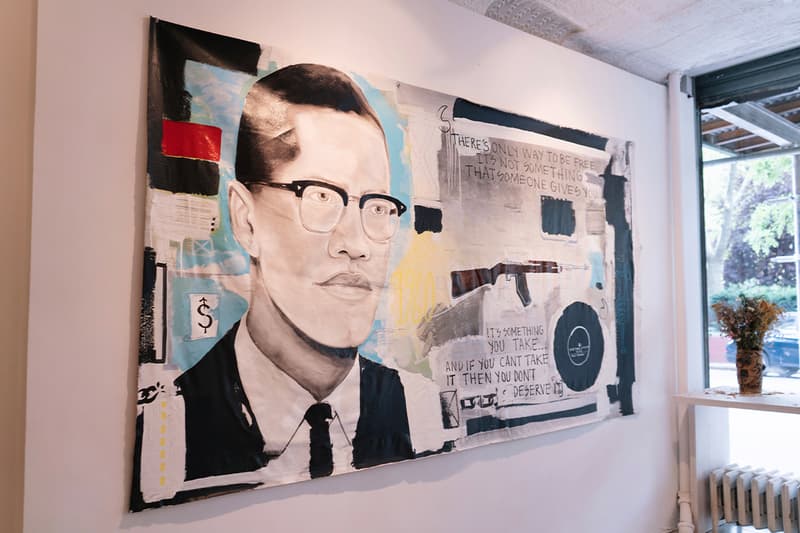 4 of 6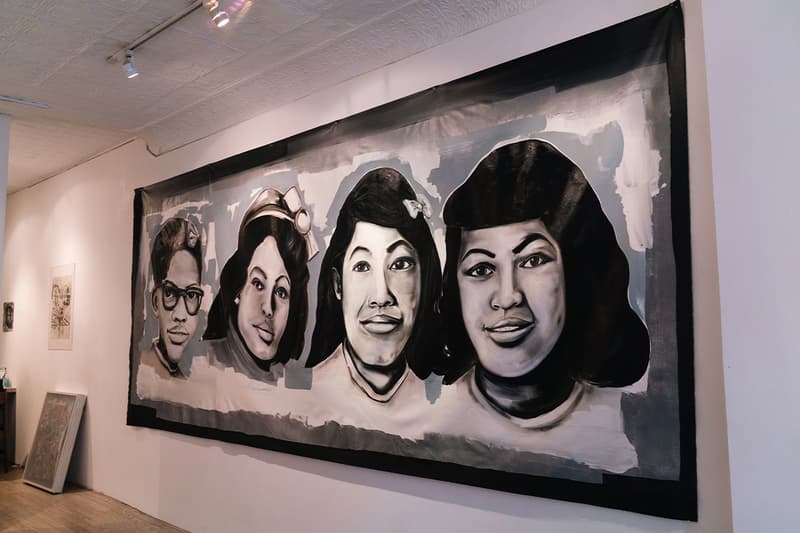 5 of 6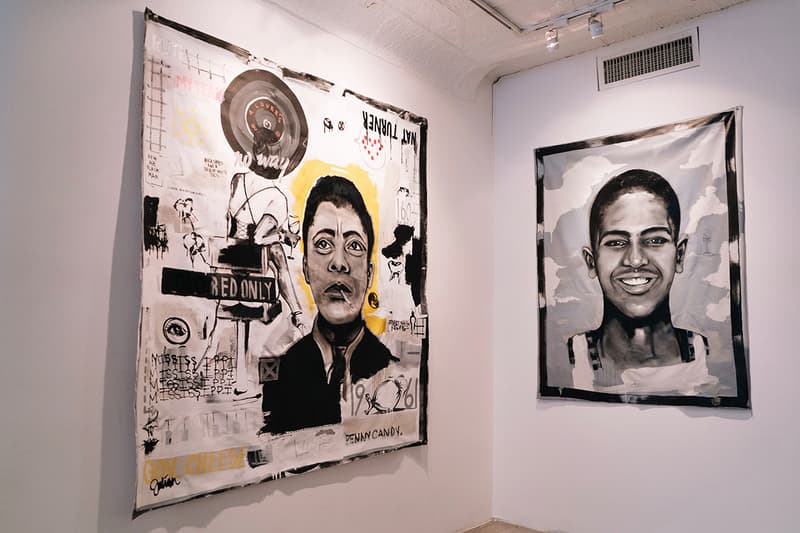 6 of 6
Ju Working on Projects Debuts "Painting the Blueprint" Solo Show
Five of the artist's large-scale canvas works are on display at Steven Harvey Fine Art Projects in Lower Manhattan.
---
Chicago-born, Oregon-based fine artist and designer Julian Gaines, better known as Ju Working on Projects, has debuted his "Painting the Blueprint" solo show at Lower Manhattan's Steven Harvey Fine Art Projects. Consisting of five large-scale canvas paintings, the show spotlights Ganes' "New Black History" ethos, spotlighting underappreciated-yet-influential individuals in Black American history while also paying homage to iconic Black thinkers.
"The reason I chose this tight space and these large canvases was to force the viewer into the work," Gaines told HYPEBEAST. Four of the five works on display highlight Black individuals who lost their lives to a climate of racist violence, namely Malcolm X, Michael Stewart, Ben Wilson, and the "4 Little Girls" (Addie Mae Collins, Cynthia Wesley, Carole Robertson and Carol Denise McNair). James Baldwin is also featured in one of the paintings. Though Gaines is acutely aware of the wrenching, thought-provoking nature of his work, he tries to honor and spotlight these individuals by "painting them how [I think] they'd want to be remembered."
Each painting is also loaded with hidden meaning. Malcolm X's visage is placed next to a rifle, inspired by the one he holds in a famous photo, under which sits a Beanie Sigel quote and a reference to a JAY-Z lyric, simultaneously acknowledging Gaines' respect for Malcolm X and the impact he's had on popular culture. Ben Wilson, a Chicago high school basketball legend who was killed in 1984 during a dispute, sits at the back of the gallery, overlooking the Houston Street Playground basketball courts — a fitting placement, as Wilson played at Simeon Gratz High School, an institution that would later go on to produce Derrick Rose, who wore #25 in Wilson's honor during his high school career.
The painting that features Michael Stewart also includes several nods to Suzanne Mallouk, Jean-Michel Basquiat's longtime girlfriend who also dated Stewart and has gone to great lengths to preserve his legacy. Gaines draws a great deal of inspiration from Basquiat, telling HYPEBEAST that the late artist is one of his heroes and that he postponed "Painting the Blueprint" by several weeks so he could pay tribute to Basquiat around the anniversary of his death, August 12.
"Painting the Blueprint" is on view at Steven Harvey Fine Art Projects until September 3. Hours are from noon to 6 PM Wednesday through Saturday.
Steven Harvey Fine Art Projects
208 Forsyth St,
New York, NY.
10002
For more from Ju Working on Projects, check out his feature on HYPEBEAST's Sole Mates series, in which he discussed his Nike Sky Force 3/4 collaboration, the intersection of athletics and aesthetics and more.