Tesla Model S Plaid Sets 1/4 Mile World Record for Production Cars
Watch Jay Leno do the drag strip run in 9.247 seconds.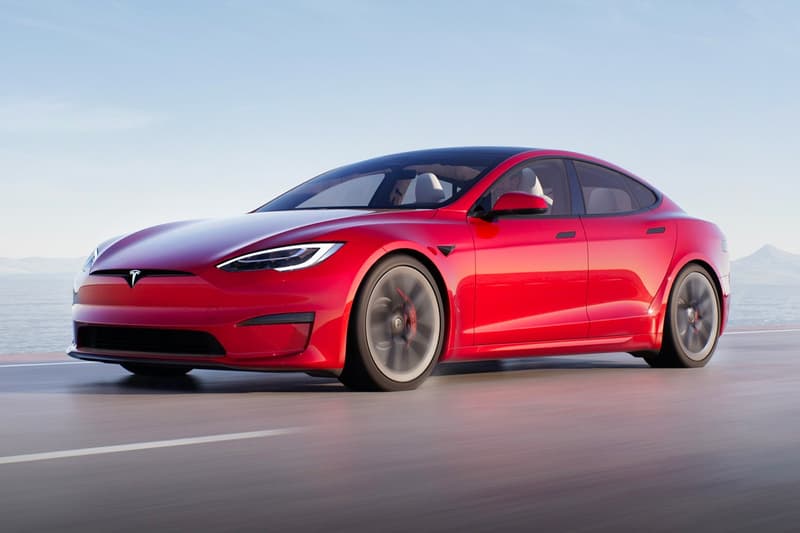 We already know how quick the Tesla Model S Plaid can launch from 0-60 MPH, but to see it in action with Jay Leno behind the wheel is truly something else — especially as Leno has just set the land speed world record for the fastest 1/4 mile run in a production car.
Sitting behind the wheel of the all-electric Model S Plaid, we see a helmet-clad Leno brace himself for what's going to be a rapid launch. And sure enough, it was. As he puts his foot down, the Tesla launched from the starting line at the Auto Club Famosa strip (near Bakersfield, California) in record-setting fashion.
They've gone to plaid ?

Tesla showed off its newest model S Plaid at an event in California where Jay Leno was able to drive the new whip, and even tries to break a quarter-mile land speed record for production cars. #Tesla pic.twitter.com/Rrt4ESBvWb

— Jay Leno's Garage (@LenosGarage) June 14, 2021
Guided by chief Tesla designer Franz von Holzhausen (who's keeping an eye on the clock), Leno reaches the end of the 1/4 mile in just 9.247 seconds — in other words, a world record for production cars. To put this into perspective, a Bugatti Chiron Sport did the same sprint in 9.4 seconds.
Watch the video above (which includes references to the movie Space Balls, à la "Plaid") and expect more content to come when Jay Leno's Garage airs again.
For more fast cars, check out the TECHART GTstreet R: an 800 HP Porsche 911 Turbo S.