Japan's Houkokuji Aizu Betsuin Temple Gives Its 187-Foot-Tall Kannon Statue A Massive Face Mask
The 80-pound mask will spiritually fight COVID-19.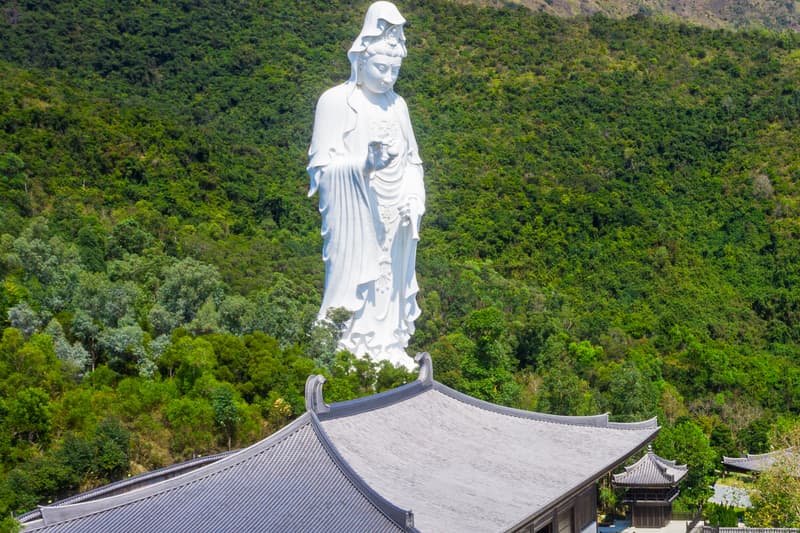 The Houkokuji Aizu Betsuin temple in Fukushima Prefecture, Japan has just received a new facelift in the form of a massive custom facemask for its 57-meter-tall (187 feet) Goddess of Mercy Kannon statue.
Workers spent three hours scaling the statute carrying a 16.5-foot-wide mask that weighed almost 80 pounds in order to cover the face of the goddess. The statue, which is often prayed to for the safe delivery of babies and blessings to expectant parents, will now have an additional purpose in spiritually fighting the nation's current struggles with the COVID-19 pandemic. The temple intends to keep the mask on until the pandemic starts to show signs of slowing down.
A massive custom-made "face mask" weighing 77 pounds was placed on a giant Buddhist goddess statue in Japan to pray for the end of the coronavirus pandemic. The statue is located in a temple in Fukushima Prefecture called "Houkokuji Aizu Betsuin." pic.twitter.com/eikPwsOnLy

— CBS News (@CBSNews) June 16, 2021
In other design news, Sou Fujimoto designs an ethereal tower of 99 floating islands.