Vin Diesel Claims Credit For Dwayne Johnson's Performance in 'Fast & Furious' Franchise
Addressing the feud between the two actors in a recent interview.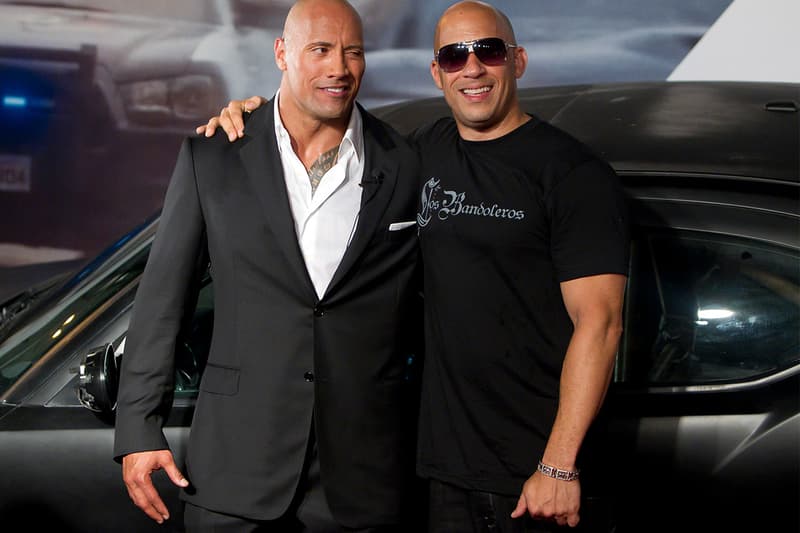 The feud between Fast & Furious costars Vin Diesel and Dwayne Johnson has long been known after the latter took to Instagram to express his dissatisfaction during the shooting of Fate of the Furious back in 2016, going so far as to call Diesel out for being "candy asses" and not conducting himself as a "true professional." Speaking to Men's Health, Diesel has now opened up about the feud between the two, claiming that it's water under the bridge. Despite this, the lead actor and film producer nonetheless claimed credit for Jonhson's performance in the franchise, saying it was due to his "tough love."
"It was a tough character to embody, the Hobbs character," Diesel recalls. "My approach at the time was a lot of tough love to assist in getting that performance where it needed to be. As a producer to say, 'Okay, we're going to take Dwayne Johnson, who's associated with wrestling, and we're going to force this cinematic world, audience members, to regard his character as someone that they don't know' — Hobbs hits you like a ton of bricks."
He continued: "That's something that I'm proud of, that aesthetic. That took a lot of work. We had to get there and sometimes, at that time, I could give a lot of tough love. Not Felliniesque, but I would do anything I'd have to do in order to get performances in anything I'm producing."
Since their collaboration across several titles in the franchise, Johnson went on to receive his own spinoff feature alongside Jason Statham, who portrays British super agent Deckard Shaw. A sequel is currently in development for Hobbs & Shaw, but there's no indication that the pro-wrestler-turned-actor will be returning to the main franchise for the two final films.
F9 will arrive at theaters in the U.S. June 25.
Elsewhere in entertainment, take a first look at Sasha Calle's Supergirl costume for The Flash.