You Can Now Buy a Share of the Rarest Babe Ruth Trading Card on Earth
The 1914 Baltimore News Babe Ruth Pre-Rookie Card is valued at over $6 million USD.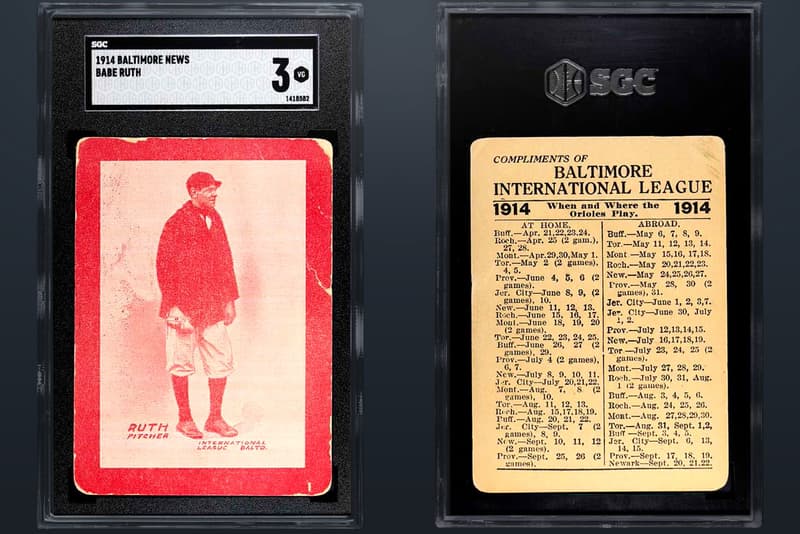 You can now own one of the rarest Babe Ruth trading cards in existence — well, a piece of it, anyway.
Leading sports memorabilia investment platform Collectable announced on Wednesday that an ultra-rare 1914 Baltimore News Babe Ruth Pre-Rookie Card will soon be sold for $3 USD a share. The platform will be offering 20,000 shares of the collectible asset, valued at around $6 million USD.
According to Collectable, the trading card was recently acquired by an unnamed owner and is one of only 10 in existence. Graded as 3 on the SGC Grading Scale, it is described as "the rarest and most valuable Babe Ruth card in existence."
While two other 1916 versions of a Babe Ruth rookie card exist, the 1914 Baltimore News issue is viewed as Ruth's "true" minor league rookie card.
The recent acquisition of the 1914 Baltimore News issue broke the previous $5.2 million USD record that was set by a 1952 Mickey Mantle Card and 2003 LeBron James Rookie Card, likely making it the most expensive purchase in sports trading card history.
The card has previously been displayed at the Babe Ruth Museum in Baltimore, Maryland, for the last 23 years. It will remain in the museum but will now be showcased in a newly-created exhibit with special access for shareholders.
"Today's announcement represents not only a record price for a sports card, but also a historic and seismic moment for the sports collectibles industry," said Ezra Levine, CEO of Collectable. "We continue to see tremendous excitement for rare and exciting pieces of sports history, and we're thrilled that today's announcement showcases the power of fractional ownership to democratize and modernize our special industry."
Shawn Herne, Executive Director of the Babe Ruth Museum, said that displaying the unique card preserves its special legacy in sports history.
"This incredibly generous offer to exhibit Ruth's 1914 Orioles' rookie card enables the museum to offer visitors the unique opportunity to experience — up close and personal — the Mona Lisa of baseball cards, and to further appreciate Ruth's continuing impact on the game, and on our society, as an American cultural icon."
George Herman "Babe" Ruth's career in Major League Baseball lasted 22 seasons from 1914 through 1935. Nicknamed "The Bambino" and "The Sultan of Swat," he is widely considered to be one of the greatest baseball players of all time. Though he played for several teams throughout his career, he achieved his greatest fame as a slugging outfielder for the New York Yankees.
Last week, a 1933 Babe Ruth Goudey card sold for $400,000 USD on eBay. The online retailer also recently auctioned off 450 cards, including three of four coveted Babe Ruth cards.