Will Virtual Fitness Have a Post-Pandemic Future?
As gyms around the world tentatively reopen, exercise apps are banking on being more than just a short-lived trend.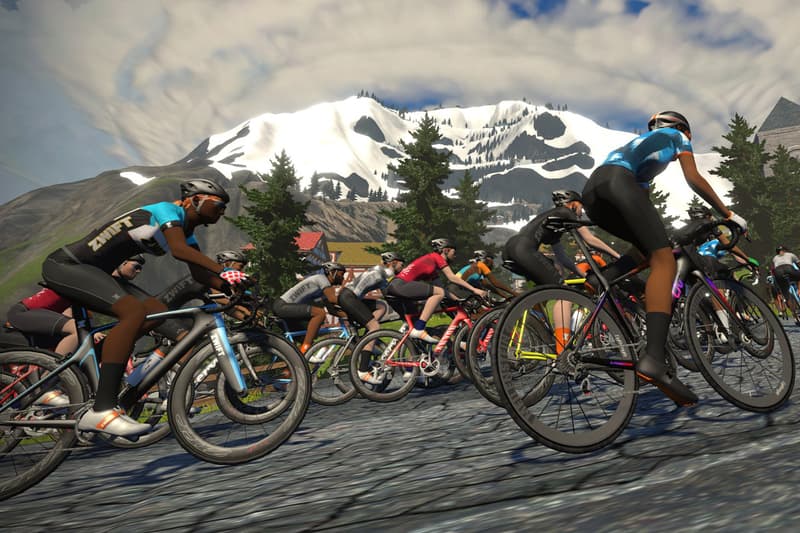 The world of online fitness has undergone a boom since the COVID-19 outbreak early last year. With gyms, studios and athletics clubs across the globe forced into indefinite closure, the almost $100 billion USD fitness industry has had to adopt a new online way of working as a result of ongoing global restrictions, with users then confined to the four walls of their home for the foreseeable future.
Between March and July last year, the sale of at-home gym equipment rose by over 2000% in the U.K. alone, and while much of this comprised weights, yoga equipment and the like, it also saw the start of the boom in the world of streaming services and virtual trainers.
While these 2020 figures might be impressive (and largely expected), with gyms re-opening across the world and a date of June 21 ear marked as a return to normality for the U.K. at least, the question begs as to what the future holds for virtual fitness in the long run.
According to a recent Ofcom study, adults across the U.K. are now spending, on average, around 6 hours 30 minutes a day looking at screens, whether that's through leisure, exercise or through working from home commitments. This increased screen time does raise concerns as to when restrictions are finally lifted, will users really be keen on spending more time in front of a screen than is really needed?
Peloton, the New York-based fitness platform, certainly thinks so. "Digital technology is enabling people to take back control of their lives and do what they want when they want to do it," explains Kevin Cornils, the brand's Managing Director, International. "You've seen other industries shift into the home already — gaming and movies for example — and it has seen a higher quality experience in your own time".
The streaming fitness company, which was an early believer in the benefits of at-home fitness, has based its products around online classes and interactive modes since long before COVID. It's this experience that Cornils cites as playing a key role in virtual fitness' long-term future too.
"We see the value of convenience, and what we call the 'two second commute' from the bed to the bike," he continues. "You get up, splash some water on your face and jump straight on the bike: it just make nm,./s a great workout that's much more accessible. I think that will continue to be as relevant even as we get back to some form of new normal".
While increased screen time might be a concern for some companies, California-based platform Zwift has sought ways to increase the number of users staring at its screens by introducing its unique Esports offering. Initially designed as a competitive outlet for professional riders and amateurs alike, Zwift partnered up with some of cycling's most highly-regarded event organisers throughout last year's initial COVID outbreak, and played host to events like the Virtual Tour de France and the very first UCI Cycling Esports World Championships, which saw riders from more than 130 countries worldwide competing. This continued effort to innovate will be vital for the brand's future.
"It's become clear throughout the past year that people do actively enjoy at-home workouts and are much more aware of what they're getting".
"It's important that we are able to serve Zwifters the content to keep them engaged," says Chris Snook, Zwift's Senior PR Manager. "This means new roads to ride, more training plans, new formats of racing and better events. We also have the option to 'gamify' the platform even more than it is today, making it more appealing to a much broader audience".
The cycling-focused company — which has since expanded its product to running, too — first launched as a fully-fledged subscription company in 2015 and has since seen its customer base grow steadily year-on-year, with a 191% increase last year alone.
"The pandemic certainly helped accelerate our growth over the past 12 months," says Snook. "We saw our subscriber base more than double in size. While growth in our main marketing areas has always been historically strong, we saw a noticeable increase in subscribers in countries hardest hit by lockdown measures – France, Spain and Italy all saw a sharp increase in subscribers".
While fitness-specific platforms have seen a rise in users, the ever-changing world of Instagram saw a sudden increase in fitness-focused workouts when the pandemic struck too. Kirsty Godso, a Master Trainer for Nike's Training Club App, has been filming for the brand for over nine years and saw her output increase ten-fold throughout lockdown. Yet with many across the world no longer housebound, Godso still believes the relationships garnered between online trainers and its users will see the at-home trend continue.
"A lot of users have developed a strong bond with the trainers they were following and working out with virtually," she told HYPEBEAST. "That in-depth connection established during a vulnerable and uncertain time is something that holds true value and loyalty. Working out from home is also a good cost-saving method, with many free options online and the safety from potential exposure to COVID in a shared workout setting too".
"A lot of users have developed a strong bond with the trainers they were following and working out with virtually. That in-depth connection established is something that holds true value and loyalty".
Godso also believes that the key to keeping users interested also lies in fitness companies collaborating with more data-driven outlets to create a more all-round experience. "If platforms work with more data-driven brands, users will be able to get a more in-depth snapshot into their daily activities and recovery," she said. "What I would love to see is collaborations that deliver a portal where you can tap into all areas of your health and wellness, be that training, nutrition, mindfulness, sleep and recovery, so you can truly understand and learn about your health and wellbeing".
Although it's unclear for many whether at-home training will continue to rise as we regain a sense of normality, for the rowing machine company Hydrow, it's only going one way. After a successful roll-out across the U.S., Hydrow recently expanded its offering to the U.K. market too.
Although the costs are prohibitive — a machine costs £2,295 (approximately $3,200 USD) with a £38 ($52 USD) monthly subscription — Bruce Smith, the brand's CEO, has overseen encouraging growth, and is confident the trend will continue beyond the pandemic. "It's become clear throughout the past year that people do actively enjoy at-home workouts," he explains. "Users are much more aware of what they're getting."
As much of the world begins to edge towards a new sense of normality, only time will tell if exercising from your own living room will ultimately trump gyms and boutiques in the long run. But if we've learnt anything from the last year, it's that new and more convenient ways of living are certainly at the forefront of everyone's mind.