Instagram Adds New Pronouns Feature To User Profiles
Users can make their pronouns public or share to their followers only.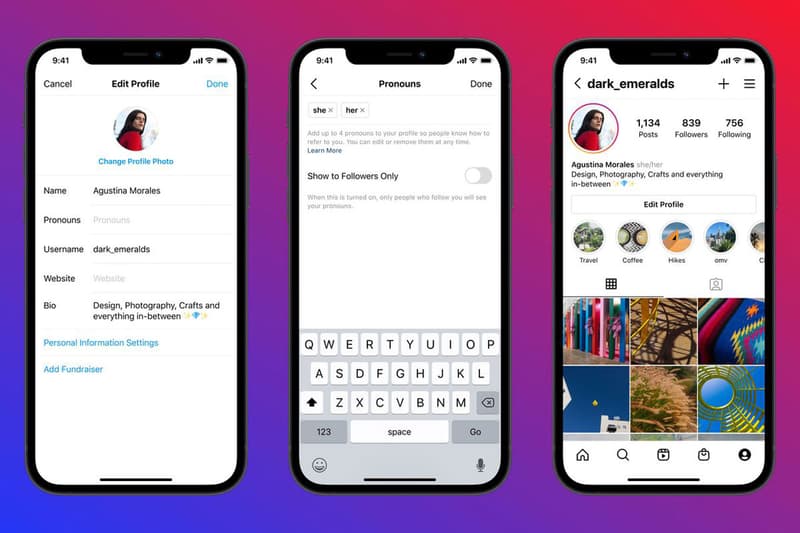 Instagram has added a new feature that allows users to share their pronouns on their profiles.
The social media company took to Twitter to announce the new input area, which allows people to add up to four pronouns to appear next to their name on their profile. Participating users have the option to either display their pronouns publicly or only to their followers, though users under 18 will have the latter setting turned on by default.
Add pronouns to your profile ✨

The new field is available in a few countries, with plans for more. pic.twitter.com/02HNSqc04R

— Instagram (@instagram) May 11, 2021
While the latest update is currently only available in the United States, United Kingdom, Canada and Australia, Instagram has confirmed there are plans to make the feature available in more countries.
To add pronouns, users can head to their profile, click the "Edit Profile" icon, and then click "Pronouns." There, users can begin typing their desired pronouns and select the appropriate terms from the available results.
Instagram consulted several LGBTQ+ organizations — The Trevor Project, GLAAD and PFLAG — while creating its list of available pronouns. According to Mashable, the list currently includes:
co / cos
e / ey / em / eir
fae / faer
he / him / his
she / her / hers
mer / mers
ne / nir / nirs
nee / ner / ners
per / pers
they / them / theirs
thon / thons
ve / ver / vis
vi / vir
xe / xem / xyr
ze / zie / zir / hir
If a desired pronoun is not available from the list, Instagram has advised users to submit new pronouns in an online form.
In another update, Instagram introduces auto-generated captions for Stories and Reels.