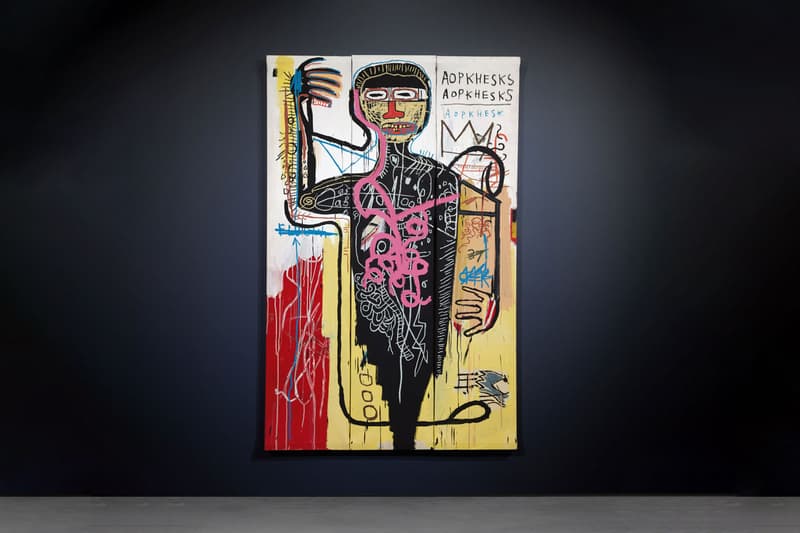 Basquiat's 'Versus Medici' Fetches $50.8 Million USD in Sotheby's Auction
Surpassing sold works by Banksy, George Condo and more.
---
Sotheby's concluded its Contemporary Art Evening Sale this past Wednesday night, achieving a total profit of $218.3 million USD. Topping the hundreds of lots sold is a 1982 mixed media painting entitled Versus Medici by Jean-Michel Basquiat which snapped up $50.8 million USD — going just a tad above its high pre-sale estimate of $50 million USD. The work serves as self-portrait of the artist as a royal figure as Basquiat drew inspiration from the anatomical masterworks of Renaissance greats such as Leonardo Michelangelo, Raphael, Botticelli and others.
With this visually-charged piece, the artist subverts the notions of Western art "and crowns himself, the son of immigrants from Haiti and Puerto Rico," said Sotheby's in a statement. "With great intensity and visual force, and acutely aware of the exclusion of artists based on race from institutional and critical consideration, Basquiat used his position at the periphery of the art establishment to forge a new and highly referential visual language."
Other highlighted pieces in the auction is a 2011 oil on canvas painting by George Condo called Reclining Blue Form that hammered down a price of $3.7 million USD and a rare oil and spray paint on canvas work by Banksy featuring his iconic Flower Thrower stencil called Love is in the Air which the artist executed back in June 2005. Most notably, Robert Colescott's George Washington Carver Crossing the Delaware achieved an outstanding sale price of $15.3 million USD — smashing the artist's previous auction record of the same work of $912,000 USD.
Head to Sotheby's website to view all lots from the Contemporary Art Evening Auction.
In other art news, Pace Gallery is preparing to launch two monumental exhibitions by the acclaimed French artist JR in New York and London.