Amazon Introduces Tiny 'Zen' Booths Where Employees Can Go When They're Stressed
Some Twitter users have called the initiative "dystopian."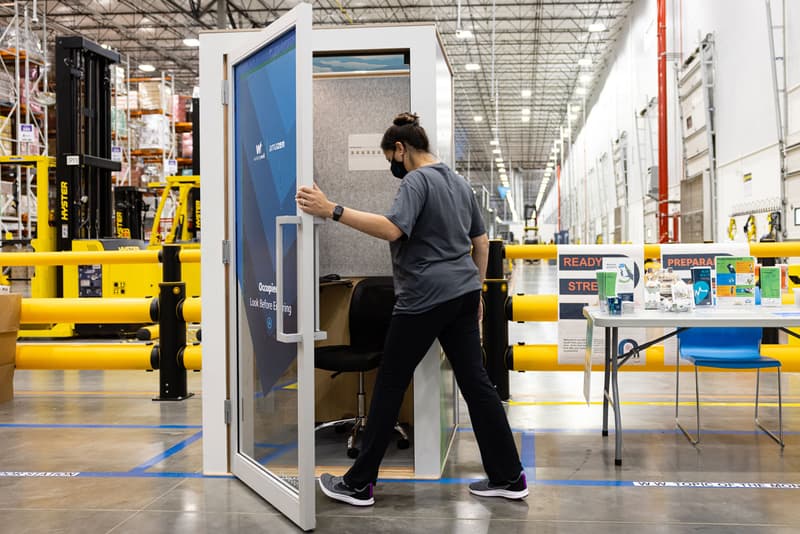 In an effort to ease employee stress at Amazon warehouses, the retail giant has introduced several new initiatives to create a healthier workplace.
Amazon first launched its health and safety program called WorkingWell earlier this month, aimed at providing employees with "physical and mental activities, wellness exercises, and healthy eating support that are scientifically proven to help recharge and reenergize, and ultimately reduce the risk of injury." It is part of the company's more than $300 million USD investment into workplace safety projects in 2021 as it strives to become "Earth's Safest Place to Work."
But one of the program's initiatives — called AmaZen — has garnered newfound attention online for its unconventional approach to wellness. Amazon first described the method in a May 17 press release:
"AmaZen guides employees through mindfulness practices in individual interactive kiosks at buildings. During shifts, employees can visit AmaZen stations and watch short videos featuring easy-to-follow wellbeing activities, including guided meditations, positive affirmations, calming scenes with sounds, and more."
According to a now-deleted video shared by Amazon this week, AmaZen kiosks have been set up across U.S. warehouses so employees can have a quiet place to go to "focus on their mental and emotional well-being."
But the new video has prompted backlash on social media, with some users calling it "dystopian."
the AmaZen "ZenBooth" is here! a Porta Potty would be more useful to its intensely exploited and surveilled workers but I appreciate Amazon's commitment to the bit https://t.co/U0GLysPqkP

— Alex Press (@alexnpress) May 27, 2021
Amazon deleted AmaZen from Twitter, but they can't delete this dystopian nightmare from the Library of Mental Health in our hearts. pic.twitter.com/WkCTPaqekD

— Steven (@Reachingbroom) May 27, 2021
In one of their most dystopian moves yet, Amazon introduces 'Zen Booths' on its warehouse floors where stressed out employees can find a moment of quiet. The booths, which look like coffins standing on end, have a fan for some air. But no restroom, that's what bottles are for. pic.twitter.com/Jcp3ayYNCB

— Mike Sington (@MikeSington) May 29, 2021
One user even called it a "mobile despair closet."
i feel like livable wages & working conditions are better than a mobile Despair Closet https://t.co/k4stnC0Ws0

— Talia Lavin (@chick_in_kiev) May 27, 2021
Amazon has not yet publicly commented on the criticism the initiative has received. The online retailer recently squashed union efforts at an Amazon warehouse in Bessemer, Alabama, and has used social media to defend the company from criticism over its unconventional workplace policies.