Here Are NTWRK's Top Drops for SURFACE Festival
The two-day shoppable, virtual festival starts this Sunday April 25, and will bring artists and designers closer to the consumer than ever before, featuring rare homewares and collectibles.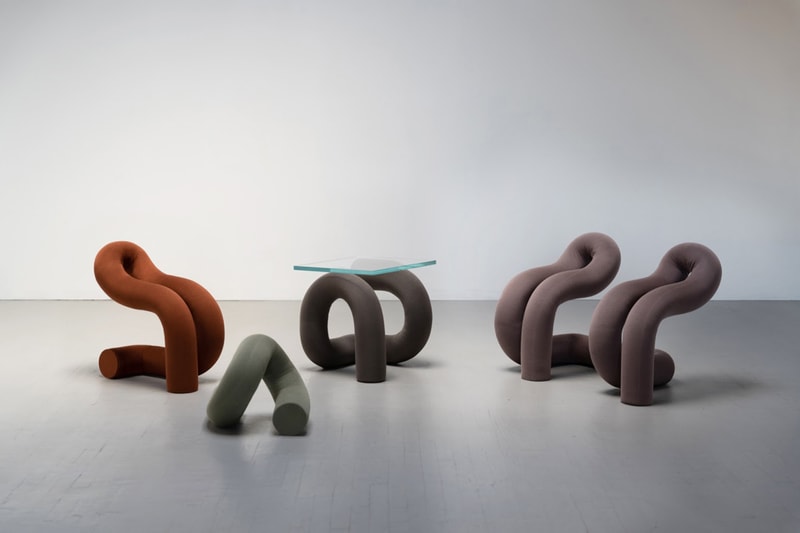 NTWRK, the mobile-first video shopping platform, is partnering with storied magazine, Surface to deliver a one-of-a-kind event entitled "SURFACE Festival" that will allow artists and designers to connect with consumers like never before. The two-day virtual festival has curated a lineup of creators selling luxury homewares and rare collectibles through NTWRK's live shoppable video format where design-savvy consumers will be able to watch, chat and shop from the convenience of their mobile devices. The special event will be hosted by Surface Mag's senior creative editor Nate Storey and in anticipation of this event, HYPEBEAST has chosen to highlight the top pieces from the highly-coveted lineup of releases this weekend.
Ulu Table by Ara Thorose

Ara Thorose's designs question the boundaries of form and function. He uses the ordinariness of furniture as a premise to elaborate on the extraordinary. The forms are made of steel and foam while the surfaces are a custom-designed wool and silk fabric blend. The sheen of the silk accentuates the forms' contours on the Ulu table.
Virgil Abloh "Still Speaks Loudly" Face Mask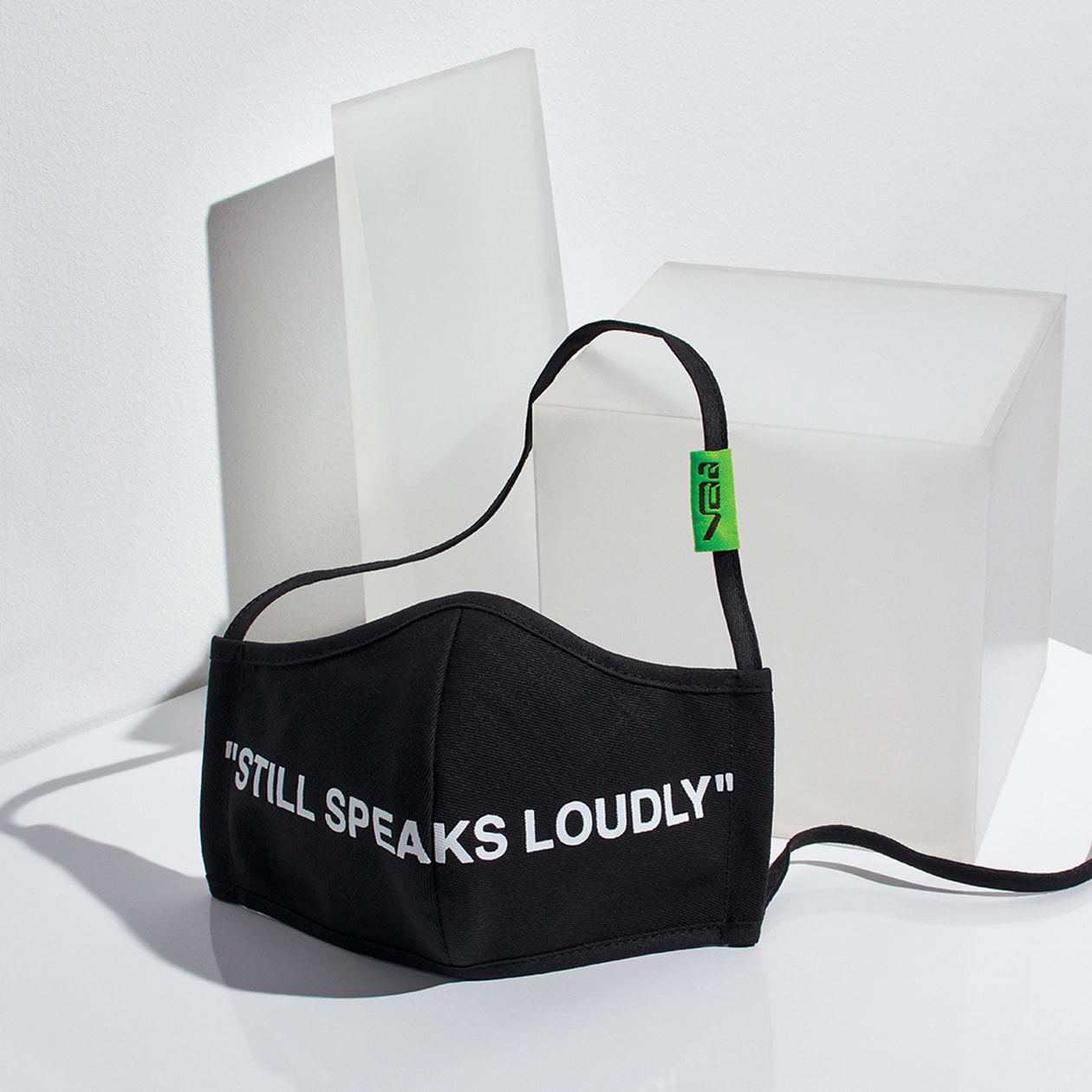 Reusable face mask with artwork by Virgil Abloh. Silkscreen on 100% cotton with 100% cotton lining. Virgil Abloh (b. 1980, Rockford, Illinois) is an artist, architect, engineer, creative director, and fashion designer. Currently, he is the Chief Creative Director and founder of Off-White™and the Artistic Director of Menswear at Louis Vuitton. MOCA Masks are a collection of limited-production, artist-designed face masks. Each purchase directly supports The Museum of Contemporary Art.
"Drops of Amethyst" Painting by Edward Granger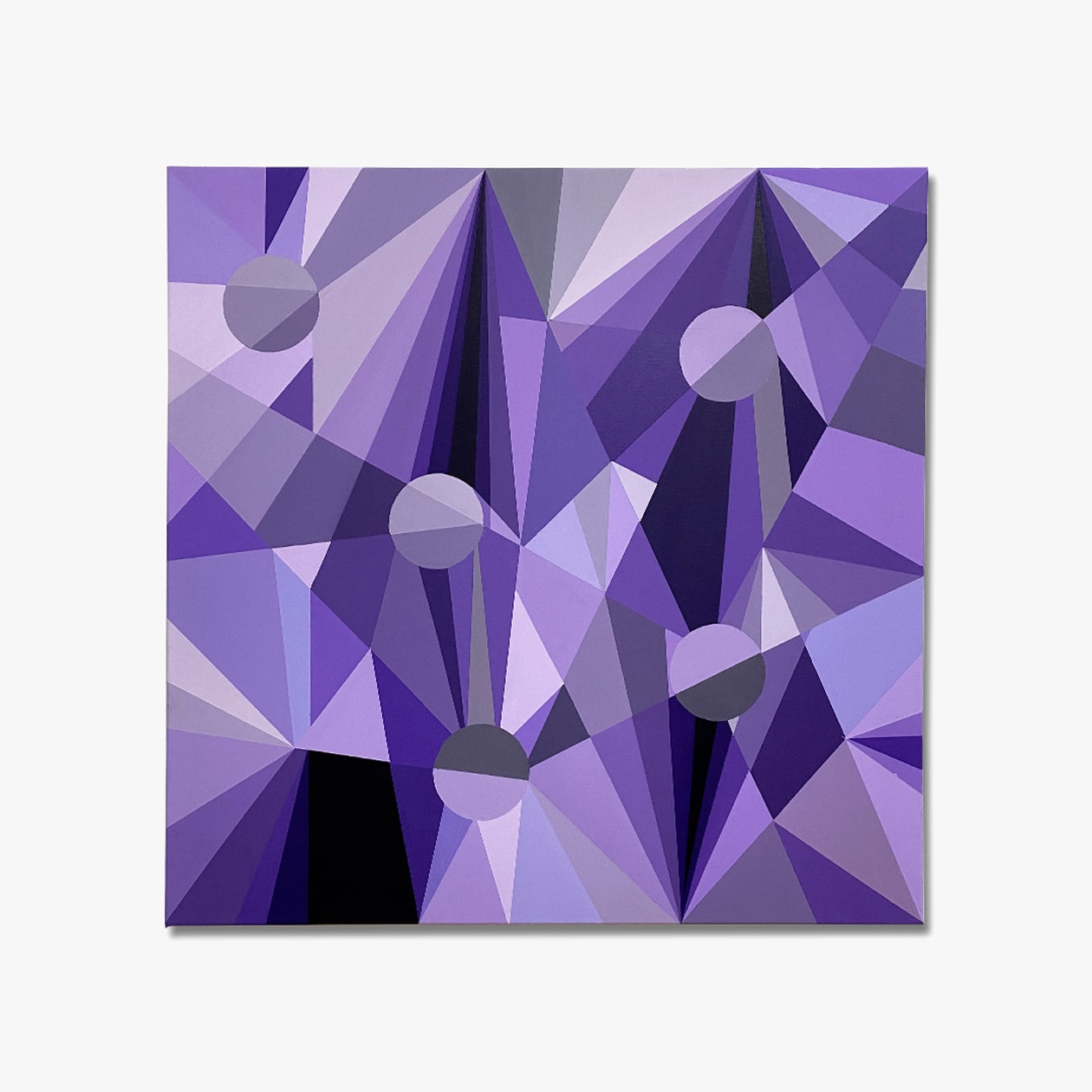 Edward Granger is one of the most sought after abstract geometric artists in the industry, having built his reputation off his unique, spiritual interpretation of color and light to create a fantasy world that inspires playfulness and possibility into an often-anxious world. With a visionary eye and deep ties in the fashion and luxury world, Granger has collaborated with brands like Hermès, Ralph Lauren, BMW, and Piaget, melding his style and art for a slick, cutting-edge and colorful body of work. His oeuvre is informed by fractals and astrology. This Blue Topaz is a spectacular example of his unique color and pattern work. 
M Co. x Reid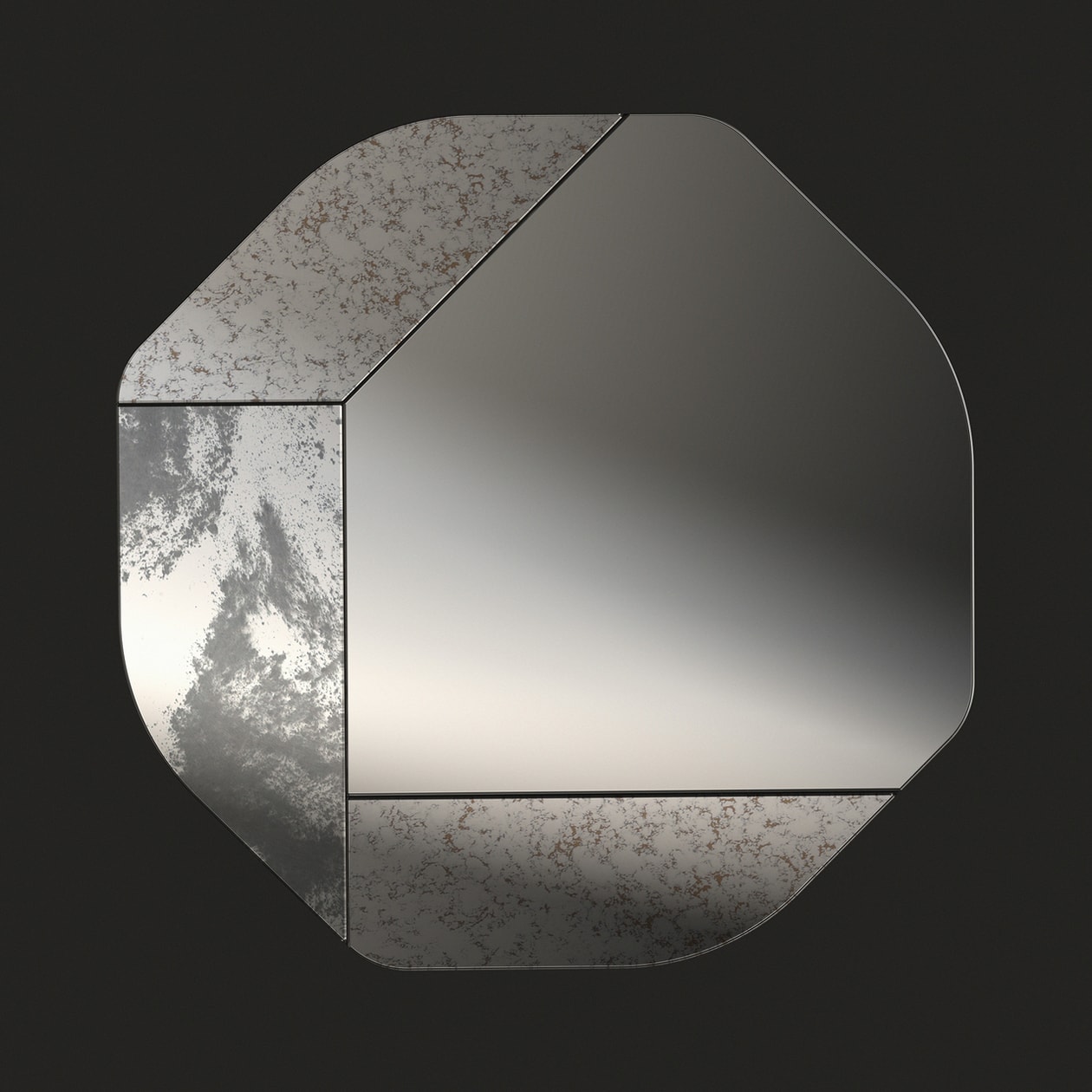 Mirrors Collective is a mirror design and manufacturing brand, where our production technology is the source of our design decisions. We work with artists and designers to produce products holistically to create works of art that inspire. For this piece M Co. collaborated with designer Reid to create this unique design.
Rihanna: Luxury Supreme x The Haas Brothers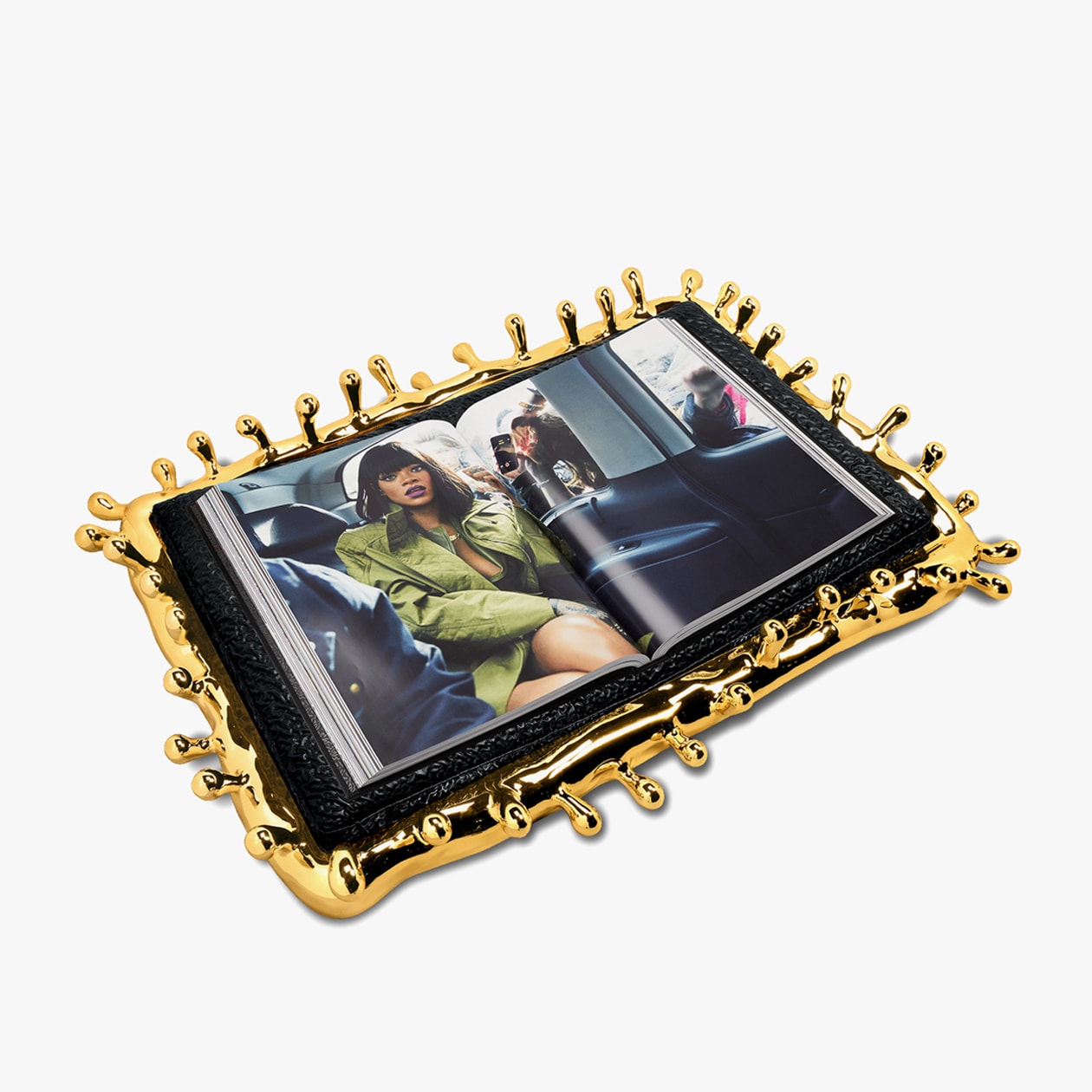 Rihanna invites you into her world with this stunning visual autobiography. From her Barbados childhood to her worldwide tours, from iconic fashion moments to private time with friends and family, the book showcases intimate photographs of her life as an artist, performer, designer, and entrepreneur. Many of these images have never before been published. This large-format edition is 504 pages with 1,050 color images on 3 paper stocks and 7 single- and double-page gatefolds, 9 bound-in booklets, 1 tip-in sheet, and a double-sided, removable poster. This hardcover book is 19-3/4 x 25-7/8 inches | 656 x 500 mm (portrait).
Vincent Pocsik — Kiscop Side Table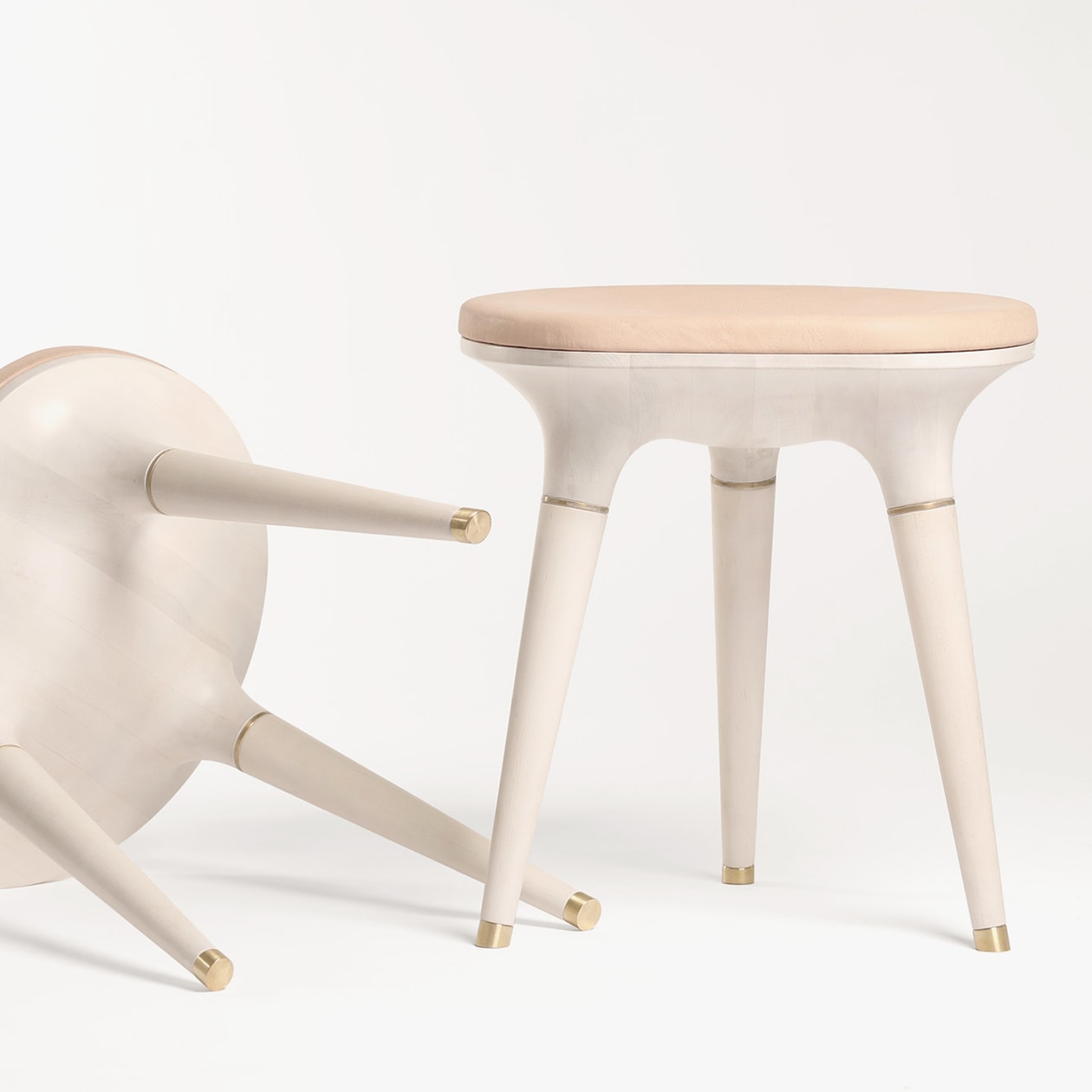 Kiscop is a design studio led by artist Vincent Pocsik. The focus is on contemporary furniture design and functional art.  Vincent's work balances old and new fabrication techniques to breathe new life into materials while holding onto the richness of the past. This process is influenced by the desire to push the formal boundaries of mediums such as wood, glass and metal so each work transforms into an anatomical expression and presence of its own. The Flow Round tray serves a variety of functionalities from decorative centerpiece to a functional vide poche. 
Scents of Wood Sandalwood in Oak Perfume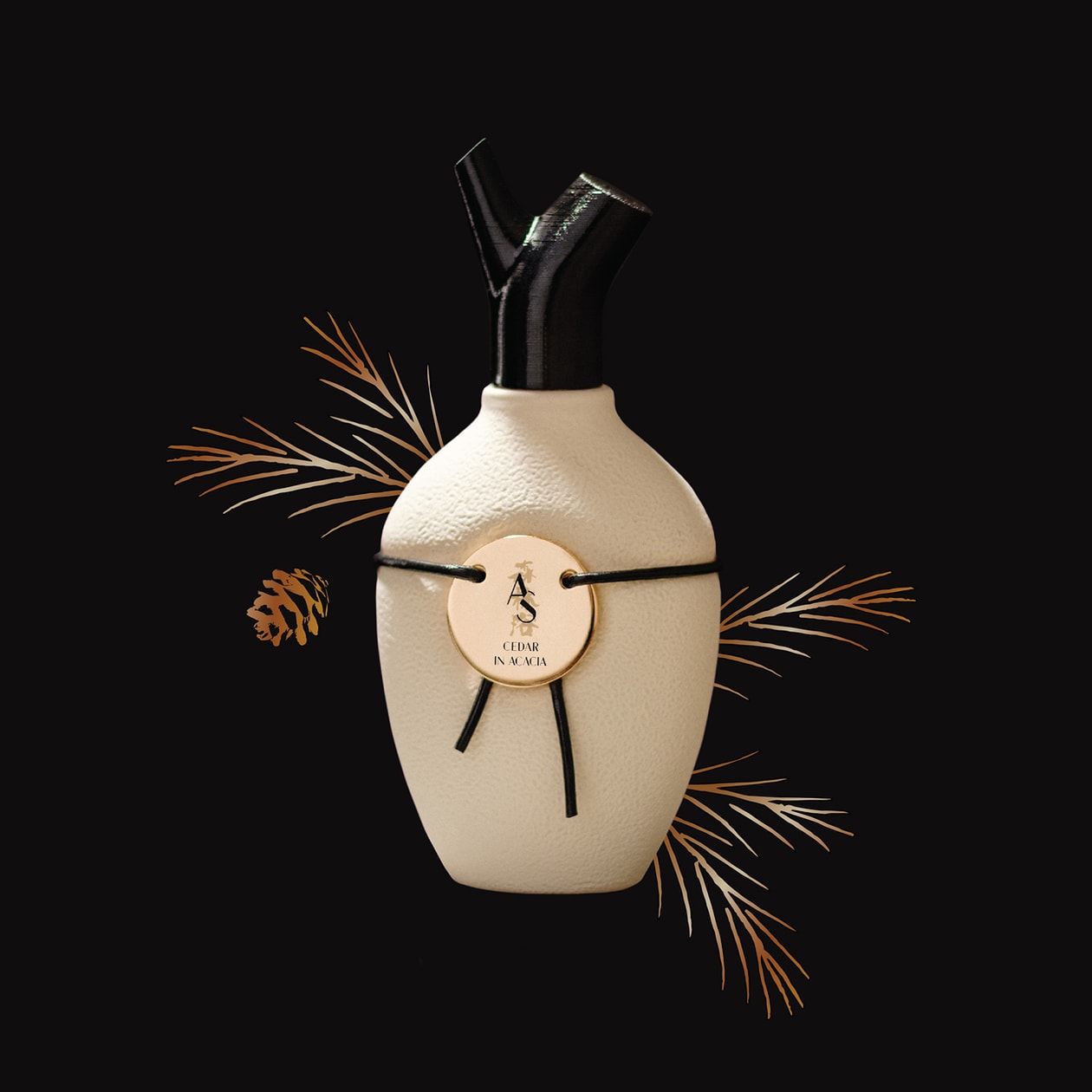 Scents of Wood provide Scents and candles inspired by forests and trees that are aged in wooden barrels. Scents of Wood collaborates with world class perfumers and artists to bring you their products through a subscription model Scents of Wood Sandalwood in Oak is a smoldering haze of sacred Sage and smoky Guaiacwood transcending the purity of Sandalwood for a mystical voyage of the senses.
Bond Hardware Hammer Ring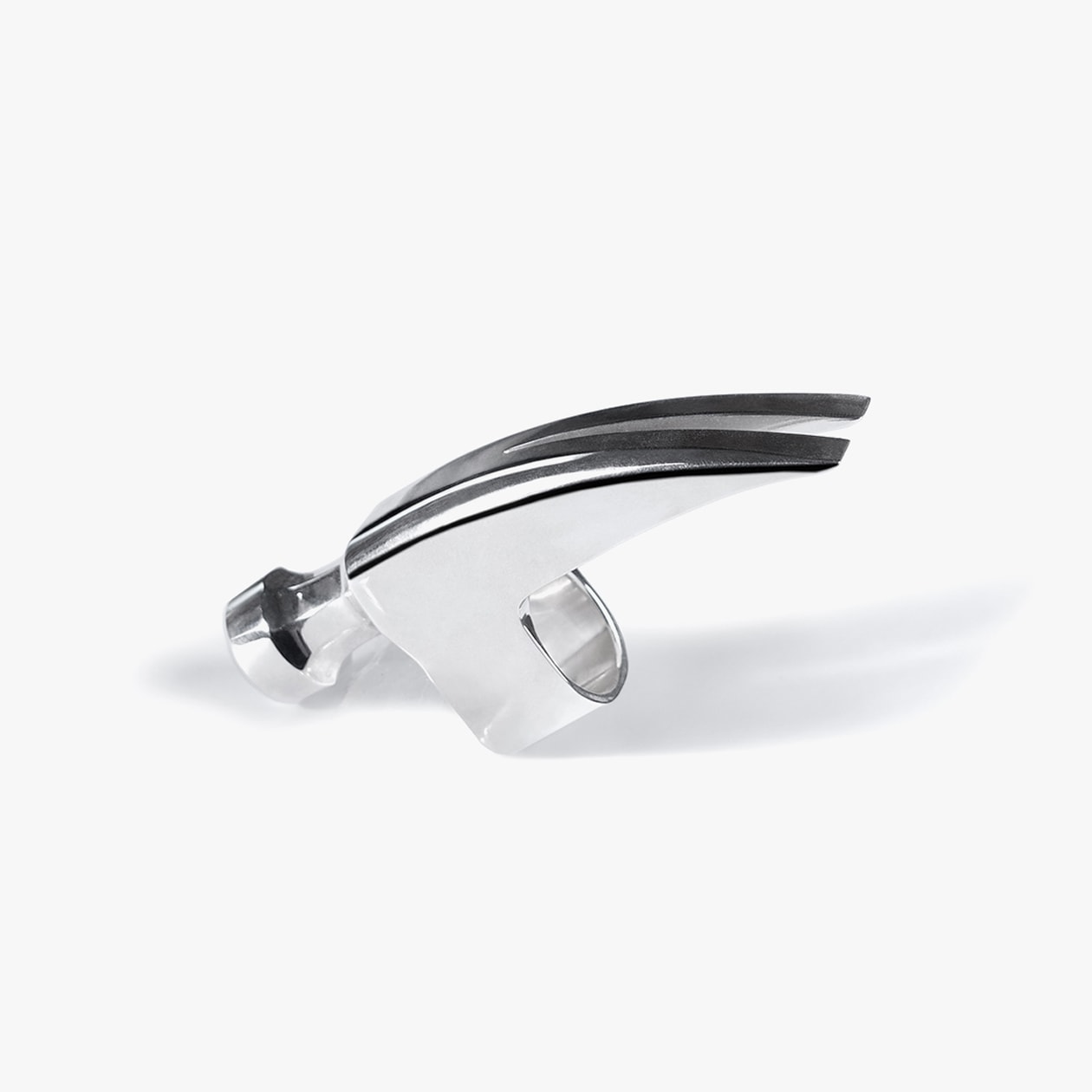 BOND Hardware is a sustainable jewelry and accessories label, designed and handmade in New York, and recently named a finalist for the 2019 Elaine Gold Launch Pad award. Founded in 2012, designer + stylist Dana Hurwitz started the brand as an experimental project, locally sourcing scrap metal and found industrial objects to adorn looks for New York club kids. This Bond Hardware Hammer Ring is a metal banded ring in solid, hypoallergenic stainless steel. Worn with the hammer-head facing your fingertips, index or pointer fingers. Available sizes fit most.
Double Leaf Ring by Ross Lovegrove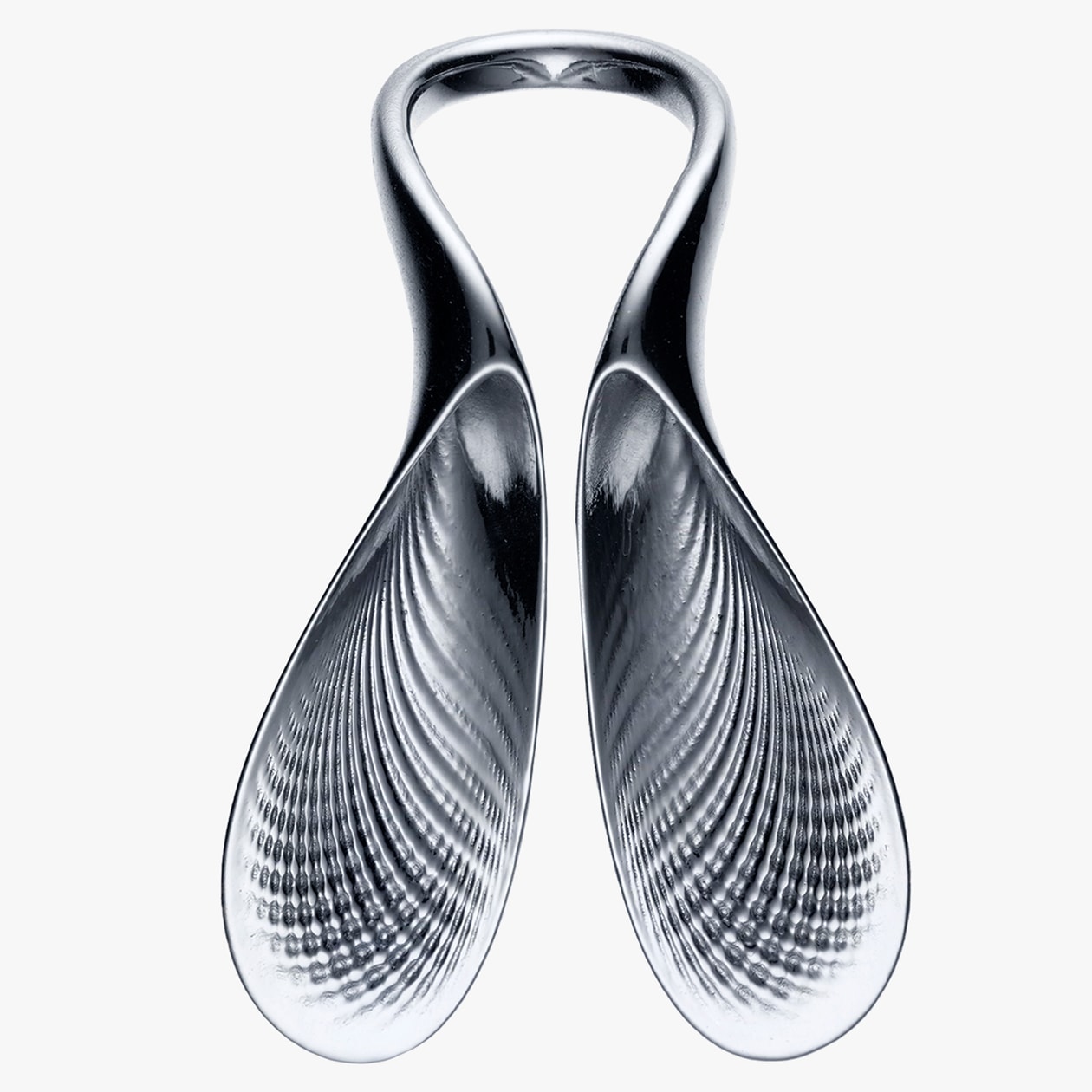 Ross Lovegrove is renowned for the way he conceives and creates design, always pushing beyond conventional boundaries culturally, technologically and material wise. Ross Lovegrove masterfully employs cutting-edge technology to replicate the intricate forms found throughout nature. Like virgin leaves unfurling down your hand, the avant-garde British designer's Foliate rings offer a stunning example of biomorphic jewelry. Derived from botanics, the digitally modeled, 3D-printed silver accessories mimic highly evolved leaf structures that capture rain and sunlight. For the double leaf Foliate rings, he investigated a variety of visual complexities and numerous patterns in a search for the most precious look and feel. This ring is hand-polished, Silver 925 and one-size (adjustable).
Somerset House: Pair of Vitra Heart Cone Swivel Chairs by Verner Panton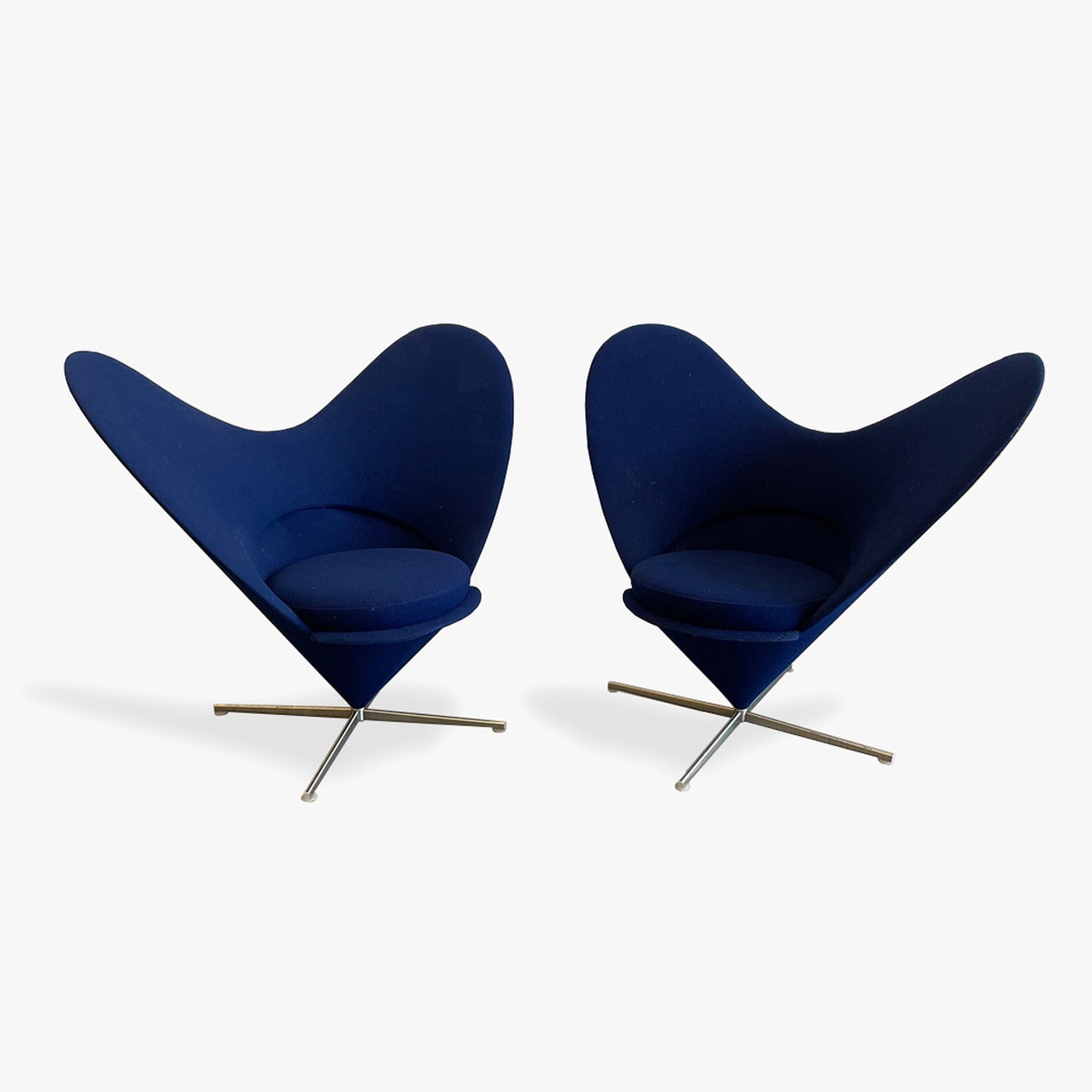 The Somerset House was started in 2020 by fashion designer, Alan Eckstein as a place to find one of a kind treasures for the home, curated from his personal collection. Alan has been defining new boundaries in design since coming onto the scene as Creative Director for Timo Weiland in 2008. The Heart Cone Swivel Arm Chair takes its name from the expressive, heart-shaped silhouette of its seat shell. Designed by Verner Panton in the late 1950s, the chair combines a comfortably upholstered seat with an understated, elegant base made of satin stainless steel with the interior fabric carrying the official artist signature. Dimensions are 40.5" W x 18" D x 34.5" H, Period: 2000's from Denmark.
Dean Roper's Unofficial Rolex Ashtray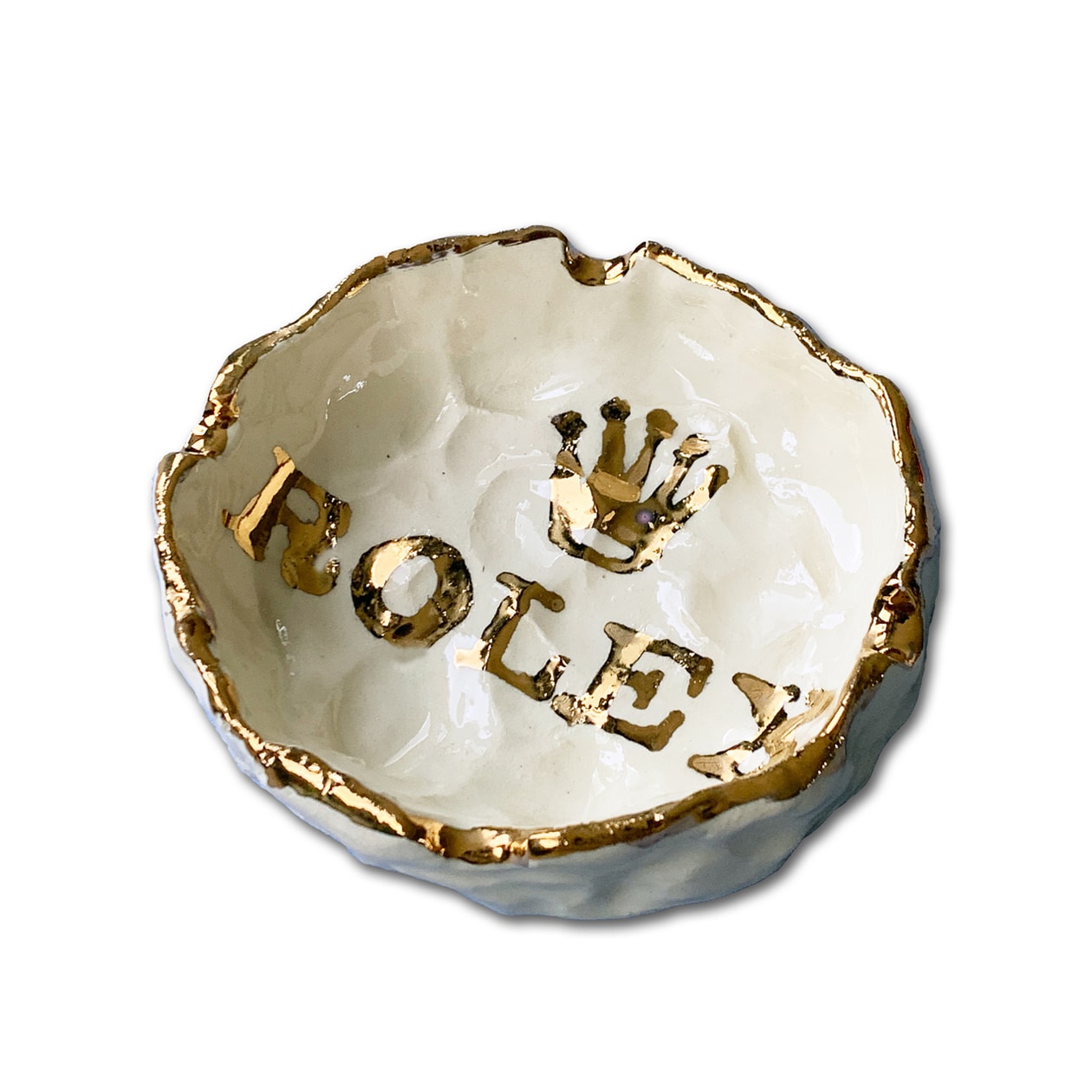 Dean is an artist and designer creating objects for the "betterment" of daily life. Dean's work finds its inspiration from so many facets of his life including rap, design, fashion, pop culture, memes, 90s references and much more. For this piece, Dean crafted a Rolex-themed ashtray for prime luxurious use.
Hannah Polskin Abstract Painting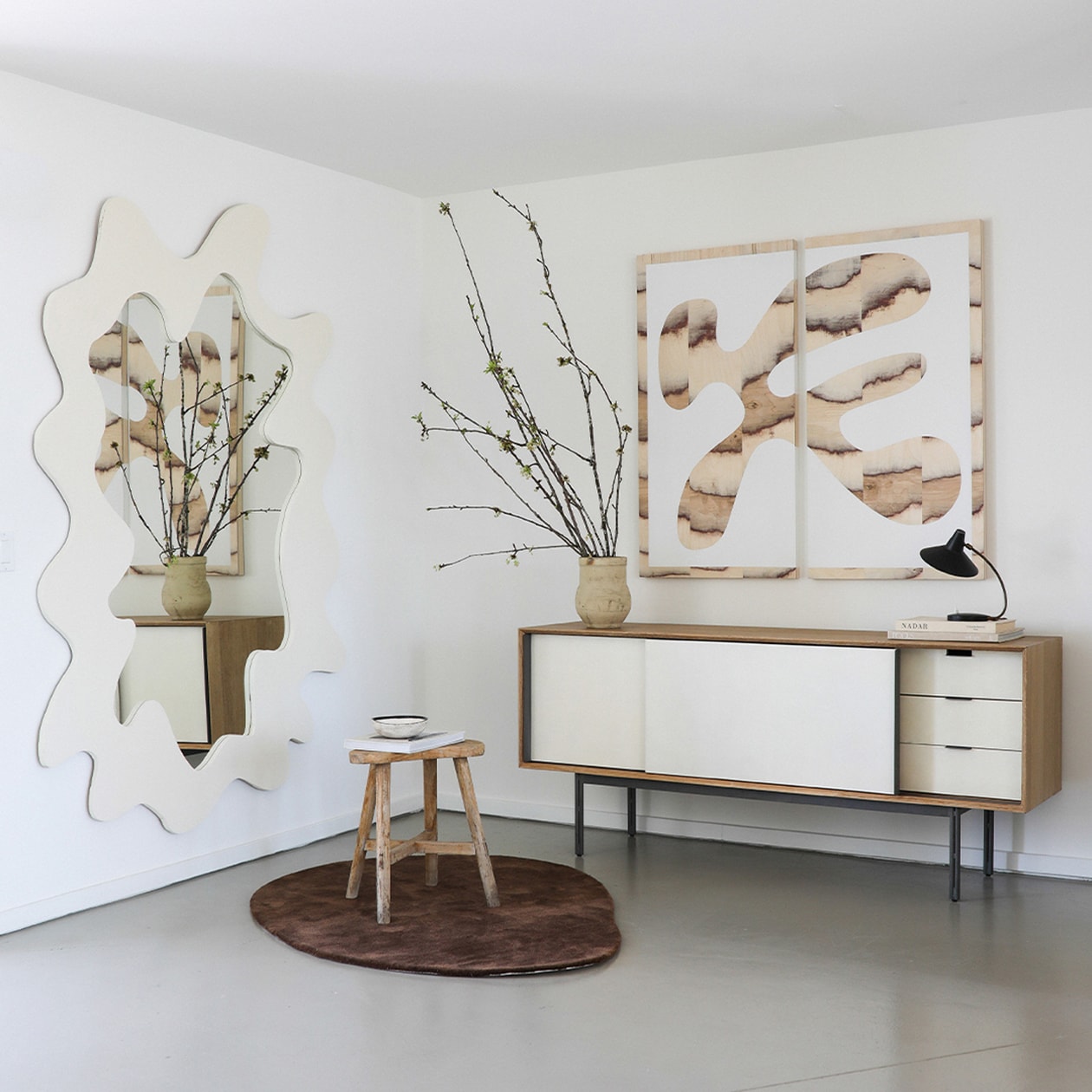 Hannah Polskin, artist and woodworker based in Los Angeles, creates work that centers on an abstract, undulating painting styles in neutral tones, using natural materials that calm the mind and bring a sense a balance into her collectors' homes. This original Hannah Polskin abstract painting features two-panel diptych design with exposed wood. Utilizing white latex paint on distressed baltic birch wood to complete the canvas. Each panel is 24" wide by 48" tall by 1.5" deep. And overall dimensions are 48" wide by 48" tall. Recommended spacing between panels is 1". The piece comes with the artist signature on the back. 
Don't miss your chance to cop all of these exclusive drops at the first annual SURFACE Festival, taking place this weekend beginning April 25-26. Download the NTWRK app now to tune in.