NBA Fines San Antonio Spurs $25,000 USD for Resting Its Top Players
Just after the Toronto Raptors were fined the same amount for the exact reason.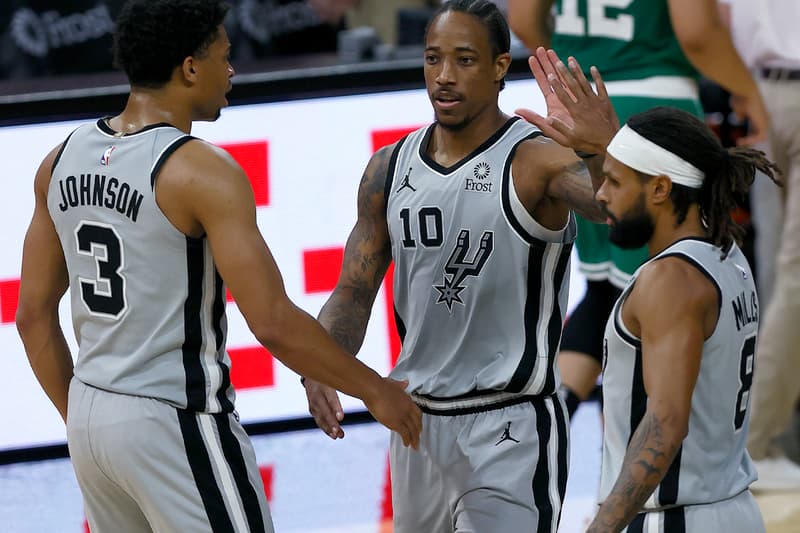 This past weekend, the NBA fined the San Antonio Spurs for $25,000 USD for violating the league's player resting policy. The announcement comes after the "Spurs rested three players in the same road game against the Pheonix Suns on April 17."
Though no names were mentioned in the NBA statement, top players DeMar DeRozan, Patty Mills and Jakob Poeltl, were listed as out for "rest" on the Spurs injury report. This season, the league has heavily cracked down on teams not playing certain players for resting purposes. Just recently, the Toronto Raptors were fined the same amount for the exact reason.
In an already condensed season with multiple injuries and worn-out players, many of the leagues' athletes have voiced their concern and displeasure of how the organization has been dealing with the well-being of the players. Raptor's guard Fred VanVleet recently called this season "the most unpure year of basketball I've ever been a part of."
With the pandemic playing a huge factor in the unconventional 2020-2021 season, the league has seen the impacted schedule become both a physical and mental toll on its players, leading to teams putting them on rest regardless of the fines or consequences.
NBA slaps Spurs with $25,000 fine for resting players https://t.co/iaLHpJEFsi #SpursNation #GoSpursGo pic.twitter.com/kIbbFA7dVR

— Spurs Nation (@Spurs_Nation) April 18, 2021
In other sports news, Dwayne Wade bought an ownership stake in Utah Jazz.