Facebook Confirms Its Clubhouse Competitor App Is Coming This Summer 2021
Live Audio Rooms will first roll out to groups and public figures.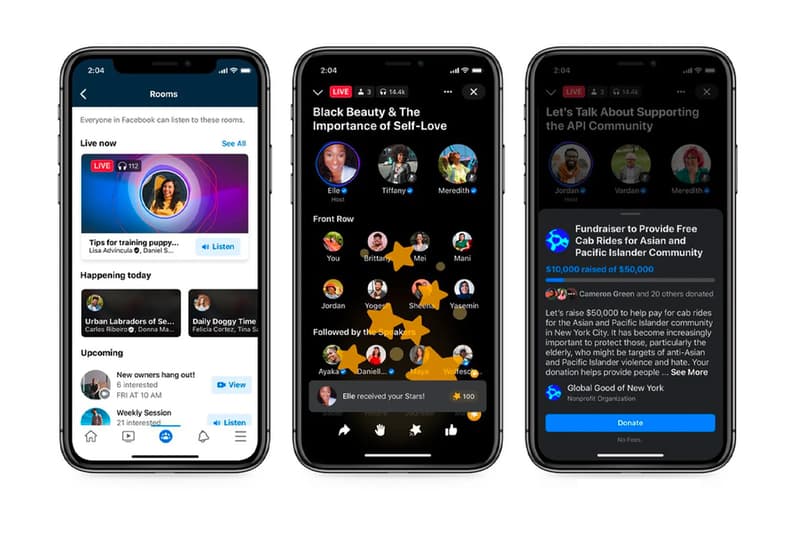 Facebook is officially going all-in on audio, announcing that they are indeed launching their own social audio app to compete with Clubhouse.
The platform has confirmed that the new app will first roll out to groups and public figures to test before eventually making its way to Messenger. Different from Clubhouse, Facebook's Live Audio Room will allow users to record their conversations as well as share them with others. Hosts will also be able to make money off the app, charging people access to these rooms through either a one-time fee or a subscription basis.
To entice users to join, Facebook has created an Audio Creator Fund to "support emerging audio creators." The conversations will then be turned into what Facebook calls, "Soundbites", an upcoming feature that allows people to share and create short-form audio clips alongside the algorithmic feed for promotion.
Facebook CEO, Mark Zuckerberg told The Verge, "The high-level picture here is that we think that audio is, of course, also going to be a first-class medium, and that there are all these different products to build across this whole spectrum." Zuckerberg alludes to Facebook's plans to place more emphasis on the podcasting industry. With that in mind, the CEO also confirmed that a partnership with Spotify is imminent, bringing one of audio's biggest players to Facebook.
It is evident that audio has found its moment during the COVID-19 pandemic is expanding over time. Facebook plans to begin launching its audio products in the next few months, however there is no official date as to when Live Audio Rooms will become available to all Facebook users.
Excited to give you more ways to express yourself and connect with people using new audio features.

Consider it like having a sound studio in your pocket by being able to create audio clips, listen to podcasts and use Live Audio Rooms.https://t.co/cmV2Ybjgx5 pic.twitter.com/DVwVPwmXx1

— Facebook (@Facebook) April 19, 2021
In other tech news, GameStop stock soared after CEO George Sherman announced that he's stepping down.