Meet the $470,000 USD Purnell Escape II Forged Carbon
Because one triple-axis tourbillon is never enough.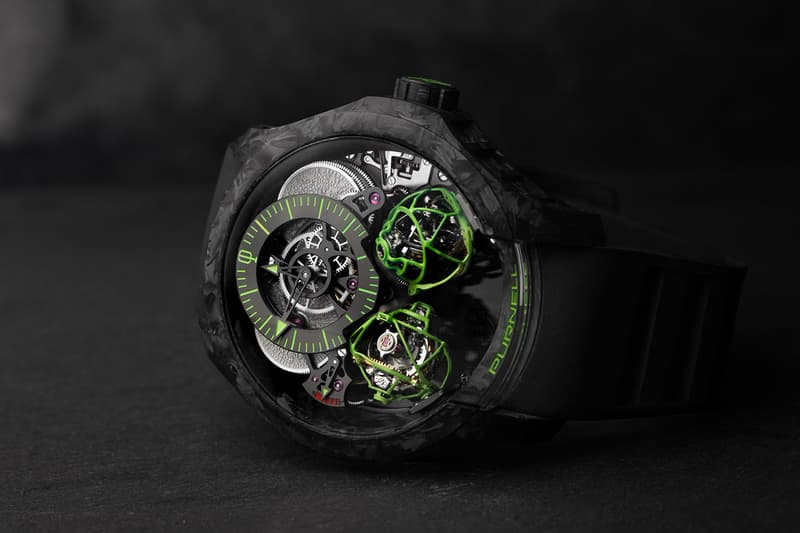 1 of 6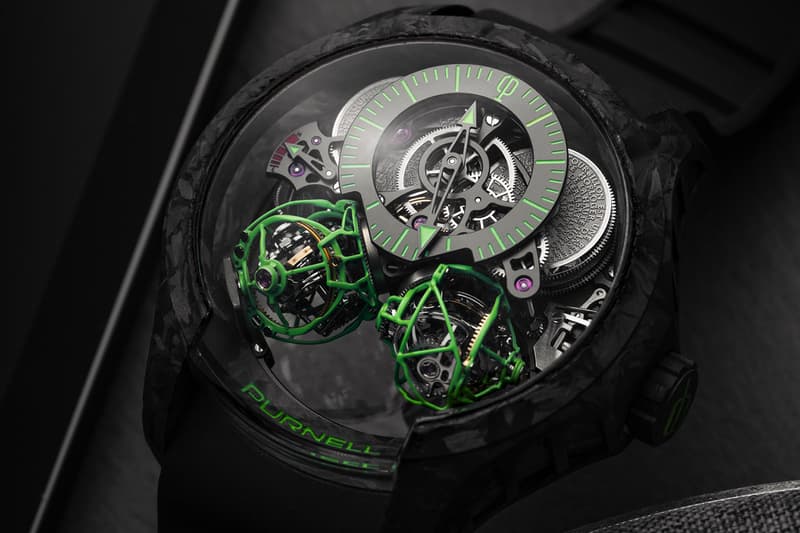 2 of 6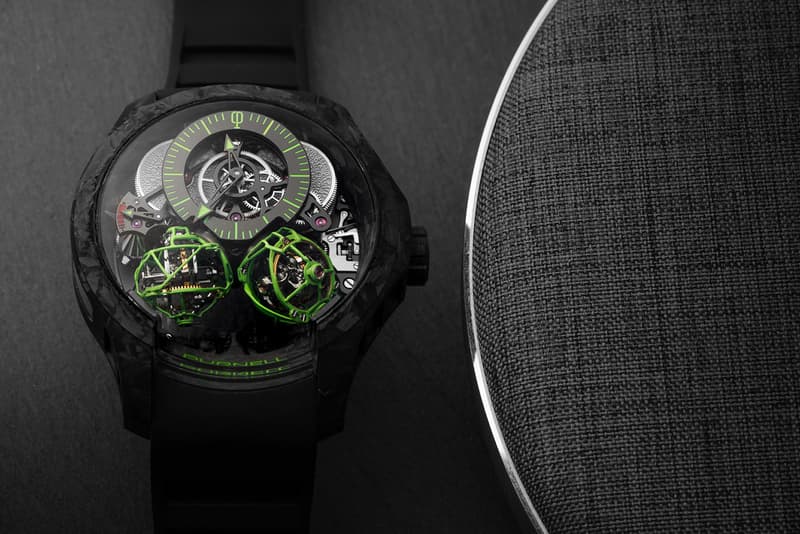 3 of 6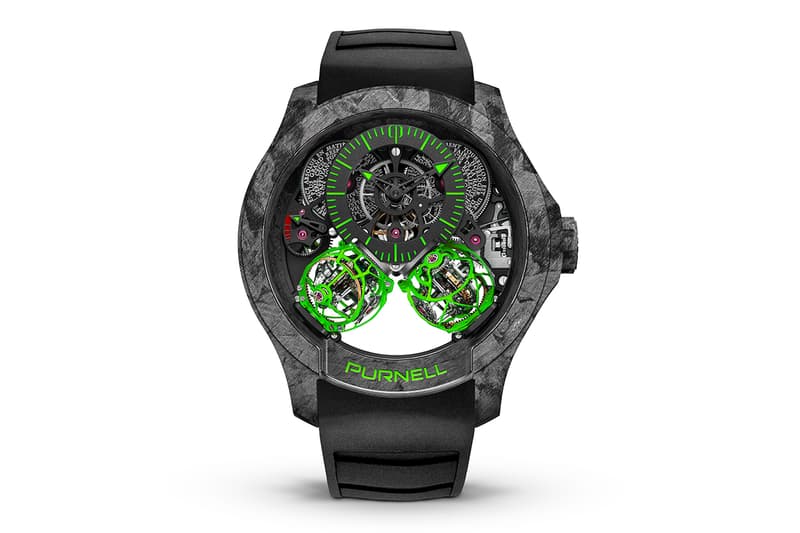 4 of 6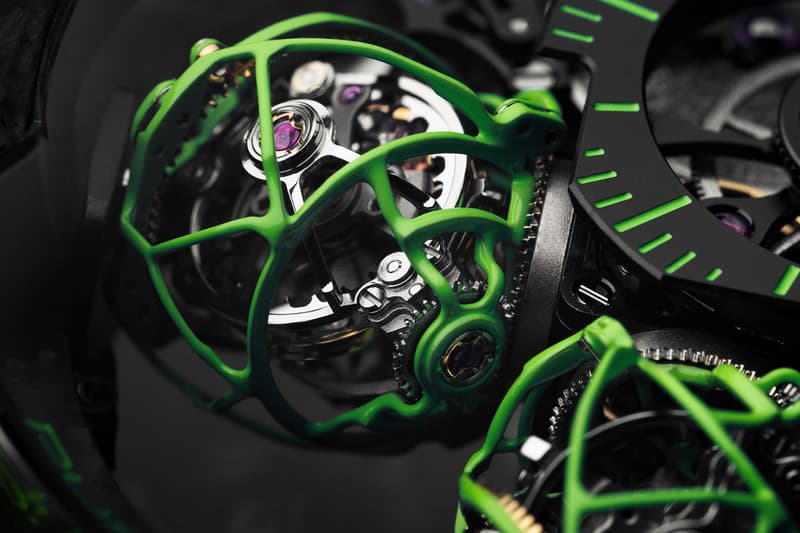 5 of 6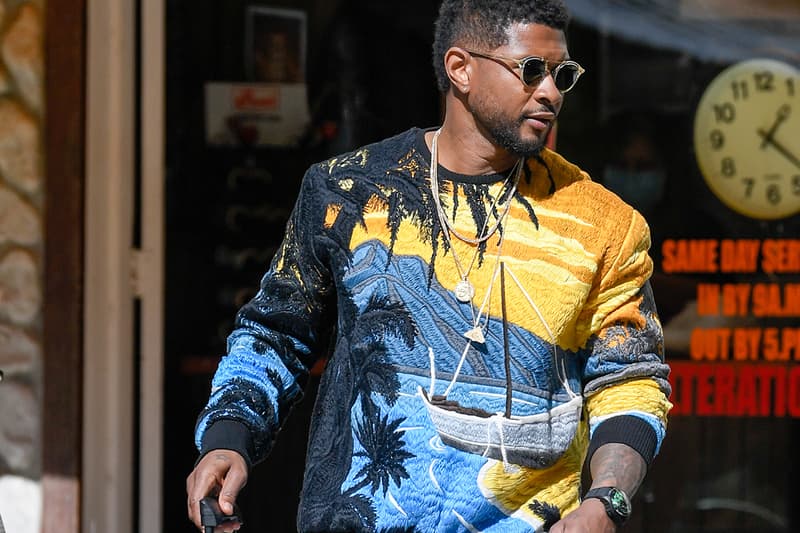 6 of 6
There used to be a time when a single triple-axis tourbillon was more than enough for anyone, but Purnell, a Swiss brand that only produces tourbillon-equiped watches, is here to convince you otherwise.
The Purnell Escape II Forged Carbon features two of the brand's Spherion triple-axis tourbillons rotating in opposite directions at comparatively high speeds (eight seconds, 16 seconds and 30 seconds,) making it the world's fastest twin triple-axis tourbillon watch although, with Jacob & Co the only other brand currently producing such a watch, it's a two-horse race.
Triple-axis tourbillons present three cages rotating on different planes at different speeds, each set within the other and offer an unrivalled sense of movement, something you can get a feel for from the video below, which features the Escape II in a different finish.
Purnell showcases this movement by presenting its Spherions in lime green, a shade that really jumps out against the dark grey background of the forged carbon case presenting high watchmaking in a casual and sporty aesthetic, something Usher, who's recently been spotted in LA wearing his, clearly appreciates.
While Switzerland's watch industry has had centuries to mature and allow for a proliferation of mechanical knowledge, some areas of competence are still so complicated that even established brands call upon the services of a specialist watchmaker or third party manufacturer.
Such is the case with the triple-axis tourbillon, a mechanism that starts and ends with Eric Coudray, the man who invented the Gyrotourbillon while at Jaeger-LeCoultre in the early 2000s, and later won the 2012 Gaïa Prize for his work.
Coudray similarly produced the Spherion for Purnell, creating the world's fastest triple-axis tourbillon, something he went on to refine further for MB&F in 2019, when he developed the its LM Thunderdome, a watch that holds the current record at eight, 12 and 20 seconds.
Multi-axis tourbillons are incredibly power hungry though despite, in the case of the Spherion, its many titanium components weighing less than 0.8g in total. The reason for this is that it adds that additional weight to the escapement and the escapement essentially stops and starts the movement many times a second in order to keep time. It's this increased inertia that drains mainsprings of their torque at an accelerated rate.
For this reason the Purnell Escape II needs a total of six mainsprings mounted in parallel over four barrels to power the watch for just 32 hours.
Just eight pieces of the Purnell Escape II Forged Carbon are being produced,  priced at $470,000 USD. Head to Purnell to find your nearest retailer.
In other watch news, Shinola celebrates Silly Putty anniversary with colorful new Detrola model.