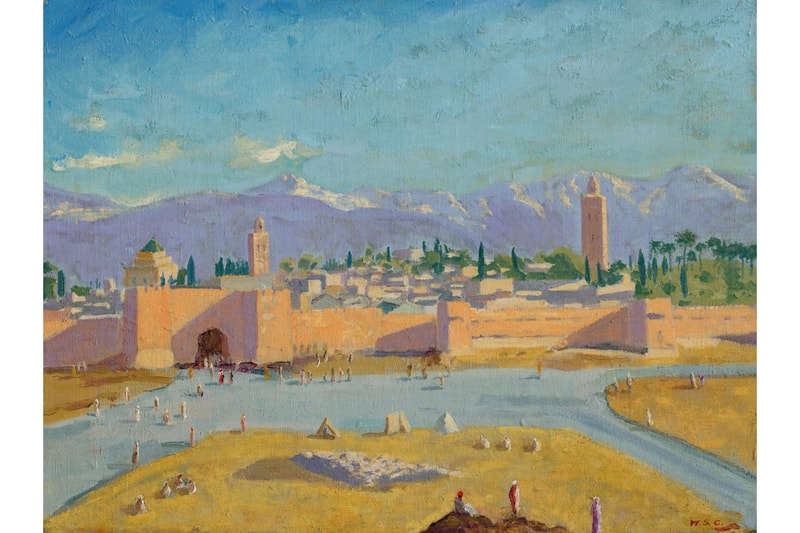 Angelina Jolie's Winston Churchill Painting Fetches $11.6 Million USD at Auction
Becoming the former British prime minister's most expensive painting ever sold at auction.
---
A rare painting made by the former British prime minister, Winston Churchill, has snapped up a record-breaking sale price of $11.6 million USD at a recent Christie's auction. The sale more than tripled its high estimate of £2.5 million (approx. $3.5 million USD). Churchill's previous record was £1.7 million (approx. $2.7 million USD) back in 2014 as part of a Sotheby's London sale.
The work entitled, Tower of Koutoubia Mosque, was sold by Angelina Jolie on March 1. The renowned actress received the painting as a gift by her former husband and actor, Brad Pitt, back in 2011 as per Artnet. Pitt purchased the painting from an antiques dealer named Bill Rau.
The story behind the work is as interesting as its ownership.Tower of Koutoubia Mosque is the only painting that Churchill created between 1939 and 1945, during World War II. After attending the Casablanca Conference in Morocco back in January 1943, Churchill convinced Roosevelt to join him in Marrakech to watch the sunset at the Atlas Mountains. Their brief stopover together was memorialized in the painting which Churchill made the next day after Roosevelt left Morocco. After the conference, the two leaders demanded "unconditional surrender" from Germany, Italy and Japan — a landmark declaration that greatly impacted the war.
"The painting depicts the very moment the two world leaders shared as they viewed the majestic landscape of Marrakech as the sun set over the Atlas Mountains, and to know Churchill gifted the painting to FDR after their time together excited me even more," Rau said to CNN.
Check out Tower of Koutoubia Mosque above and visit Christie's website to learn more about the historic sale.
Elsewhere in art, Portugal's Underdogs Gallery will soon host an online viewing room featuring reworked tile designs by the artist Add Fuel.