Fashion Leaders Promote Black and Asian Solidarity in the Wake of Atlanta Shooting
Dao-Yi Chow, Virgil Abloh, Phillip Lim and other designers have spoken out in support of the #StopAsianHate movement.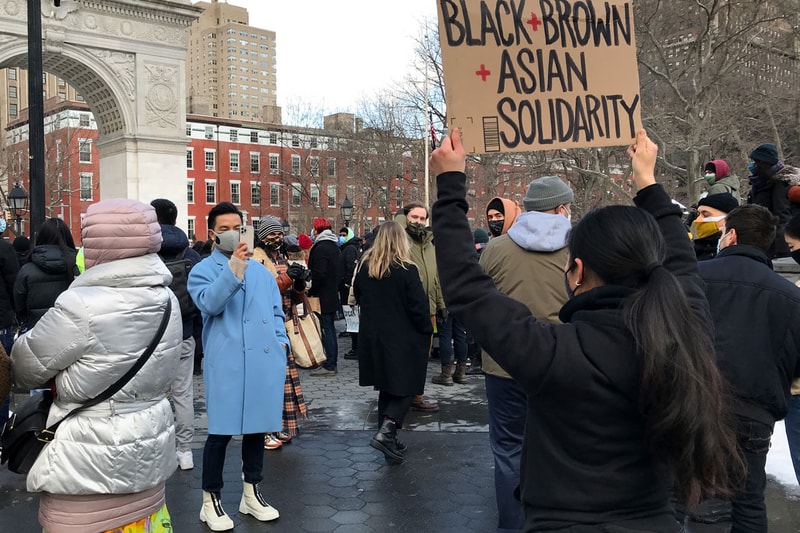 Leading names in the fashion world are calling for solidarity between Black and Asian-American communities after several high-profile cases of crime against minority groups caused public outrage.
Dao-Yi Chow, the founder of American fashion brand Public School, posted a photo to his Instagram on Tuesday calling for collaboration and open dialogue between the two communities.
"In the midst of rising anti-Asian racism we must push past reactionary nationalism, have an open dialogue around the history of our tensions, and re-establish the importance of our cross-cultural allegiance," the post, which is promoting a rally in New York on March 21, reads.
In his caption, Chow said an uptick in crime has made it imperative that both the Black and Asian communities "come together to focus on critical community building."
OFF-WHITE founder Virgil Abloh added Chow's post to his Instagram story while designer Phillip Lim shared the post to his Instagram page. Other notable designers, like ACRONYM's Errolson Hugh and Opening Cermony co-founder Carol Lim, put out calls on Instagram to #StopAsianHate, now a trending movement.
Calls for justice have been sparked by a recent surge in crime against Asian-Americans. According to a report released by Stop AAPI Hate on Tuesday, there were 3,795 incidents reported to the center from March 19, 2020 to February 28, 2021. Over 500 incidents were reported since the beginning of this year alone.
Verbal harassment made up over 68 percent of the complaints, while physical assault accounted for 11 percent. Nationally, women reported incidents more than twice as often as men. Chinese Americans were most frequently targeted in attacks, though members of the Korean, Vietnamese and Filipino communities also experienced hate.
The Pew Research Center reported in July that racist views toward Asian-Americans have become more common since the start of the coronavirus pandemic. Stop AAPI Hate noted some disturbing instances of harassment in its report, including Asian-Americans being spat on, bullied or refused service at local businesses.
On Tuesday evening, eight people, including six women of Asian descent, were shot dead in Atlanta. A white man was taken into custody, and police are still working to determine a motive. Georgia state Rep. Bee Nguyen told Associated Press that the shootings reflected an "intersection of gender-based violence, misogyny and xenophobia."
The incident has sent shockwaves through the Asian-American community and has spurred public figures to speak out against an alarming and hateful trend. "My condolences goes out to the families of all the victims and the entire Asian community tonight on what transpired in Atlanta at the Aromatherapy Spa," LeBron James tweeted on Wednesday. Actress Olivia Munn wrote on Twitter that Asian-Americans "need help to be safe in our country."
Last week, President Joe Biden said attacks against Asian communities are "un-American." The House Judiciary will hold a hearing on discrimination and violence against Asian-Americans on Thursday.
Last year, a collective of Asian artists teamed up to auction off work and raise money for the Asian American Federation as hate crimes became more prevalent during the pandemic.