Best New Tracks: Freddie Gibbs x ScHoolboy Q, JID and More
10 projects to kick off February 2021 on a high note.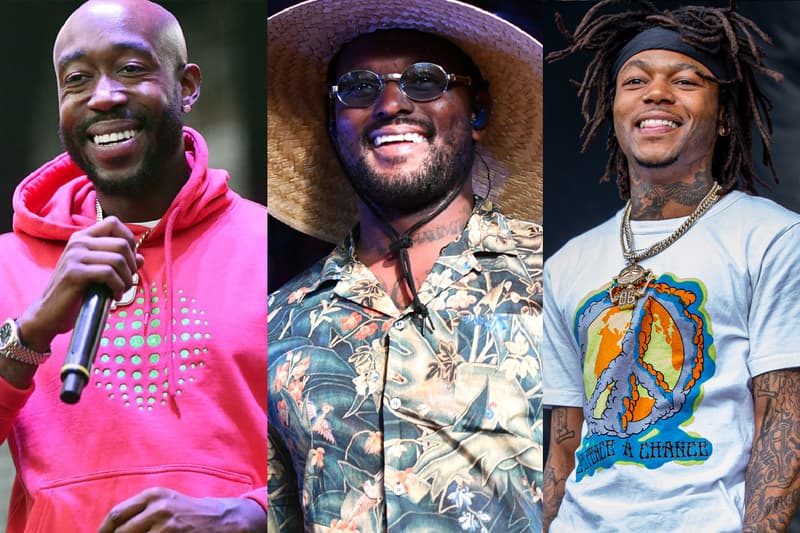 As the week in music comes to a close, HYPEBEAST has rounded up the 10 best projects for the latest installment of Best New Tracks.
After teasing fans of a partnership on Twitter, Freddie Gibbs and ScHoolboy Q pushed through with their plans and dropped off the stellar collab, "Gang Signs." A plethora of collabs graced us this week, including JID's "Ballads" and "Bruuh (Remix)" with Conway the Machine and Denzel Curry, Juan Wauters and Mac DeMarco's "Real," Lucky Daye and Tiana Major9's "On Read" and Ghetts, Pa Salieu and Backroad Gee's "No Mercy." Pooh Shiesty, VanJess, Puma Blue, Vampire Weekend and Yeek also join this week's edition.
Freddie Gibbs x ScHoolboy Q – "Gang Signs"
Freddie Gibbs and ScHoolboy Q casually teased their collab on social media earlier this week, and listeners are thankful that the two are men of their word. They drop honest bars about their street pasts over a sweet mesh of warm horns, breezy keys and a chilled bassline, allowing listeners to easily reflect on the rough lyricism. "I was just trying to pay homage to do or die and bone thugs n harmony when I made this song. That's the era I grew up on. It was long overdue for me and Q to do a record," Gibbs said in a statement.
Listen: Spotify | Apple Music
JID x Conway the Machine, Denzel Curry – "Ballads" / "Bruuuh (Remix)"
JID finally shared his track "Cludder" and Conway the Machine assisted-cut "Ballads" on streaming services, plus a remix of 2017's "Bruuuh" with Denzel Curry. The Dreamville signee and Spillage Village member is currently prepping to release his third solo studio effort (supposedly entitled The Forever Story) following 2018's DiCaprio 2.
Listen: Spotify | Apple Music
Puma Blue – In Praise of Shadows
25-year-old Jacob Allen, best known as Puma Blue, has shared his anticipated debut album In Praise of Shadows. Each of the 14 tracks is written and produced by the London artist, and were built from laptop demos crafted in coffee shops, hotel rooms and plane rides to his long-distance partner in Atlanta. Allen is joined by the likes of Andrew Sarlo, Marta Salogni and Kwake Base, and hears sampling from pieces of music like the score of Eternal Sunshine, plus inspiration from Jeff Buckley, Sade, D'Angelo and Björk.
Listen: Spotify | Apple Music
Juan Wauters x Mac DeMarco – "Real"
Juan Wauters enlisted Mac DeMarco for his latest Real Life Situations single, "Real." Evoking nostalgia for warm days, the visual sees the two riding around LA on bicycles, motorcylces and horseback, and serves as the perfect visual backdrop to DeMarco's signature laidback guitar underscoring Wauters' honest and raw lyricism. "Mac and I met in 2013 when our label Captured Tracks (we were both on the label then) thought it would be a good idea that we meet and do a song. We met and recorded Beatles songs. The tape machine we were working with broke and the songs were never recovered. After that, we never collaborated in any serious way," the Uruguay-born artist said in a statement. "When I reached out to Mac about the new project I was doing, he was down since the beginning. I happened to be going to LA so we did it at his studio. Mac provided a really safe place to bounce ideas off of each other. We tried a lot of new things and we ended up with this track so special. The song put an end to that awaited collaboration that was the initial impulse behind us meeting and forming a friendship that stood in time."
Listen: Spotify | Apple Music
Pooh Shiesty – Shiesty Season
Rising rapper Pooh Shiesty dropped off his debut mixtape, Shiesty Season. The impressive inaugural release features appearances from the likes of Gucci Mane, 21 Savage, Tay Keith and Lil Durk, and serves as an exciting entry from the Memphis artist. "You getting big Shiest on this mixtape," he said in an interview with Apple Music's Zane Lowe. "I'm touching on all categories. Expect me getting versatile. It's lit. You can expect some big features, shooting a video to every song on there. We're going all the way up.
Listen: Spotify | Apple Music
Ghetts x Pa Salieu x BackRoad Gee -  "No Mercy"
Ghetts tagged Pa Salieu and BackRoad Gee for the hard-hitting collab, "No Mercy." All three deliver their own gritty and high-energy verses, effectively allowing the repeating chorus of "No mercy / No motherf*cking mercy" to balance the dynamic cut. The track is set to appear on Ghetts' upcoming album Conflict of Interest, dropping February 19.
Listen: Spotify | Apple Music
Vampire Weekend – 40:42
Vampire Weekend aptly kicked off 2021 with two new interpretations of their Father of the Bride cut, "2021." The GRAMMY-winning band enlisted Sam Gendel and Goose to record new versions, entitled "in the space between two pieces of wood" and "January 5th, to be exact" respectively, that clock in at exactly 20 minutes and 21 second each, giving the EP the 40:42 title.
Listen: Spotify | Apple Music
Lucky Daye x Tiana Major9 – "On Read"
GRAMMY nominees Lucky Daye and Tiana Major9 linked up for the pleading new single "On Read," set to appear on the New Orleans native's forthcoming EP Table For Two. Showing off staggering vocals from both artists, the passionate cut hears them narrate a story of unreliable love over sultry production. Table For Two is set to drop on February 12 and will feature other collabs with the likes of Ari Lennox, Mahalia, Queen Naija and more.
Listen: Spotify | Apple Music
VanJess - Homegrown
Nigerian-American sister duo VanJess opened 2021 with a stellar new EP, Homegrown. The nine-track project hears the pair collaborate with the likes of KAYTRANADA, Phony Ppl and Pomo, and serves as the followup to their 2018 debut studio effort Silk Canvas.
Listen: Spotify | Apple Music
Yeek – "3000 Miles (Baby Baby)"
The powerful and genreless Yeek has shared dropped off his latest cut, "3000 Miles (Baby Baby)." The smooth and melodic cut marks the Filipino-American artist's first release this 2021, and prompts hope from fans that he'll be releasing the long-awaited followup to 2019's IDK WHERE EP​, or even to his 2017 full-length Sebastian.
Listen: Spotify | Apple Music