An Epically-Scaled David Hockney Artwork is Coming to Auction
The four-metre wide landscape is expected to fetch up to $11.5 million USD.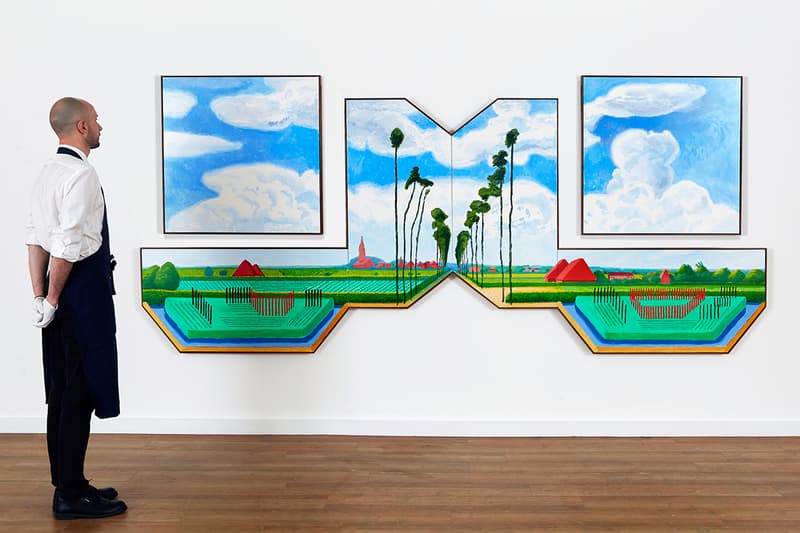 Collectors of the British artist David Hockney are in for a rare opportunity: Sotheby's has shared that its Spring auction line-up will include one of the artist's most recognizable later works.
Tall Dutch Trees After Hobbema (Useful Knowledge), a landscape completed by Hockney in 2017, will be one of the premier highlights at the sale, where it's been estimated at £6.5-8.5 million (approx. $8.8-11.5 million USD). It's the first work from a series of 20 late paintings by the artist to come to auction, and is the best known of the series after appearing on a cover of The New Yorker in 2017.
As the name suggests, the work is inspired by the 17th-Century Dutch painter Meindert Hobbema – in particular, one of his most famous works, The Avenue at Middelharnis (1689). Hockney's reimagining of the scene has a more graphic approach, underscored by the geometrically-shaped canvas used by the artist, which measures almost four metres across.
Speaking to HYPEBEAST about the sale, Sotheby's Head of Contemporary Art for Europe, Alex Branczik, said "David Hockney is arguably the greatest painter of our times. Here we see the modern master at the age of eighty looking back to one the great masters of the Dutch Golden Age to inspire one of his most ambitious and monumental landscape paintings."
"Throughout his career, Hockney has consistently challenged the conventions of painting in seeking to capture the worlds of time and space in two dimensions. To this end he has employed technology as well as his brush – Polaroid, film, the fax machine and most recently the iPad – always experimenting and pushing the boundaries of the medium."
Sotheby's Evening Sale in London launches on March 25 – for more information, take a look at their website.