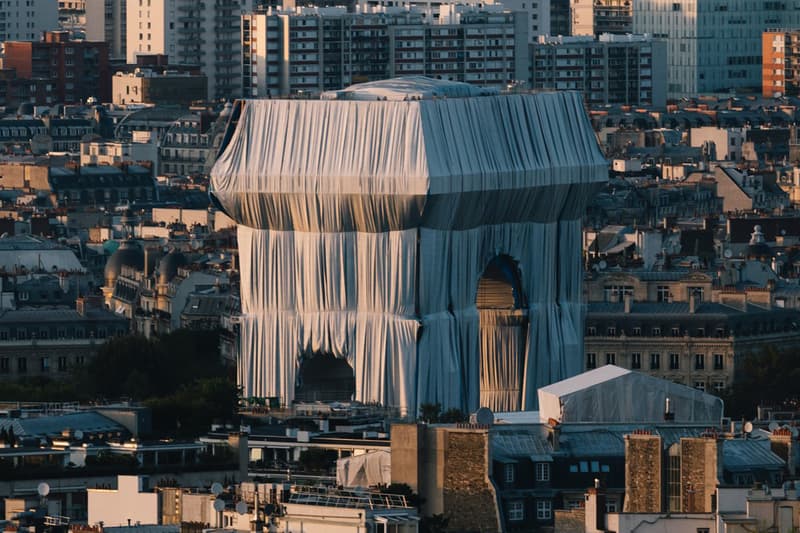 Top 10 Art Moments of 2021
From auction-shattering sales, monumental installations to the arrival of NFTs.
---
2021 was supposed to be the year the world returned back to normal. And for a period of time, it did. Museums, galleries, concert halls and restaurants all opened their doors after a dismal year filled with doubt. However, as the Omicron variant spreads at a rapid pace, perhaps these wishes will have to wait at least until sometime in 2022.
During this year of ups and downs, the art industry experienced its own share of memorable moments through a number of auction-shattering sales, unbelievable estate finds, emphatic statement pieces and the undisputed arrival of NFTs.
View the top 10 art moments of 2021 below and let us know your thoughts.
Field of Flags
If the events of January 6th are any indication, the political transition from 2020 to 2021 will likely be a topic of discourse centuries from now. To combat the threat of COVID-19, the Presidential Inauguration Committee curated an art installation of 200,000 flags in front of the National Mall in Washington D.C. for the inauguration of Joe Biden.
The work, entitled Field of Flags, represented all 50 states, the capital and the five U.S. territories: American Samoa, Guam, Northern Mariana Islands, Puerto Rico and the U.S. Virgin Islands. It also paid homage to those who couldn't attend the historic event due to pandemic concerns and threats from pro-Trump extremists, as per NPR. Accompanying the display was another installation, titled Pillars of Light, which also paid homage to the 400,000 lives that were lost to the pandemic up until that time.
Sophia the Robot's Hand-Painted NFT
As the worlds of humans and robots continues to blend by the day, it was only a matter of time until the latter joined in on the NFT movement. Back in march, the world-famous humanoid, Sophia the Robot, broke headlines for a hand-painted "self-portrait" that sold at auction for over $688,000 USD. The 12-second mp4 file features Sophia crafting an image of her face, which was then processed by the robot's neural networks.
Created in 2016 by Hong Kong-based firm, Hanson Robotics, Sophia has gained world recognition for its conversational skills and ability to showcase complex facial expressions. The robot has sinced appeared in a number of talkshows and a film.
"Van Gogh: The Immersive Experience"
Immersive exhibitions certainly became a craze in 2021 with the Van Gogh installation leading the pack. New and existing fans marveled at 360-degree digital projections and virtual reality experiences of eight of Vincent Van Gogh's most iconic works.
The show caught early attention through the Netflix series, Emily in Paris, and has since gone on to tour in 20 global cities. "Van Gogh: The Immersive Experience" is still open to the public, but please check CDC guidlines to ensure proper COVID protocol before attending.
Christo and Jeanne-Claude's "L'Arc de Triomphe Wrapped"
2021 also saw Paris' iconic L'Arc de Triomphe wrapped in 25,000 square meters of recyclable polypropylene fabric with 3,000 meters of red rope. The brainchild of the late artist duo, Christo and Jeanne-Claude, the two week nomadic event was 60 years in the making and captivated Parisians at a time when COVID precautions began to loosen.
Despite the short shelf life of each of their grandiose projects, which have included wrapping an ancient Roman wall built by Marcus Aurelius and the Reichstag in Berlin, there is always gentle disturbance that takes place. An imprint that the art historian, Lorenza Giovanelli, said makes it "impossible to look with the same eyes at the places these projects once inhabited, because something happened there, even if the plain lies empty."
'KAWS:HOLIDAY' Singapore
Speaking of massive installations, KAWS:HOLIDAY made its latest stop in Singapore last month. However, the 42-foot COMPANION sculpture featuring a smaller COMPANION within its arms was temporarily ordered for removal after the non-profit organization, The Ryan Foundation, filed for an interim injunction citing breach of intellectual property rights and misuse of confidential information.
After a two-day dispute, the courts approved the sculpture for viewing and ordered The Ryan Fountaion to pay the legal costs incurred by AllRightsReserved, whom said in a statement: "Our company hopes that people can relieve their burdens under the pandemic and relax on the shores of the beautiful Marina Bay."
HypeArt Partners with FVCKRENDER to Release Its First-Ever NFT
HypeArt teamed up with FVCKRENDER to release the media mainstay's first-ever collaborative NFT that takes inspiration from HYPEBEAST's print magazine covers. Entitled 'FVCK_HYPEBEAST//', the artist created a brand-new CG art featuring crystallized florals with 'HYPEBEAST' text imposed on the digital cover.
The joint artwork signals the start of an ongoing NFT partnerships between the publication and leading artists in the global contemporary art sector. HypeArt aims to launch more narrative-focused NFTs that tell in-depth stories between the collaborators in the near future.
Frida Kahlo Shatters Auction Record Held by Latin Artist
The prestigious Macklowe Collection was part of Sotheby's November sale, which saw Frida Kahlo's iconic self-portrait, Diego y yo (Diego and I) sell for a record-breaking $34.9m USD.
Made in 1949, the painting depicts the artist in a melancholic state — ruminating on her partner and fellow artist, Diego Rivera and his series of unfaithful acts. Previously, Rivera held the record for an artwork sold by a Latin American artist when one of his paintings sold for $9.8m USD. Ana di Stasi, a Sotheby's New York private sales representative called the sale "the ultimate revenge," adding that it really marks the "ultimate validation of Kahlo's extraordinary talent and global appeal."
Banksy's Shredded Artwork Resold at Sotheby's for $25.4M USD
Sotheby's saw another memorable sale when Banksy's shredded artwork, Love is in the Bin, resold to an annonymous Asian collector for $25.4m USD — nearly 18 times its orignal price.
What has become a seminal moment in the history of 21st Century art, the former work, titled Girl With Balloon, was supposed to fully self-destruct when it was sold at the auction house in 2018 with the elusive artist confirming that himself through this video.
Man Buys $30 USD Drawing at Estate Sale That Is Believed to Be Worth Around $50 Million USD
Imagine going to a yard sale, buying a cool drawing for $30 USD and finding out that it's actually worth nearly $50m USD? This far-off movie actually happened to an undisclosed man from Massachussetts who bought an original drawing made by the German Renaissance painter, Albrecht Dürer.
According to The Art Newspaper, the drawing is suspected to have been made in 1503 as a preliminary study for Dürer's watercolor, The Virgin and Child with a Flower on a Grassy Bank. No price has been placed yet, but the owner will be "compensated for the three to four years of research" needed to fully authenticate it.
Virgil Abloh's Drone Show at Art Basel Miami
The 2021 edition of Art Basel Miami was both a celebration and a moment of grief. Just as in-person attendance resumed at the world's art fair, the prolific designer, Virgil Abloh, passed away after privately battling cancer for a number of years.
Louis Vuitton was still scheduled to host a runway show to mark the opening of a new menswear store in the city's Design District, but instead, the event turned into a sentimental tribute to the late designer who broke a myriad of barriers. A long list of friends and celebrities were in attendance, including Kanye West and Kim Kardashian, Jerry Lorenzo and Pharrell, to Quavo, Offset and A$AP Rocky.
Located on a former water sports arena, attendees witnessed the runway shoot on a barge adorned with birch trees and black paper airplanes. Just as the show ended, a sublime drone show by DRIFT lit up the Miami skyline with a moving paper airplane that morphed into the "LV" monogram until it ended with the words: "Virgil was here."
As the art world reminisces the life of a true visionary, we would also like to remember another of Virgil's teachings: "Life is so short you can't waste even a day subscribing to what someone thinks you can do versus knowing what you can do."