Steph Curry Is Now the NBA's All-Time Three-Point Leader
Surpassing Ray Allen's previous record.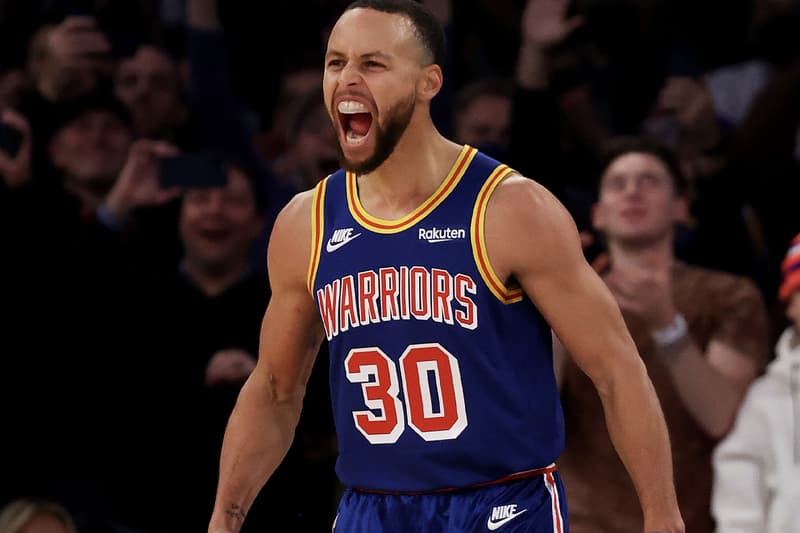 Golden State Warriors sharpshooter Steph Curry has officially set the new NBA career record for three-pointers. Curry has surpassed Ray Allen as the all-time 3-point leader. Ray Allen finished his basketball career with 2,973 career-threes.
In recent years, Curry has cemented himself as one of the greatest shooters of all time. With each shot beyond the arc, he has refashioned the three-point line and made it his own. His most recent milestone sees the Warriors guard hit his 2,974th career three-pointer in the first quarter of the game against the New York Knicks in Madison Square Garden. Curry started the game with just one behind Allen. Allen needed to play 1,300 regular seasons to obtain his record-feat, while Curry only needed 789 to make his mark.
Prior to the game, Reggie Miller predicted that "Stephen is going to shatter this record," beyond just championships and threes. In a pre-recorded sit down interview, Miller asked Curry who he thinks will come for the crown next. Curry offers up names like Klay Thompson and Damian Lillard but he jokes that he is not sure someone of this generation will surpass his own.
NBA commissioner Adam Silver said in a statement, "It was thrilling to see Steph break the NBA's all-time record for three-pointers. He has revolutionized the way the game is played and continues to leave fans in awe with his amazing artistry and extraordinary shooting ability. We congratulate him on this historic achievement." Curry has transcended all expectations as an NBA shooter and has single-handedly revolutionized the game.
Take a look below at the moment Steph Curry surpasses Ray Allen as the NBA's all-time three-point leader and sets the new record with his 2,974th shot.
View this post on Instagram
"The best shooter the game has ever seen as cemented his legacy!" pic.twitter.com/4Fb8fX6dyD

— Golden State Warriors (@warriors) December 15, 2021
Wardell Stephen Curry I and II. ♥️#PhantomCam pic.twitter.com/nbZ8rrJDhk

— NBA (@NBA) December 15, 2021
?️♥️

Draymond Green wired on TNT as his longtime @warriors teammate Stephen Curry makes NBA history! pic.twitter.com/sDlsl4EQlr

— NBA (@NBA) December 15, 2021
we're all crying, historic. pic.twitter.com/nFPTcGtSbB

— Golden State Warriors (@warriors) December 15, 2021
A lifetime leading up to this moment.

Stephen Curry soaks it in. pic.twitter.com/YzyMmjlJVX

— NBA (@NBA) December 15, 2021
Ray Allen congratulates Stephen Curry on breaking his all-time three-point record. #NBA75

History tonight on TNT pic.twitter.com/RAIRN0vpa0

— NBA (@NBA) December 15, 2021
Steve Kerr gave Steph the ball from his record-breaking three.

Steph gave it to Dell ❤️ pic.twitter.com/5NCXxFpQF7

— ESPN (@espn) December 15, 2021
A historic shot for @stephencurry30. pic.twitter.com/93iqFKJ9LN

— NBA on TNT (@NBAonTNT) December 15, 2021
Congrats to @StephenCurry30 of the @warriors for becoming the NBA's ALL-TIME LEADER in threes made! #NBA75 pic.twitter.com/4gn5srUXve

— NBA (@NBA) December 15, 2021
In other sports news, Conor McGregor recently announced he wants to fight Charles Oliveira for UFC lightweight title.