New Clip of an Unreleased Dr. Dre and Eminem Song Has Surfaced
Possibly making its debut in the updated 'Grand Theft Auto Online' version.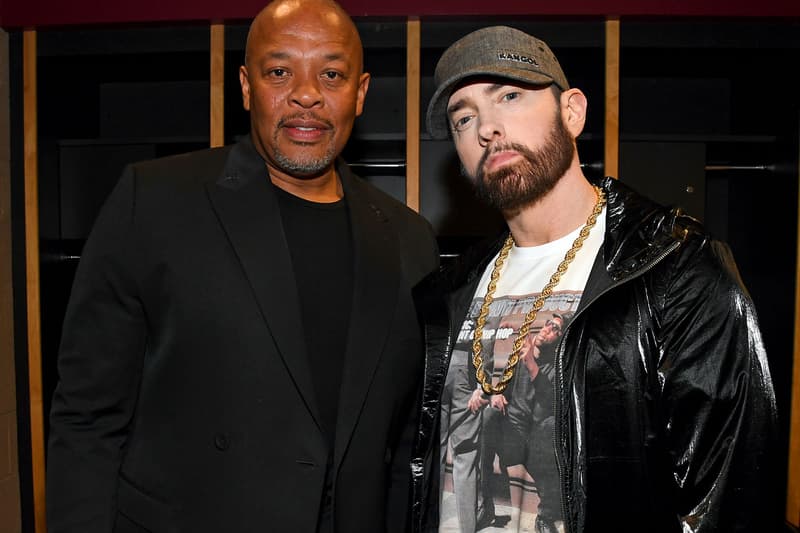 It seems that hip-hop legends Eminem and Dr. Dre have been working on something new together in the studio.
Over the weekend, a new snippet of an unreleased collaborative track has been released by the longtime rapper-producer duo. An Eminem subreddit page has posted a short IG clip that is no longer available on the platform of Dre in the beginning while Eminem follows rapping, "Like a Satanic cult, it's an old ritual slaughtering goats bitch/You're f*ckin' with the original flow's sick and anybody can get it, COVID."
Recently, Dr. Dre shared a video of Grand Theft Auto Online on his Instagram, seemingly teasing his involvement with the soundtrack. However, it is currently not confirmed if the joint track with Eminem will be featured in the videogame. The track heard in the Grand Theft Auto clip hears Dre trading bars with Anderson .Paak. Snoop Dogg has been confirmed to work with Dre on putting together the music for the new Grand Theft Auto game.
Check out the new clip of Eminem and Dre's untitled track below.
In other music news, Doja Cat has dropped out of iHeartRadio's Jingle Ball tour following the positive COVID-19 result.