Banksy's 'Love Is in the Air' Set To Be Sold as 10,000 Separate NFTs
Each segmented NFT now represents a unique sections of the famed painting.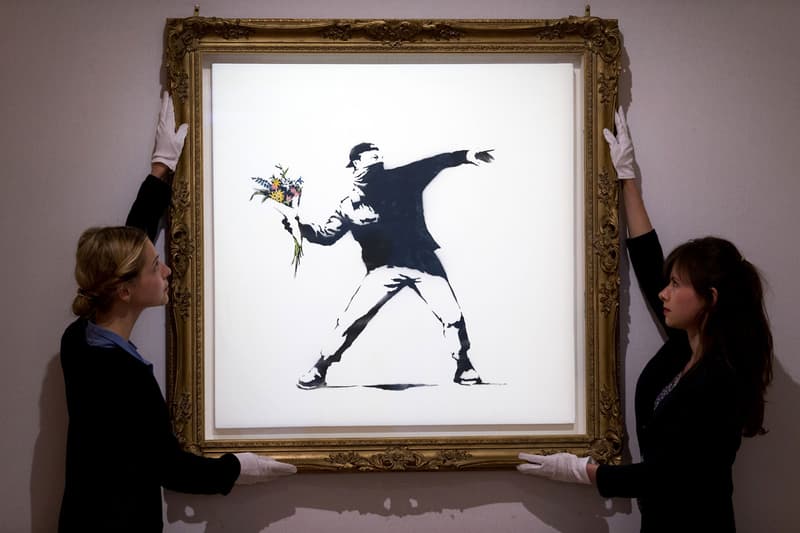 Banksy's iconic Love is in the Air painting has been divided into 10,000 NFTs. Particle, a non-fungible tokens platform co-founded by former Christie's post-war and contemporary art chairman Loïc Gouzer recently announced that the painting is the first piece they will fractionalize and auction.
Particle purchased the painting at a Sotheby's auction earlier this year for $12.9 million USD and is set to be segmented off into 10,000, 100-by-100 sections. Each of the pieces will be a unique section of the painting. The initial sale for Love is in the Air will begin on January 10 and will run to January 14. Collectors can purchase a sector of digital art on Particle for approximately $1,500 USD each. After that, Particles is set to enter into secondary markets across other NFT platforms where prices are expected to increase due to the value of the pieces. Buyers will not be able to choose their particles as each will be allocated randomly.
In a recent statement, Gouzer said, "Banksy has turned the art world on its head. Widely regarded as one of the most iconic creators of the 21st century—his daring, humanitarian nature and a strong belief that art should be for everyone reflects the mission at Particle, making this masterpiece symbolic to launch the platform with."
After the auction of Love is in the Air, Particle Foundation, which is a non-profit organization, will be receiving the actual artwork and 1% of the particles so that it could be a "protective shard and ensure no one person can envision claiming possession of the physical painting." The foundation assures that they will never sell the physical piece as, "The whole point of this project is to build the greatest collection in the world, owned digitally by the community, and preserved physically by the foundation."
In other art news, Seattle is now set to open an NFT museum.