Spotify Launches Designated Netflix Hub Featuring Soundtracks, Playlists and Podcasts
Including an enhanced album experience for 'The Harder They Fall,' led by JAY-Z.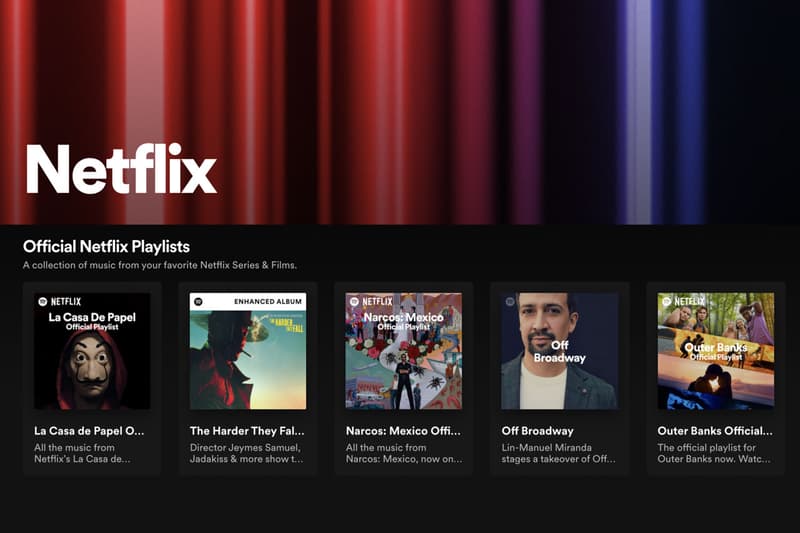 Spotify has launched a designated "Netflix Hub," where users can access curated playlists, soundtracks, podcasts and various exclusive content related to titles on the streaming video platform.
The newly-created hub is accessible for both free and premium Spotify users in the U.S., Canada, Australia, New Zealand, the UK, Ireland and India.
"It's clear that after the credits roll, viewers are left wanting even more," Spotify wrote in a blog post. "So much so that within two weeks of Squid Game's debut on Netflix, Spotify listeners had created more than 22,500 unique themed playlists to keep the experience going."
Within the hub, users will be able to access official playlists for top titles including La Casa de Papel (Money Heist), Bridgerton and On My Block, as well as the official soundtracks for popular shows like Squid Game and Cowboy Bebop. Additionally, a slew of Netflix-related podcasts, such as Netflix Is A Daily Joke and The Crown: The Official Podcast, will be available in the hub.
To kick off the crossover, Spotify has unveiled an enhanced album experience for Netflix's newly-released Western movie, The Harder They Fall, which includes a behind-the-scenes look at the soundtrack's making led by JAY-Z. Elsewhere, Spotify has updated the La Casa de Papel landing page with new videos from the cast and the series' official playlist.
Take a look at Spotify's new Netflix Hub on the audio streamer's platform.
Elsewhere, watch Tyler, the Creator perform "Massa" at the 2021 American Music Awards.