Denver Broncos Trade Von Miller to Los Angeles Rams for Two 2022 NFL Draft Picks
The star LB spent the last 10 years with the Broncos.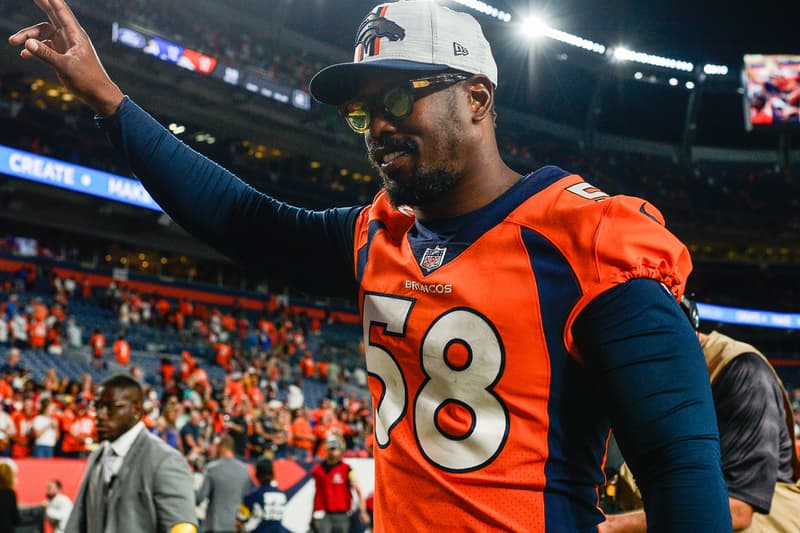 Denver Broncos have officially announced the trade of their star linebacker Von Miller. Miller will be heading to the Los Angeles Rams in exchange for two draft picks for the 2022 NFL season.
Miller has spent the past decade playing for the Broncos and has been a staple amongst NFL fans. While the news may be surprising for many to see the player that helped the Broncos to their 2016 Super Bowl win go to Los Angeles, Miller has been dealing with many injuries in the last few years. These injuries have undoubtedly put a strain on his involvement with the Broncos.
This season, Miller has recorded 4.5 sacks and has landed himself in the NFL's top 10 defenders in total quarterback pressures. In six games, he was on pace to break double digits in a number of sacks. However, he later suffered an injury that hindered him from tackling the feat. In a recent interview, Miller said, "I was close last week. I hope to be able to play this week vs. the Titans on Sunday night." An emotional Miller also added, "We'll always have Super Bowl 50. Seeing the pictures when I was walking out, it just made me tear up. But we always got Super Bowl 50. I always got Broncos country."
Bronco's GM George Paton shared details of the conversation he had with Miller regarding the trade, "Von and I had a positive, honest conversation this morning about our team as well as his own future. As I told Von, we wanted to do right not only for the Broncos, but also for him personally with everything he has meant to this organization. While it's certainly not easy to part ways with a player like Von, this is an opportunity for both our team and for Von as he begins the next chapter of his career."
Take a look at Miller's heartfelt goodbye to the Bronco's nation below.
"This is a special place. I love and appreciate you guys for all of my amazing years that I've had."

A raw & heartfelt message from @VonMiller thanking everyone as he reflects on his career in Denver:#ThankYou58 pic.twitter.com/At0VfZeucT

— Denver Broncos (@Broncos) November 2, 2021
❤️ Forever pic.twitter.com/Amc6nNCG56

— Von Miller (@VonMiller) November 1, 2021
In other sports news, Kalvin Phillips vows to not stop the fight against discrimination.