GOAT Announces An All-New Immersive Experience for Black Friday
The week-long festivities will have exclusive drops, raffles and a new feature titled 'Spaces.'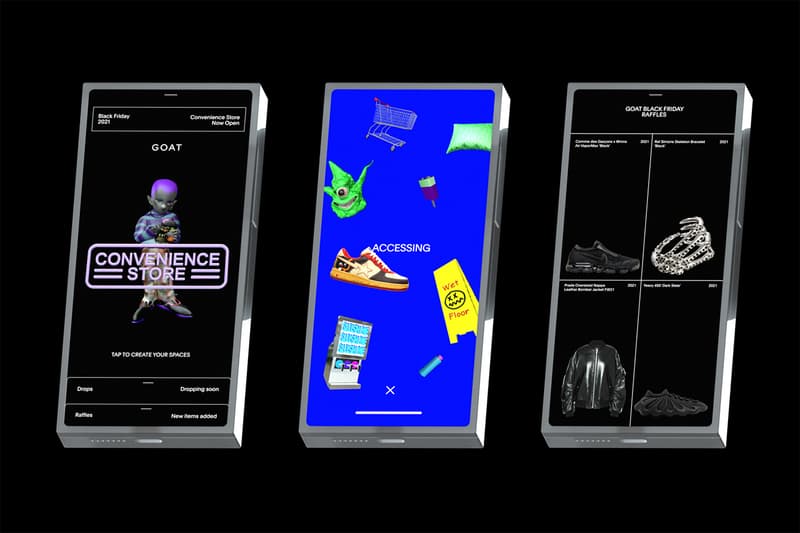 The Thanksgiving holiday is just around the corner and that means that various brands and retailers will be preparing for one of the biggest shopping days of the year in Black Friday. One of those is GOAT — an app and retail destination for the latest and greatest in streetwear and sneakers — and 2021 will see a continuation of its GOAT Black Friday traditions.
As usual, the week-long initiative will see exclusive drops and raffles but it will also include the introduction of Spaces — a platform for members to produce their own moodboard-like worlds through a trio of different themes including the Convenience Store, Outlandish Garden and the Gothic Cathedral. Each round will give users an opportunity to win products or the value of products in GOAT Credit. "We're excited to bring an innovative and unique experience to our annual GOAT Black Friday event," said Eddy Lu, Co-Founder and CEO of GOAT Group. "Each year, we aim to go above and beyond while offering our members a special moment to celebrate the culture and community that make up who we are. Spaces is a one-of-a-kind experience that is unlike anything we've done before and we look forward to sharing this with our global community."
You can enter GOAT's Black Friday event anytime between tomorrow, November 19th at 8AM PDT through Friday, November 26th at 9PM PDT. See here for more details.
In case you missed it, GOAT's 'Greatest' Magazine "Issue 05" Highlights Issa Rae, Riccardo Tisci and Nico Hiraga recently dropped.