Miles Greenberg Debuts New Performance Art at Bangkok Biennale
Remaining motionless and blinded for eight hours a day.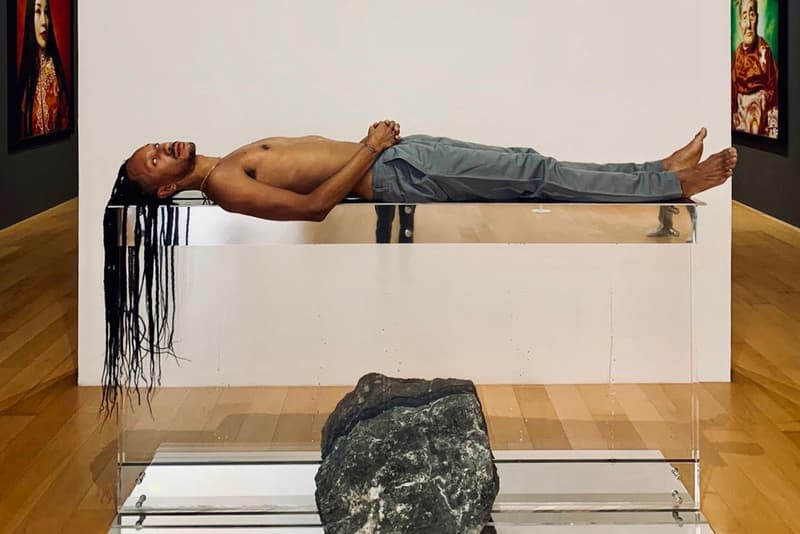 The renowned Canadian performance artist Miles Greenberg has unveiled his newest work entitled Admiration Is The Furthest Thing From Understanding (2021) at the Bangkok Art Biennale. On view through the end of January, the work takes place for eight hours a day over the course of eight days which the artist remains motionless and blinded as he lays face up atop a structure.
"The piece recalls a burial rite, partly based on an image from Andrei Tarkovsky's 'The Mirror' (1975) of a sleeping woman levitating above her bed, as though possessed by demons or angels," as per a statement. "Further, the performance channels Afro Diasporic notions of dispossession and Miles' figure alludes to histories of bodily dissociation, reflecting on the ways in which enslaved African people interpreted their own lived precarity."
Admiration Is The Furthest Thing From Understanding follows Greenberg's groundbreaking OYSTERKNIFE piece from July 2020 which saw the artist walking atop a conveyor belt in an empty theater space inside Montreal's Centre Phi for 24 hours straight.
Greenberg's work is presented alongside 38 other performers, including Ai Weiwei, Anish Kapoor, Marina Abramovic, Rirkrit Tiravanija and Yoko Ono. Visit the Bangkok Art Biennale's website to learn more.
Elsewhere in art, New York City's Vito Schnabel is gearing up to present a new solo exhibition of paintings by Robert Nava.