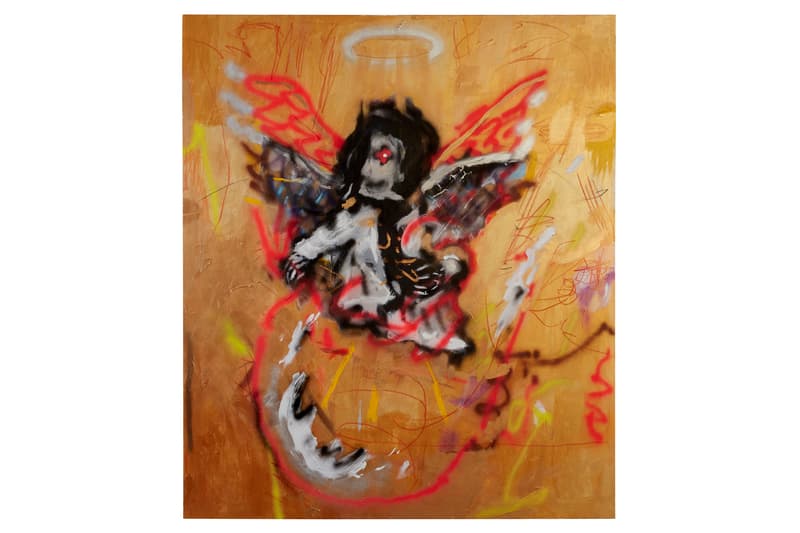 Robert Nava to Unveil Paintings of Winged Figures in "Angels" Exhibition
Reimagining subjects in ancient mythology.
---
New York City's Vito Schnabel Gallery is preparing to launch a solo exhibition of new paintings by the rising Brooklyn-based artist, Robert Nava. Entitled "Angels," the presentation will feature works portraying winged figures, mythological subjects, colored monsters and otherworldly ephemera. Taking on a "carefully done wrong" approach to his compositions, Nava creates his works using acrylic, grease pencil, and spray paint.
Nava's recent paintings are predominantly inspired by figures in ancient mythology, manipulating the forms of fabled figures to develop a motley crew of colorful creatures. Although he doesn't have a particular concept or narrative in mind when he's painting, his otherworldly subjects assume unique personalities once they've been realized on canvas.
"Within the boundaries of a single painting or between multiple works spread across his studio floor, forces of rivalry and conflict erupt and dissolve not only among the depicted figures, but the modes of depiction themselves," said the gallery in a statement. "Nava's distinctive visual language is highly personal. It is culled from sources ranging from ancient Sumerian, Egyptian, and Mayan art, and prehistoric cave paintings, to the powerfully symbolic mandala and such tropes of popular culture as gaming imagery and fantasy genre movies."
The central subject of the works in "Angels" is the seraphim which first appeared in a 2017 painting entitled Angelina Jolie Joan of Arc. " As the title of the work suggests, Nava is fascinated by the ways in which history and mythology evolve over time, shapeshifting to accommodate their eras and to redefine living individuals as timeless archetypes," the gallery added.
"Robert Nava: Angels" will run from February 25 until April 17. Visit Vito Schnabel's website to learn more.
Elsewhere in art, MADSAKI teams up with Mattel to release limited edition Masters of the Universe sculptures, apparel and more.
Vito Schnabel Gallery
43 Clarkson St #1A
New York, NY 10014