Rare 1969 Hot Wheels Volkswagen 'Beach Bomb' Estimated To Be Worth $150,000 USD
This Pink prototype is said to be only one of two that still exists.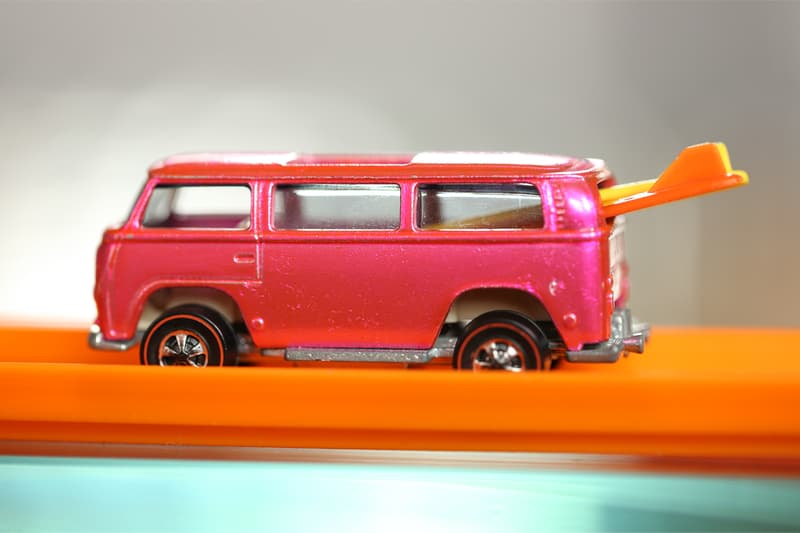 Bruce Pascal has been collecting Hot Wheels car toys since they hit the market in 1968. Only a 7-year-old boy at the time, he has steadily grown his collection by the tenfolds, warranting his title as an avid "Hot Wheels collector." Over time, his need and want to collect every Hot Wheels memorabilia became a lifelong passion. He collected not just the physical toy, but blueprints, original drawings, wooden models, and even sales brochures. It is reported that Pascal owns over 3,500 of these miniature toy cars, including over 175 unique never-before-released Hot Wheels prototypes.
Pascal had always had his heart set out on obtaining the very rare and hot commodity that was the hot pink Volkswagen 'Beach Bomb' prototype. In 1969, only the company's second year on the market, the designers wanted to incorporate a California-style model of the well-known Volkswagen bus. The original version of the 'Beach Bomb' had realistic proportions scaled-down, including a mini surfboard sticking out of the trunk window, adding the touch of coastal life to the toy. Aside from its life-like aesthetics, the model car had serious handing issues and was thus returned to the drawing board for a redesigned heavier bottom as a solution to the balance problem. Hot Wheels created 144 prototypes of this model and only 50 are known to have survived today. In 1969, they sold the 'Beach Bomb' to the public, but the car was wider and the surfboard was on the side as opposed to sticking out the back.
What makes Pascal's Pink 'Beach Bomb' unique is that it is the only one in the color with a heavier weighted bottom and still maintaining the first prototype design. The only other Pink 'Beach Bomb' has the original lighter bottomed design. Pascal explains why this particular color and model is rare stating, "I already had heard about [the Beach Bomb] in purple, green, red, light blue and gold. I even heard about an unpainted model. But pink was extremely hard to find. Most Hot Wheels models were marketed to young boys, who the brand assumed didn't want to play with pink."
The Pink Volkswagen 'Beach Bomb' is Pascal's most prized possession and can be found on careful display, Plexiglass case in his Hot Wheels museum in Maryland. "I want other people to experience the 'Beach Bomb'. I've found so much joy in learning about classic cars and Hot Wheels, and I hope I can spark some of that in other people. It's a treasure to find these rare models," Pascal said.
In case you missed it, LEGO's botanical collection features flowers that don't wilt.
Bruce Pascal's @Hot_Wheels collection is expansive, but out of his 4,000 #HotWheels the pink #Volkswagen Beach Bomb remains his most prized possession.https://t.co/NtX70UoC1O

— Volkswagen USA News (@VWnews) December 3, 2020