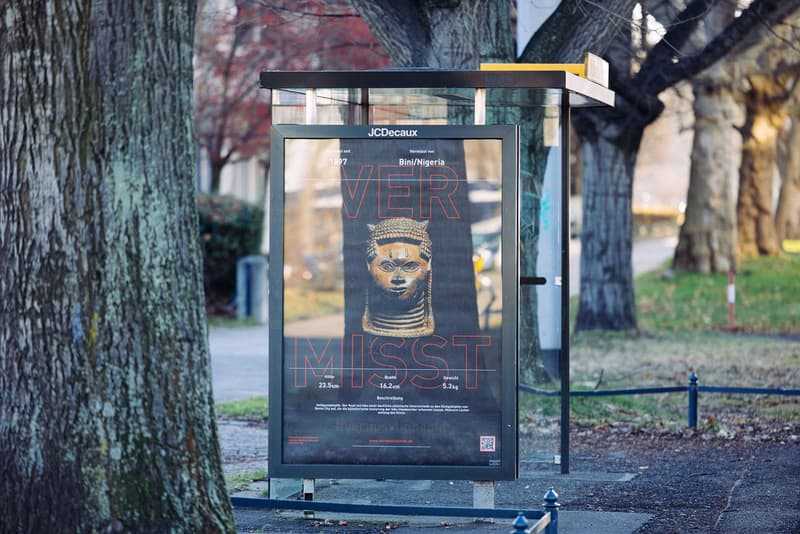 1 of 2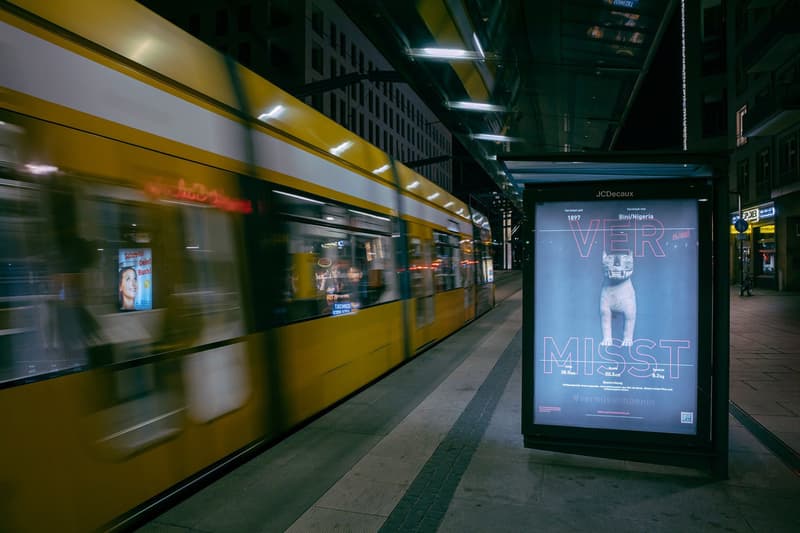 2 of 2
Nigerian Artist Launches "Missing Poster" Campaign in Germany for Looted Sculptures
Raising awareness on colonial violence amid the ongoing repatriation debate.
---
Nigerian artist Emeka Ogboh recently launched a new "missing poster" campaign that aims to shed light on the restitution of Benin sculptures looted by the British troops back in 1897 that are currently on display across museums in Europe and North America. His posters are currently installed publicly across bus stop ads and facades in Dresden, Germany and nearby towns portraying images of the Benin bronzes from Dresden's Museum für Völkerkunde with the text "Missing in Benin."
It turns out that Ogboh was initially commissioned to create the posters by the museum, which has five Benin bronzes in its permanent collection that were acquired in London between 1899 and 1904. The artist wants to heighten the awareness of the repatriation debate from the art sector into the public domain. "No one is exempt from the repercussions of colonialism and as long as issues of agency, ownership, and freedom continue to exist, society must act as a whole to repatriate artifacts that are simply not theirs," Ogboh told Artnet News.
Dresden's State Art Collections are part of the Benin Dialogue Group which the the British Museum and Berlin's Ethnological Museum are also members. The institutions in the group have pledged to "contribute from their collections on a rotating basis" to a future Royal Museum in Benin City. However, none of these museums has mentioned next steps for a permanent repatriation of the looted sculptures.
The Benin collections in European museums have been mired in controversy for some time as issues of racial injustice and colonial violence have come to light in popular discourse amid the Black Lives Matter movement. Léontine Meijer-van Mensch, the director of the Volkerkünde Museum, argued it has been in communication with the Nigerian Embassy in Berlin, which sent a formal letter in 2019 to German Chancellor Angela Merkel requesting for the Benin Bronzes to be returned.
The Benin collections at European museums "have become symbolic of the question of how ethnological museums deal with the many thousands of objects in their possession resulting from mass looting or other forms of appropriation under unequal power relations in a colonial context," Meijer-van Mensch said.
Elsewhere in art, seminal Spanish artist Jaume Plensa is showcasing massive sculptural heads in Chicago's Gray Warehouse.