Steve-O Tapes Himself to L.A. Billboard to Promote New Comedy Special
The 'Jackass' alumnus is back with a brilliant stunt.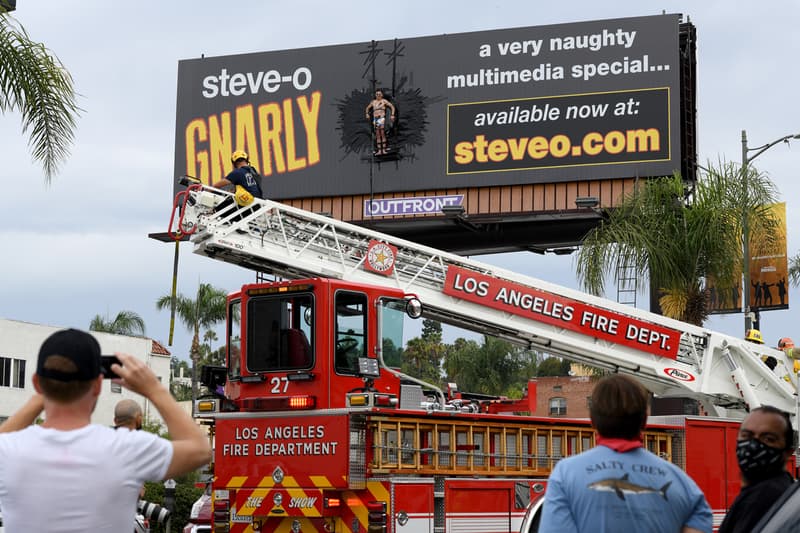 Steve-O has taped himself to a big Hollywood billboard to promote his new comedy special Gnarly. The Jackass alumnus took to Instagram with a selfie, captioning "I'm attached to a billboard right now."
A wave of quick snaps of Steve-O circulated as drivers and onlookers in Los Angeles discovered the comedian duct-taped to the billboard. Steve-O was perfectly sandwiched between a print of the show's title and a brief description, "a very naughty multimedia special…," on the ad. He put up Stories assuring followers that he had a team of professionals create a safe set up with "zero chance" of falling. He also panned the camera to a crowd of police on street-level, to whom he claimed could have been debating whether or not he was breaking any laws: "I don't think so. I paid for the billboard, man." He continued, "I'm happy to just hang out, and really want the world to know about this project I worked so hard on. It's called Gnarly." After a few hours, firefighters arrived at the scene to take him down.
In case you missed it, a new Jackass movie is set to hit theaters in 2021.
This is so iconic!! I Stan Steve-0 and so happy that he has been sober for so long and is finally back to his typical original old crazy Steve-O antics pic.twitter.com/8ftpsUszHd

— Hayley? pinned pls (@HappyNowKTM) August 13, 2020
steve-o is on a billboard by my house lmao pic.twitter.com/4SBAWw2b6k

— actual cannibal shia labeouf (@sIumIord_) August 13, 2020
"so what's it like living in LA"
idk we get citizen notifications about steve-o pic.twitter.com/EbS0dnxeWl

— bad kat™️ (@whackkat) August 13, 2020
Steve-o really taped himself to his own billboard for this I love this wild man pic.twitter.com/bNkf0JkV2K

— Lizz Adams (@Lizz) August 13, 2020
Steve-O is stuck way up on a billboard in Hollywood with duct tape and it somehow isn't even the craziest thing happening in 2020. pic.twitter.com/8AQb6Obb6f

— Doge (@IntelDoge) August 13, 2020