Here Are the Results for UFC's First "Fight Island" Event
UFC 251 saw three title events.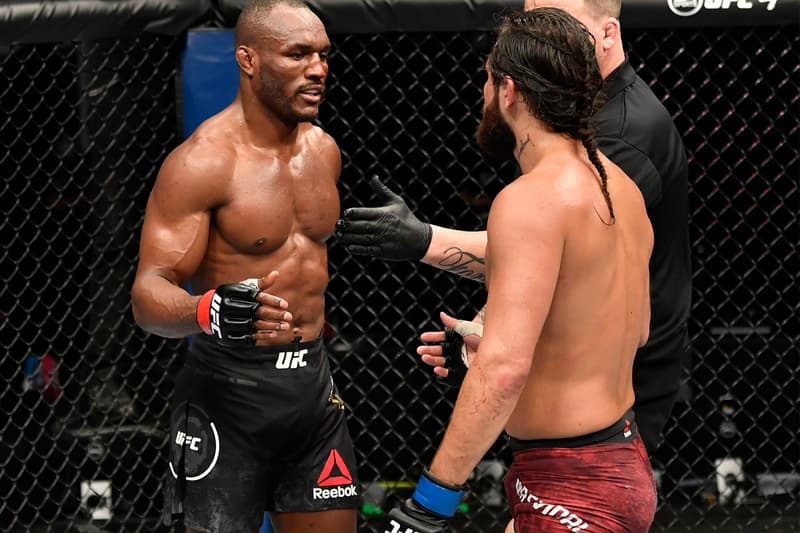 UFC 251 has just finished and the results are in. The much-anticipated event has been a roller coaster ride with the main Welterweight title experiencing a switch on six-days notice due to Gilbert Burns testing positive for COVID-19. Filling in was Jorge "Gamebred" Masvidal who amazingly cut 20 pounds on short notice.
Ultimately, Kamaru Usman won his bout with a 50-45, 50-45, and 49-46 unanimous decision. The win was largely attributed to Usman's superior wrestling, where when Masvidal looked for a stand-up trade, Usman's strategy was to launch a flurry followed with a takedown. Masvidal would eventually be worn down due to the tiring weight of Usman, but not without landing beautiful combinations of his own. In the post-fight interview, Gamebred lamented on his cardio saying that he wished he was in better shape for his title fight. The internet is currently trending with a number of memes depicting Usman's foot-stomp clinch technique.
The Featherweight co-main saw the second encounter for Alexander Volkanovski and Max Holloway. Holloway looked a lot sharper this time around against Volkanovski, with many fans unhappy with the fight's final discussion. The first two rounds had Holloway scoring high with clean shots landed along with a head kick that wobbled the Australian. Volkanovski was able to come back in the championship rounds with takedowns and a few answers of his own. While we did see a much better Holloway this time, it still was not enough to win back his belt. This was a tough one to call with many upset with the results.
On the other end of the spectrum, the Petr Yan versus Jose Aldo played out differently with the Russian edging Junior out after the second round, but not before we saw Aldo's infamous leg kicks return. This fight saw a lot of great exchanges and displays of technique but the vacant bantamweight title was officially solidified as Yan's when he dropped the legendary Aldo with a clean right then followed with a left. This fight ended with vicious ground-and-pound. Many are calling it late stoppage.
Not a bad first event on Fight Island. It seems the decision to invest in hosting UFC events in Abu Dhabi during the Coronavirus epidemic was a step in the right direction for the organization. What are your thoughts on UFC 251, did the fights live up to its expectations?
In other sports news, UFC announces Venum as the new exclusive outfitting partner.
Main Card
Kamaru Usman def Jorge Masvidal (unanimous decision)
Alexander Volkanovski def Max Holloway (split decision)
Petr Yan def Jose Aldo (fifth-round TKO)
Rose Namajunas def Jessica Andrade (split decision)
Amanda Ribas def Paige VanZant (first-round submission)

Preliminary Card
Jiri Prochazka def Volkan Oezdemir (second-round KO)
Muslim Salikhov def Elizeu dos Santos (split decision)
Makwan Amirkhani def Danny Henry (first-round submission)
Leonardo Santos def Roman Bogatov (unanimous decision)

Early Preliminary Card
Marcin Tybura def Maxim Grishin (unanimous decision)
Raulian Paiva def Zhalgas Zhumagulov (unanimous decision)
Karol Rosa def Vanessa Melo (unanimous decision)
Davey Grant def Martin Day (third-round KO)
Foot stomps havent been a thing since 2003

— Funky (@Benaskren) July 12, 2020
Barn burner. Instant classic. Who could've seen that coming? #ufc251

— Colby Covington (@ColbyCovMMA) July 12, 2020
Usman running away with this now. Masvida doing better than I thought, with all the circumstances. Wondering if Usman will push for a finish? #UFC251 #TheWeeklyScraps!

— Aljamain Sterling (@funkmasterMMA) July 12, 2020
Effective but boring!!

— Douglas Lima (@PhenomLima) July 12, 2020
#andstill Pumped for @USMAN84kg glad to have him on the team. 6 days sucks, @GamebredFighter is as game as they come.

— Justin Gaethje ?? (@Justin_Gaethje) July 12, 2020
2-0 Holloway

— Daniel Cormier (@dc_mma) July 12, 2020
Max is looking good! #ufc251

— Henry Cejudo (@HenryCejudo) July 12, 2020
That makes 0 sense @BlessedMMA won that fight #UFC251

— Justin Gaethje ?? (@Justin_Gaethje) July 12, 2020