Skate Culture Will Survive Quarantine
Ryan Sheckler, Lizzie Armanto, Kelly Hart and Paul Schmitt weigh in on the future of the sport.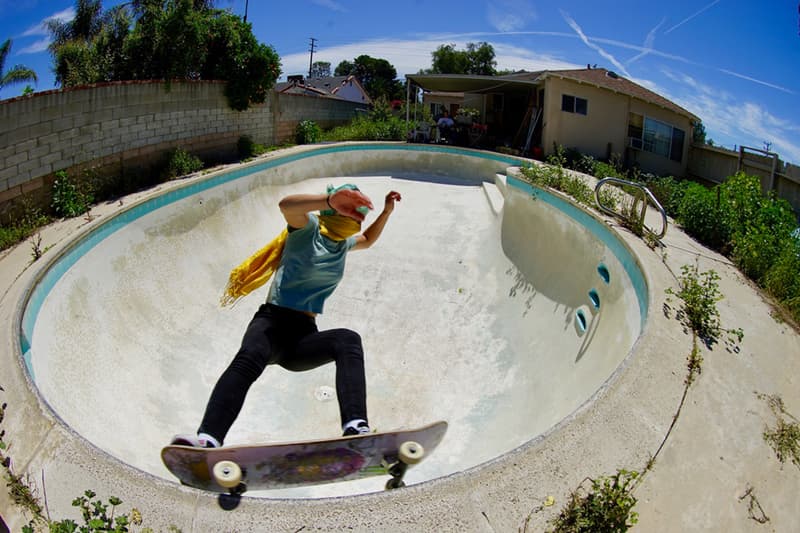 We're nearing the end of the stay-at-home orders which kept skaters, for the most part, off the streets. But the long term effects of the lockdown on individual athletes, as well as the skate shops and tournaments where the community thrives, remain largely unknown.
The COVID-19 pandemic has affected each member of the skate world differently. X-Games gold medalist Lizzie Armanto was slated to vie for gold once more at the Olympics' first-ever skate competition for Tokyo 2020, until it was postponed to 2021. The Nine Club, a popular skate culture podcast, currently operates out of co-host Kelly Hart's house. New Deal Skateboards founder Paul Schmitt shared that his factory has been in "low-key mode" since April 1.
Even Ryan Sheckler, seasoned X-Games skater and industry legend, admits to some uncertainty about the future of the sport. "At this point I wish I had a crystal ball to be like, 'Yeah, no skateboarding's going to bounce back no problem, and it's going to be alright.' But the reality of it is we don't know. I don't know," he said. "I obviously am super optimistic, so I believe that skateboarding has been through so many things over the last 30-40 years that it's going to be good."
HYPEBEAST spoke with these skaters about how they've been supporting the community and keeping their skills sharp in quarantine, and how skating will change after weathering a global pandemic.
Skating requires in-person, outside interaction. How has that translated to suddenly staying inside?
Kelly Hart: Before quarantine I had hurt my ankle, so it was tough for me to develop a new routine to stay active all day. I just got creative with what I could do, and we made jokes on the show about me never doing hippie jumps. So I said, "You know what, I'm going to learn how to hippie jump." I thought people would get a kick out of it, and then I also did "Kelly's Treflip Challenge" which was fun to keep me busy and to communicate with everyone in the skate world.
That was cool because you have all these pro skaters and younger kids that are trying to learn treflips. It started as something fun that turned into something viral and got people together during this tough time.
"This is the time to be creative and make do with what you got."
Lizzie Armanto: One of the great things about skating is that you don't really need anyone else and can often go out and be totally distanced from any other people. It's always nice to skate with some friends, but it's not a necessity.
Ryan Sheckler: I've been working on really cool things with Redbull right now. We're actually getting ready to announce that we're going to do a contest at [my] park. It's going to be 20 skaters [by] themselves and a filmer so just two people in the park and you have that time to film the best line you possibly can. The internet will vote, so there will be a way to see your favorite skater who's not typically in a contest just come and rip the park.
I think it ties back to your question of how we're staying connected. We're giving people the opportunity to win some serious money, and it's just helpful because I know a lot of sponsors and companies are having furloughs or not even paying dudes. I'm in a similar boat with some of my stuff going on, so we're trying to give back to the skate community. We're going to bring some shops in as well and give some love to the skate shops that are hurting. This is the time to be creative and make do with what you got, and thank God I have an incredible skatepark so might as well use it and let the homies use it too.
Where have you been quarantining and how do you skate safely there?
Paul Schmitt: I can't go to my local park anymore [in San Diego] because it's locked up, but with skating downhill with my buddies, there seems to be more and more people. Do I wear a mask? Am I respectful to people and distance? Yes.
Lizzie Armanto: I've been at home with Axel [Cruysberghs] in Long Beach. We've been able to skate here and there. Sometimes, we just take a flat bar to an empty parking lot and skate totally alone, and other times I will drive down to Tony [Hawk]'s and skate his ramp which is in a very sterile environment, and we all stay well away from each other following health guidelines.
Kelly Hart: In Venice. I pretty much work from my place and my girlfriend lives in Echo Park so I go back and forth.
What do you turn to when you miss skating?
Paul Schmitt: I definitely love The Nine Club podcast. I would say I absorb most of my skating through Instagram.
Lizzie Armanto: I just watched the Vans Europe video Tom's Tales. That was really good. I don't really "keep up" with anyone on social media per se. If i'm online I'm usually on Pinterest or looking at home stuff.
Ryan Sheckler: I got fully into meditating, so I've been doing a bunch of breathing exercises just to really open my mind and be present. It's a wild feeling to be present and be in the moment so meditating and breathing has been amazing. I've been reading this book called The Power of Now which is incredible.
Kelly Hart: What's been keeping me busy is The Nine Club podcast from my house. I thought that it was fun to keep ourselves in communication with people in general and showing the love for skateboarding and putting it on our podcast and YouTube channel.
Do you anticipate long term effects on the culture?
Paul Schmitt: I certainly hope that skate shops stick it through. These last two months have taken a whole bunch of people that were in the "I'm not going to buy online" mindset to being like, "I have to."
Lizzie Armanto: Long term, no. Immediate impact, yes. I personally feel that this situation will actually bring more awareness to the local skate shops and hopefully see more people support them. As for contests, a lot of skaters have made really good careers without them, and that will continue, with or without contests.
"I'm trying to skate and keep my body good so when it's time to go again, I'm ready to go."
Kelly Hart: Financially, with skate shops closing down and skate shops being a main focus on the community with how skateboarders develop and communicate with each other, it's tough. I've noticed online sales have been booming but retail wise not so much. When it comes to contests, I was supposed to judge all the qualifying world skate contests going into the Olympics. Fortunately it got moved to the same time next year, and I believe we can start over again in the next few months and have a second chance out of this.
Ryan Sheckler: As a matter of timing, I'm not sure, especially with X Games not happening and the Olympics which is supposed to be huge. I know dudes were training for that and now all of a sudden it's going to be next year at the same time so they are still going to have to do those qualifying events. Skateboarding is kind of like what Nascar is doing right now. They're going to run the races but there's no fans. For me, as a competitor, I feed off the crowd. I've been going day by day: body feels good, mind feels healthy. I'm trying to skate and keep my body good so when it's time to go again, I'm ready to go.