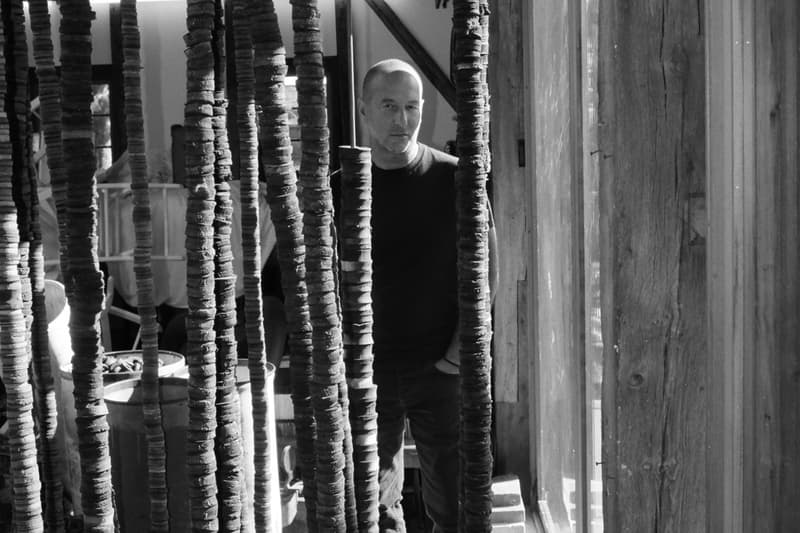 Helmut Lang Discusses Quarantine in Exclusive New Interview
As part of a new postcard project from 'The Travel Almanac.'
---
New York and Berlin-based publication The Travel Almanac has partnered with a selection of artists and designers to release a new series of postcards. Each postcard — limited to just 50 editions — features a handwritten note from the collaborator, and will be sent directly to the buyer.
The project features a diverse range of collaborators, including designers such as Rick Owens and Jeremy Scott as well as artists Helmut Lang, Juergen Teller and Raymond Pettibon. Elsewhere, the 14-strong list includes Charlotte Gainsbourg, Anne Imhof, Bjarne Melgaard, Willem Dafoe, Inez & Vinoodh, Torbjørn Rødland, David Blaine and Matthew Barney.
To mark the launch of the project, Helmut Lang sat down with The Travel Almanac founder Paul Kominek to discuss the project, life under quarantine and his recent design of a T-shirt to mark his exhibition at MOCA Westport, his first clothing design for 15 years. You can exclusively read the conversation between Lang and Kominek below.
Kominek: Hi Helmut, where are you spending your time at the moment?

Lang: In Long Island, working in my studio.

How has the quarantine time treated you so far? Were there any unexpected aspects that this time of standstill has created for you?

It is not that difficult for me to be in isolation as working on art naturally requires it. I have been working on a commission and also another upcoming project, so I did not really have much of a standstill. I am naturally always observing and reflecting on the human condition, and I have been concerned since a long time with how we deal with our planet and the possible consequences.

Does that have an impact on your work too?

It has influenced a lot of my decisions and my work for quite some time. I do feel that the current situation is only the beginning of further urgencies to come.

Despite all the destructive aspects of the current crisis though, do you think there will be positive outcomes of it too?

It better be a driving force for a sustainable future and respect for nature. Otherwise we are totally f*cked.

Your new solo exhibition at MOCA Westport was about to open just before the lockdown was announced in NY. How did you experience that whole situation?

It was a state-wide order, and it affected two of my other current exhibitions as well. We expect it to open in early summer, and in the meantime, we work with social media like the rest of the world. Fortunately, I am currently part of an online exhibition of videos @vonammon.co.

For the aforementioned exhibition you designed a T-Shirt, your first piece of "clothing" in over 15 years. How did that come about and how did you approach the design of this piece?

I designed the graphics of a t-shirt for MoCA Westport's merchandize in support of the institution. It was naturally easy for me.

Last time I interviewed you in 2011 for TTA, we printed pages from your expired passport. They were part of your "Selective Memory series" and you talked about the origins of the project, finding a carton with letters, notes and postcards from friends. I had to think of that while we were contemplating this current project. How do you think has the significance of these tangible time stamps changed over the last decade? Is the project still ongoing?

I am continuing the SMS series indefinitely. Naturally, it has more digital entries than before. We came a long way from the telex times. Less boxes and more electronic files, which is somehow beneficial for progressing the project.

Do you remember ever sending postcards out yourself?

Unfortunately I don't. I am not sure I ever actually sent one.

Then this is a premiere, how nice! Is there anything specific you are looking for to return to or being able to do again when the lockdown status will be lifted?

Seeing my friends again.

The feedback on this postcard project has been really overwhelming and quite emotional. People seem to really resonate with this type of "old school" communication. Do you think the current situation is creating a need for a slower or more personal type of conversation?

Going forward there will be a change in pace. I had a rule all-along, which is to not reply to anyone for at least 24 hours, as i found that the hectic pace leads to less consideration and quality of communication. Just because we now use different mediums does not mean it can't be personal.
The postcards are available now from The Travel Almanac's web store, with each limited-edition postcard priced at €30 EUR (approximately $32 USD).
In other art news, go through the lens with photographer Arturo Torres.