Watch Takashi Murakami Create Flower Prints and Calligraphy Using Recycled Coffee Filters
Showing us the process behind his new body of work in an exclusive step-by-step video.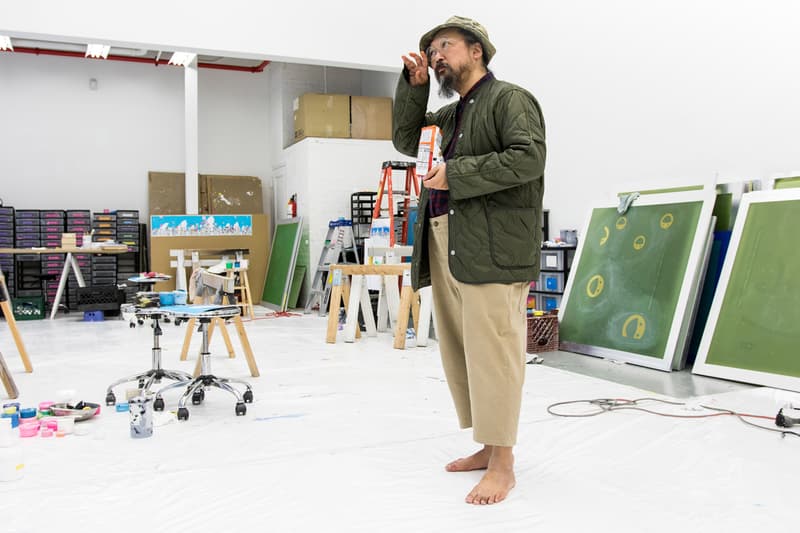 Takashi Murakami found creative fuel amid the chaotic time of coronavirus, forming a new practice out of creating prints and calligraphy on recycled Chemex coffee filters. Murakami began making work using the unconventional medium a few weeks ago in his Miyoshi studio — located just an hour north of Tokyo, Japan. In an exclusive video, the Superflat master showed HYPEBEAST his printmaking and lettering abilities using the dried paper filters.
Murakami's process begins in the early morning with brewing coffee, preferring a light roast. He then places the used coffee filter in a bucket to dry. After it's been dried up, he stores the filter in a box filled with many others that he's been saving for the past six years. For the next step, he pulls out a couple of dried filters out of that box and removes the remaining coffee grounds from their surfaces using his hands.
Afterwards, he disinfects the moldy filters with alcohol and then treats them with a liquid solution that contains glue and alum to prevent ink bleeding. Lastly, he writes his calligraphy text on the treated paper or prints one of his signature flowers using a silk screen. "The used coffee filter was one such thing I kept accumulating and I had always hoped to somehow reuse them, so I am very much relieved to have found an occasion to do so with my calligraphy," said Murakami.
Murakami is currently adding one piece after another to this new body of work that he will hopefully showcase widely in the near future. Check out his full process below.
Most recently, Phill Kim of PKK demonstrated the process of shaping one of his signature mugs for HYPEBEAST.