How Does the New 'Resident Evil 3' Stack up Against 'Resident Evil 2'?
We compare the recent remakes from the iconic franchise.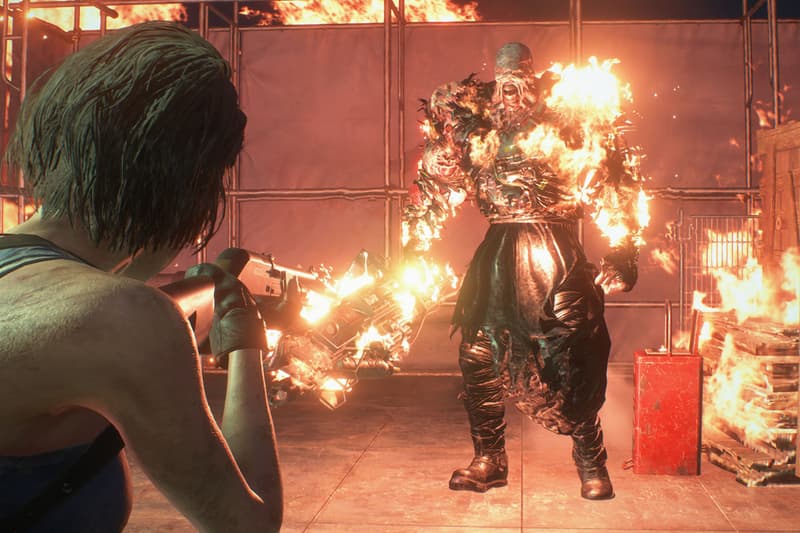 If Resident Evil 2 is akin to the original Terminator for its high-tension, emphasis on horror, relentless villain and seemingly defenseless protagonist, then Resident Evil 3 is the equivalent of Terminator 2: Judgment Day. The tension has been replaced with high-octane action, its emphasis on horror has diminished into smaller moments, and your protagonist is beyond capable of defending herself.
Fans have requested remakes of the original Resident Evil 2 (1998) and Resident Evil 3: Nemesis (1999) ever since the original 1996 Resident Evil was remade in 2002 for the Nintendo GameCube. So when a remake of Resident Evil 2 finally arrived nearly two decades later in 2019, fans of the series were ecstatic and the game was met with critical acclaim. Now, barely a year after that release, a remake of Resident Evil 3 has arrived.
Much like the original two titles, the 2020 Resident Evil 3 retains many assets from its prequel game, as they were built within the same game engine. Their in-game story even weaves into one another like their '90s iterations to create the most recognizable settings of the franchise. As such, both titles reintroduce the Resident Evil franchise when it was at its zenith. But which of these remakes is the best? And which better represents the Capcom franchise?
RE3's story follows Jill Valentine a few months after the events of the original Resident Evil, where the threat of zombies and bioweapons have followed her from the mansion and into the streets of Raccoon City. Now players must navigate Jill from the city, avoiding the undead and a towering bioweapon named Nemesis who is capable of a lot more than what's already on the surface.
Resident Evil 3 starts with live-action footage of citizens rioting and looting during a pandemic, a situation that might hit a little close to home for some at the moment. If folks are looking for a distraction from the current COVID-19 pandemic, a game about an outbreak and subsequent zombie invasion may not be ideal. Alternatively, if players are looking for a deeper dive into the updated formula and mechanics established in Resident Evil 2 last year, Resident Evil 3 may not be for you either.
The setting of the Raccoon City Police Department in RE2 is atmospheric, claustrophobically narrow, and overall creepy in nature. Meanwhile, the sprawling Raccoon City streets of RE3 are wider and more liberating. Although Raccoon City looks gorgeous (thanks to continuous improvements to the RE Engine) and has its fair share of nightmarish alleyways, its scare appeal is nowhere near the level of consistency as the police department.
Resident Evil 2's Mr. X functions similar to Resident Evil 3's Nemesis, both serve as a relentless, immovable force that you must avoid at all cost before it kills you. Although Nemesis can move faster, uses weapons and has far more physical capabilities to kill players, Mr. X is far more frightening to encounter. The tight corridors of the police department make it harder to escape. Not having access to a lot of weapons or ammo when you need it also makes Mr. X harder to get rid of. Lastly, your characters, Leon and Claire, have not dealt with anything like this before, and are as afraid as many players might be. They exclaim, shout expletives and are limited in what they can do via the game's intentionally tanky mechanics.
The introduction of a dodge mechanic in Resident Evil 3 makes protagonist Jill, who has already become hardened after her own zombie encounters in the first Resident Evil, much more capable than our previous protagonists. The wider environment also caters to her swift movements, making her more than able to nimbly escape Nemesis, despite how bigger a threat he is compared to Mr. X.
Players will also find a lot of more ammo in the newest addition to the series, making it much easier to dispatch your relentless foil. However, Nemesis recovers a lot faster than Mr. X, giving players less time to make some distance between them. Nemesis is also easier to shake off as he is regulated to scripted events and does not stalk after you with loud footsteps as Mr. X did in the police station. Knowing where Nemesis shows up and for how long robs him of being as scary for as long.
Although the mechanics are largely the same outside the inclusion of dodging, Resident Evil 3 opts to keep gameplay a bit more streamlined this time around, relying far less on puzzles and exploration than its predecessor. Although this line of thinking was very much the same coming off the original Resident Evil 2 to Resident Evil 3 in the '90s, it feels much more overstated here.
As such, the game caters a bit more to the speedrunner crowd usually associated with early RE titles with their emphasis on clearing the game fast for better rankings and unlockables each playthrough. But unlike the two campaign and second run scenarios from RE2 remake, RE3's only factor in replaying the game is to clear it faster than before. There aren't even any multiple-choice options to make in-game like the original Resident Evil 3: Nemesis, which changed up the plot and ending of the story depending on what options players picked.
We suppose Capcom is looking to factor in replayability with its 4v1 Resident Evil Resistance multiplayer. But we are completely uninterested in a multiplayer take on the Resident Evil franchise, despite Capcom trying to push the capability onto the franchise for years. They've always come off a bit late to the party with their multiplayer ideas, as the unsuccessful Resident Evil: Operation Raccoon City (2012) and Resident Evil: Umbrella Corps (2016) have proven. And an asymmetrical multiplayer like Resistance feels the same.
Although Resident Evil 2 is more horrifying and is a better marriage of all gameplay elements the Resident Evil franchise has experimented with in the past, Resident Evil 3 delivers a much more fun gaming experience. Where Resident Evil 2 leans into the puzzle-solving, storage maintenance, and ammo saving playstyle it was known for during the original PlayStation trilogy, Resident Evil 3 favors the gunning and fast action of Resident Evil 4, 5 and 6. Unlike the latter titles, however, this game retains the overall atmosphere and core playstyle introduced in the core trilogy, albeit a bit less than the previous remake.
Resident Evil 2 offers the best polish of what the original core trilogy of Resident Evil games used to deliver. Resident Evil 3 offers the best polish of the Resident Evil 4 and beyond trilogy of RE games, which offered improved action and less survival horror. Diehard fans will gravitate towards Resident Evil 2 more because it retains the purity of the series pre Resident Evil 4. But another subset of Resident Evil fans will enjoy Resident Evil 3 because they miss the action Capcom has tried to recourse within the franchise since 2012.
The Resident Evil 2 remake, unquestionably is the better-built game. It set the standard of which all remake games strive to aim for and can be replayed for new experiences multiple times. However, Resident Evil 3 is more entertaining to play through and the best middle ground between both eras of the franchise, even if it suffers from a short runtime and less replayability.